By Karen Talbot
May 24, 2023: The Tav'ery, a new casual restaurant in Bronxville, is an appealing combination of a tavern and an eatery with very good food.
Marco and Fiona Lojano, along with Francesca Cuzzupoli, are the owners. The Lojanos also own Rosie's Bistro Italiano in Bronxville.
The Tav'ery has an attractive dining area and a bustling bar. The restaurant has white walls and black tables, chairs, and banquettes, giving it a modern look. Handsome black matchstick wall sconces with small lights adorn the walls.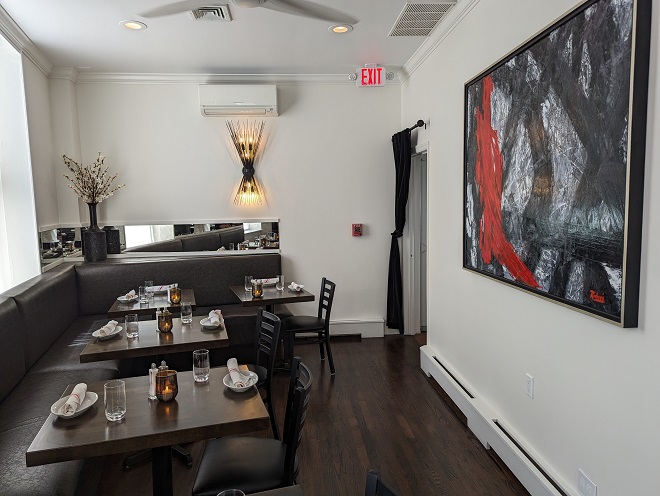 We started our meal with delicious Chicken Empanadas from "Small Plates," served with Sriracha Aioli that was crispy on the outside and flavorful on the inside.
From "Sandwiches & Burgers," I ordered the "Pat LaFrieda Original Beef Burger," which was a winner. It included prime meat, caramelized onions, pancetta jam, gruyere, and Tav'ery aioli. The sides included a choice of delicious Sidewinder Fries or Mixed Greens.
Under the menu category of "More," my friend had the "Buttermilk Fried Chicken." It included braised Swiss Chard, grilled polenta, and homemade gravy. The chicken was tender, moist, crispy, and smothered in yummy gravy. The portion was large enough to take half home for later enjoyment. Other choices included Codfish, Pork Paillard, and Short Ribs.
Four outstanding desserts are offered, and we had the Dulce de Leche Gelato from "Gelato & Sorbet."
Other Menu Categories include "Flatbreads & Wings," "Grande Salads," and two choices of "Tav'ery Tacos."
The service is prompt and efficient. The front bar attracts people getting off the train and locals who want to relax, mingle and watch TV.
The restaurant stays open until 1:00 am and offers a Late Night Limited Menu from 9 to 11 pm.
Prices are appropriate, and beer is $7 for a bottle and $9 on tap. Special Cocktails are $14, and Wines by the Glass are $13.
The Tav'ery is open six days a week and closed on Tuesdays. The phone number is 914- 793-3431