By Karen Talbot
Goosefeather is a casual restaurant serving seasonal modern Chinese fare.
It is in the King Mansion in Tarrytown (49 E. Sunnyside Lane, 914-829-5454).
The restaurant has four dining rooms: The Den, The Great Room, The Library, and the Atrium. It also has a handsome 9-seat bar and an outdoor seating area.
The celebrity chef Dale Talde, a James Beard nominee, is the host of "All Up In My Grill" and was a two-time contestant and judge on "Top Chef." He has also written a cookbook entitled "Asian--American: Proudly Inauthentic Recipes from the Philippines to Brooklyn."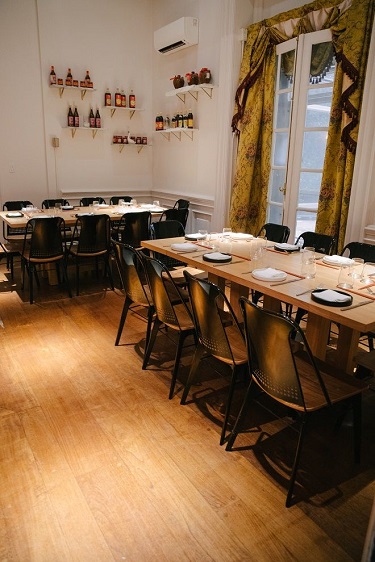 We started our dinner with a selection of Dim Sum, including Crispy Shrimp Bao with pickled daikon and General Tso's sauce, and cabbage.
Next, from "Vegetables," we had Smashed Crispy Fingerling Potatoes with turmeric caramel, pickled chilies, and scallions. This dish had a lot of flavor and texture.
From "Noodles and Rice," we had the Dan Dan Noodles consisting of Impossible Beef (minced) with whipped sesame and peanut crunch.
Our entree from "Large Plates" was Black Pepper Beef with charred onion and basil. It was very good with cubes of beef that were crispy on the outside and moist inside.
The young waitstaff and the General Manager, Kathy Longo, ensured prompt service.
Hours of Operation are: Mon. - Thurs from 5 to 10 pm; Fri. from 5 to 10:30 pm; Sat. from 11 am to 2:30 pm and 4 to 10:30 pm; and Sun. Brunch is from 11 am to 2:30 pm, and dinner is from 4 to 8 pm.