By Karen Talbot
Hudson Prime Steakhouse in Irvington is an exceptional dining experience.
The restaurant is handsome, with black walls, a white ceiling and tablecloths, and sparkling chandeliers in the main dining room. A patio, which offers stunning sunsets on the river, will open soon. The patio can accommodate 50 people.
This refined and special restaurant is owned and operated by the talented husband and wife team of Gino and Floria Uli, who also own Divino Cucina Italiana in Hastings-On-Hudson.
You enter through an attractive bar into the main dining room and continue to the dining area, which has large windows overlooking the river. There is a Private Party room for 12 in an area of the main dining room and a wine cellar downstairs which can seat 16 people.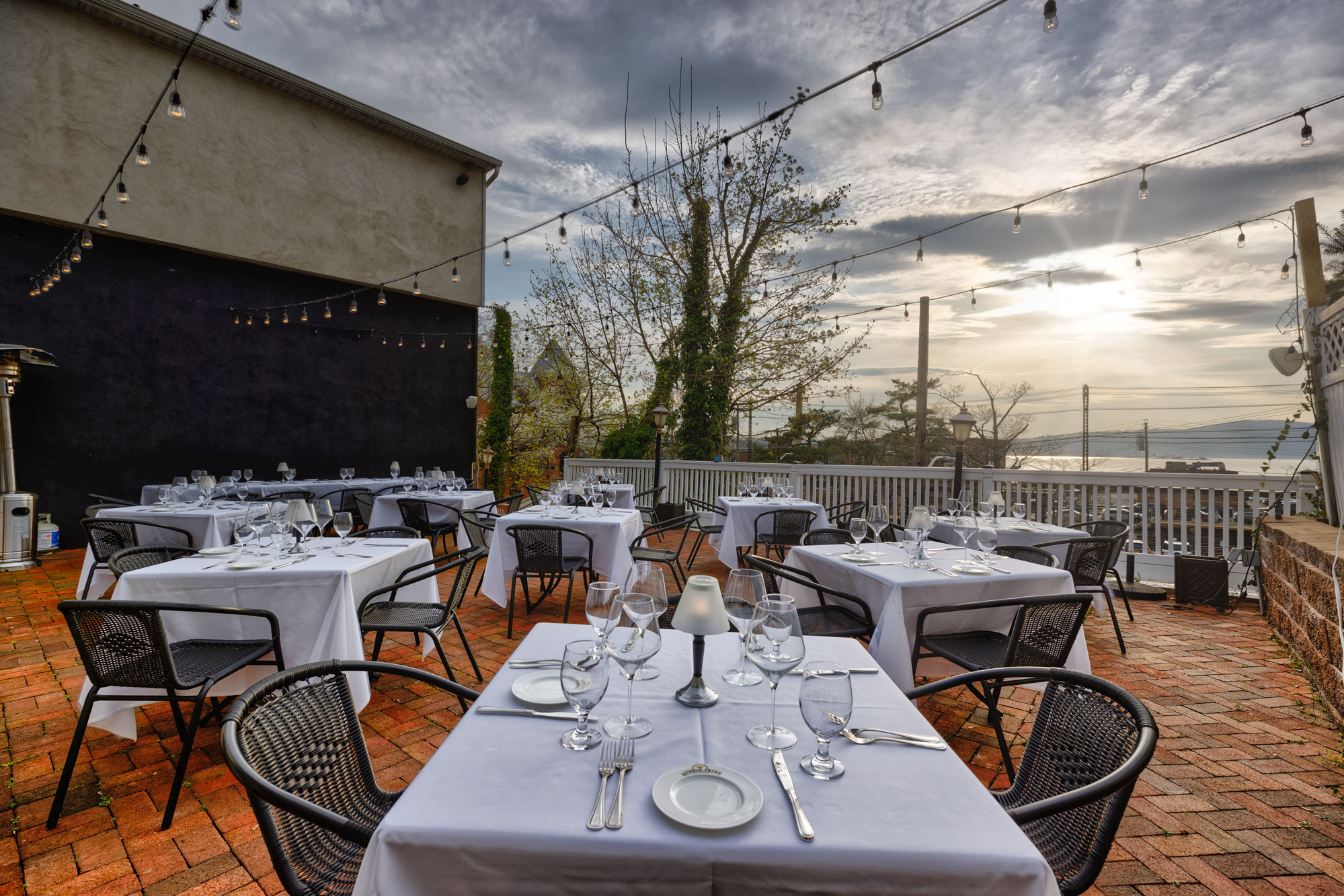 Our first-rate dinner started with crusty Italian bread served with tomato and parmesan butter, followed by Clams Oreganata and Pan Roasted Artichokes with a lemon chickpea pure from "Appetizers." Both were delicious.
Next, from "Salads," we had a wonderful Arugula Salad with beets, walnuts, and creamy gorgonzola in a balsamic glaze.
From "Entrees," we chose a pasta of Trenette Prime, composed of tricolor fettuccine with Jumbo Lump Crabmeat and Shrimp in a tomato-based pink sauce. Other Entree choices were Short Rib Pappardelle, Chicken Martini, and seafood selections of Chilean Sea Bass, Swordfish, Branzino, and Faroe Island Salmon.
The Prime Steaks & Chops are all USDA prime cuts of meat, dry-aged for 30 days. Our choice was the 20 oz. dry-aged bone-in Ribeye, which was cooked in the broiler on a plate. It was juicy and delicious. To go with our steak, we selected Onion Rings, and the best-ever Creamed Spinach topped with crispy parmesan cheese.
Our desserts were a decadent Chocolate Lava Cake with fresh berries and a mouth-watering Panna Cotta with strawberries and whipped cream.
Hudson Prime Steakhouse offers a unique Two-Tiers of Wine by the glass, with the 1st Tier costing $15 and the 2nd Tier $25. You can choose from white, rose, or red, and the waiter will tell you the brand of the bottles you choose. We selected an Unshackled Cabernet Sauvignon by the Prisoner Wine Company from California. It was a perfect accompaniment to our meal.
The service was so efficient with our pleasant waiter, Arif, and just the right amount of time elapsed between courses for us to really savor every morsel.
The restaurant is located at 5 N Buckout Street in Irvington.  It is Open for Dinner Tues. - Sun. They also serve brunch Sat. and Sun. and have Happy Hour Tues. - Fri. from 4 to 7 pm.  914-231-6800.