By Susan Miele
Jun. 24, 2020: With New York's reopening underway, restaurants have been scrambling to maximize their outdoor seating while complying with state requirements for social distancing. Here in Bronxville, the sidewalks of the business district are now peppered with tables and chairs, some extending into former parking places. Restaurant staff are also pivoting to accommodate this new norm.
At 74.5 Pondfield Road, three parking spots have been transformed into a terrace to expand the outdoor seating for Underhills Crossing. Beyond mere tables and chairs, the space is carpeted with faux grass, canopied with tents and light strands, and adorned with vases of flowers. Fans are coming next. 
The full menu is available, as are drinks from the bar. True to Underhill's tradition, even the outdoor diners can enjoy live music from the indoor piano bar, with various pianists performing Tuesday through Saturday. These performances are also streamed on Facebook Live, where songs can be requested.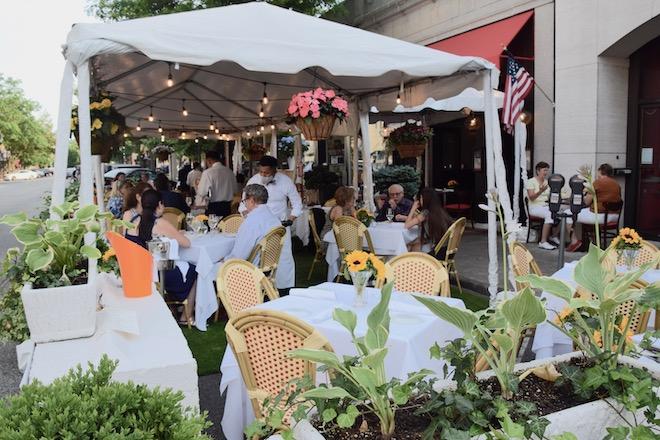 Despite the expanded outdoor seating, the capacity remains considerably less than the indoor seating would allow. Reservations are required, and table time is limited to two hours to allow for turnover. Seating times are 12:00, 2:00, 4:00, 6:00, and 8:00 pm daily. The demand has been high.
"The phone has been ringing all day," said owner Steven Palm. "Every table has been booked a week out." The community has been graciously supportive, Palm notes. "People are leaving 50% gratuities."
Ultimately, the expanded dining accommodations throughout the village has the potential to boost business for all local businesses because it increases foot traffic throughout the village.
Palm is greatful to the the village for all they have done.  He says, "The mayor, the police chief, DPW, the buildings department—everyone has been so amazing."

Photos by A. Warner