Sean McGrath along with his family and coaches celebrating his 1000th point. Photo courtesy of @Pritch4171.
By S.Q. DeJoy & J. Murrer
Feb. 15, 2023: Last week senior Sean McGrath joined an elite group of Bronxville basketball players when he scored his 1000th career point. In a home game against the Obama School on Senior Night, McGrath scored 22 points to bring his career total to 1012. He is only the fifth player to reach that milestone and joins Pat Dowd (1982), Tom Priore (1987), Alston Tarry (2018), and Chris Kelty (2022).
Going into the game against the Obama School, McGrath knew it might be his last chance to reach the 1000-point mark. He had broken his nose in a game at the end of January and was scheduled for surgery the next day. Despite the pressure, McGrath easily reached his goal in the second quarter. 
As a two-year captain, McGrath has played on the varsity team for five years and was named All-League both sophomore and junior years and All-Conference last year. He and his 2022 teammates did the unthinkable last year winning the Class B Section 1 Championship for the first time in 40 years. In the championship game, McGrath scored 15 points and was named to the All-Tournament Team.
This season has been a bit more challenging for the boys' basketball team. Their record stands at 7-12, and they are ranked 14th in a field of 20 Class B teams.  They finished the regular season on Monday with a 64-47 win over Albertus Magnus. The playoff seedings will be announced on Thursday.
Indoor Track and Field Sectionals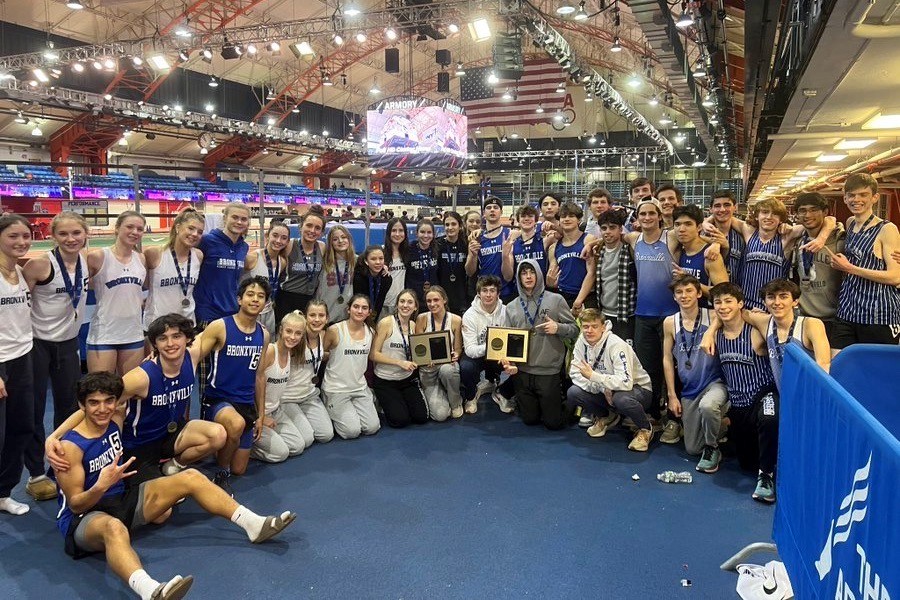 The boys' and girls' indoor track and field teams holding their Sectional Championship plaques. Photo courtesy of @bxvboystrack.
Competing at the Sectional Championships on February 7th, the boys' and girls' indoor track and field teams won their respective Class C Section 1 Championship for the second consecutive year. 
Both teams are deep in talent and finished in 1st, 2nd, or 3rd in every event except for one. The girls scored 156 points and were followed by Hastings who scored 47.5.  The boys' team won with 155 points, and Briarcliff placed second with 92.
Results are listed below.
Class C Sectional Results – Top Three Finishers
Girls
55m: Danielle Dragoni, 1st, 7.44; Mai Ly Reinking, 3rd, 7.63
300m: Kara Kochansky, 2nd, 42.26; Juliet Winiecki, 3rd, 43.03
600m: Hope Hershberg, 2nd, 1:41.59; Charlotte Murray, 3rd, 1:47.16
1000m: Maddy Williams, 1st, 3:01.64; Maddy Stupart, 3rd, 3:07.98
1500m: Maddy Williams, 2nd, 4:51.19
3000m: Charlotte Black, 2nd, 11;53.97
Long Jump: Juliet Winiecki, 1st, 15-8; Virginia Shah, 2nd, 14-4.75
Triple Jump: Eva Mihova, 1st, 31-3.25
Shot Put: Campell Molloy, 2nd, 26-0
Weight Throw: Campell Molloy, 3rd, 26-0
Boys
300m: Davis Patterson, 1st, 36.71; Pierce Patterson, 2nd, 36.84
600m: Ian Gegenwarth, 2nd, 1:27.72
1000m: Ellis Goodson, 1st, 2:32.91; Andrew Jensen, 3rd, 2:38.41
1600m: Ellis Goodson, 2nd, 4:38.07
3200m: Kieran McBride, 2nd, 10:04.10; Jack Toal, 3rd, 10:16.50
55m hurdles: Wyatt Gravier, 1st, 8.14; Aidan McBride, 3rd, 8.53
High Jump: Wyatt Gravier, 2nd, 5-8
Long Jump: Jaime Valdes, 2nd, 19-6
Triple Jump: Max Dicker, 2nd, 39-3.5
Pole Vault: Max Dicker, 1st, 13-0
Shot Put: Chris Lockwood, 1st, 43-2.5
Weight Throw: Chris Lockwood, 3rd, 46-0
Millrose Games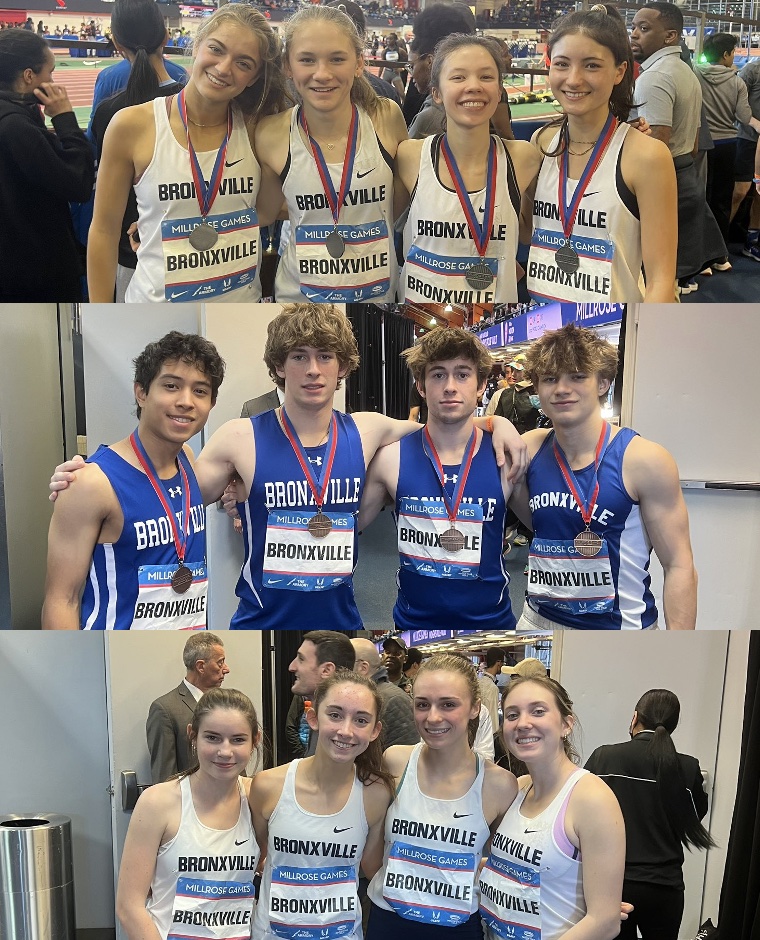 The girls' 4x400m relay team (top, l to r), Danielle Dragoni, Kara Kochansky, Mai Ly Reinking and Juliet Winiecki; the boys' 4x400m relay team (middle l to r), Jaime Valdes, Davis Patterson, Pierce Patterson and Gavin Benton; and the girls' 4x800m relay team (bottom l to r), Maddy Stupart, Maddy Williams, Hope Hershberg, and Katie O'Hare. Photos courtesy of @bxvboystrack.
The Broncos sent three relay teams to the prestigious Millrose Games this past weekend. Competing at The Armory against Suburban High Schools, the Bronxville girls' 4x400m relay team, Juliet Winiecki, Mai Ly Reinking, Kara Kochansky, and Danielle Dragoni, placed second after running a seven-second personal best time of 3:58.60. They are currently ranked No. 1 in New York.
Jaime Valdes, Davis Patterson, Pierce Patterson, and Gavin Benton teamed up in the Suburban Boys 4x400m and placed third with a four-second personal best time of 3:25.81. They set a new school record and are currently ranked No. 5 in New York.
The girls' 4x800m team was a late entry to the Millrose Games. Hope Hershberg, Maddy Stupart, Katie O'Hare, and Maddy Williams qualified for the Millrose Games last Wednesday when they ran an 18-second personal best at the Class C Section 1 Championships. Their time of 9:3505 at the Millrose Games places them 4th in New York.