The Bronxville 4x800m relay teams at the State Qualifiers. Photo courtesy of @bxvboystrack.
By S.Q. DeJoy and J. Murrer
Mar. 1, 2023: Before taking time off for their winter break, the Bronxville track and field athletes headed to The Armory for the State Qualifiers to compete against the best athletes in Section 1.  At the meet, four Bronxville relay teams took first place, and three Broncos won individual titles. By the end of the day, 24 Broncos had earned a spot to compete at the New York State Championships.
"The team had an all-time great performance at the State Qualifiers," said Coach Brian Halling. "We qualified 24 athletes for the State Championship, among the most ever in Section 1 history." 
Maddy Williams placed first in the 1500m in 4:46.28, more than three seconds ahead of Fox Lane's Morgan Eigel. Ellis Goodson ran a season's best time of 2:30.40, placing 3rd at the qualifiers and is currently ranked 4th in the state.
In field events, Max Dicker won the pole vault with a 13-0 jump and with his 13-7 jump at the Millrose trials is ranked 5th in New York. Chris Lockwood placed first in the shot put with a personal record of 44-4.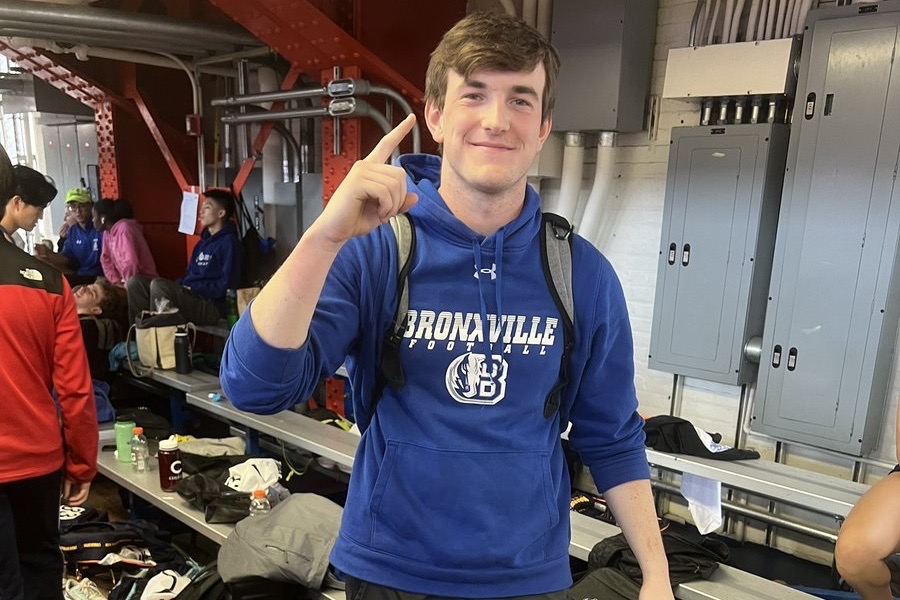 Senior Chris Lockwood at the State Qualifiers. Photo courtesy of @bxvboystrack.
The girls' 4x400m relay team is the top seed in the state after running a 3:58.60 at the Millrose Games. They ran a 4:02.52 at the Sectional Qualifiers while Ursuline placed second in 4:06.72. The girls' 4x800m relay team ran a 9:41.98 at the Qualifiers, almost three seconds ahead of New Rochelle. They are currently ranked 5th in New York.
The boys' 4x400m relay edged out a strong Suffern team finishing in 3:29.24, just 0.05 seconds ahead of the Mounties. They are ranked 3rd in New York. The 4x800m team ran an 8:08.52, which places them 7th in the state.
Section 1 State Qualifier results are below.
Individual Events
55m dash: Danielle Dragoni, 7.44
1000m: Ellis Goodson, 2:30.40
1500m: Maddy Williams, 4:46.28
Shot Put: Chris Lockwood, 44-04
Pole Vault: Max Dicker, 13-00
Relay Teams
Boys' 4x400m: Jaime Valdes, Davis Patterson, Pierce Patterson, Gavin Benton, 3:29.24
            Alternates: Javier Tomala-Reidel, Max Dicker
Girls' 4x400m: Juliet Winiecki, Mai Ly Reinking, Kara Kochansky, Danielle Dragoni, 4:02.51
            Alternates: Hope Hershberg, Astrid Pulkkinen
Boys' 4x800m: Ian Gegenwarth, Kieran McBride, Andrew Jensen, Ellis Goodson, 8:08.52
            Alternates: J. W. Henningson, Dash Kwan
Girls' 4x800m: Hope Hershberg, Maddy Stupart, Kate O'Hare, Maddy Williams, 9:41.97
            Alternates: Charlotte Murray, Quinn Sheehan
Skiing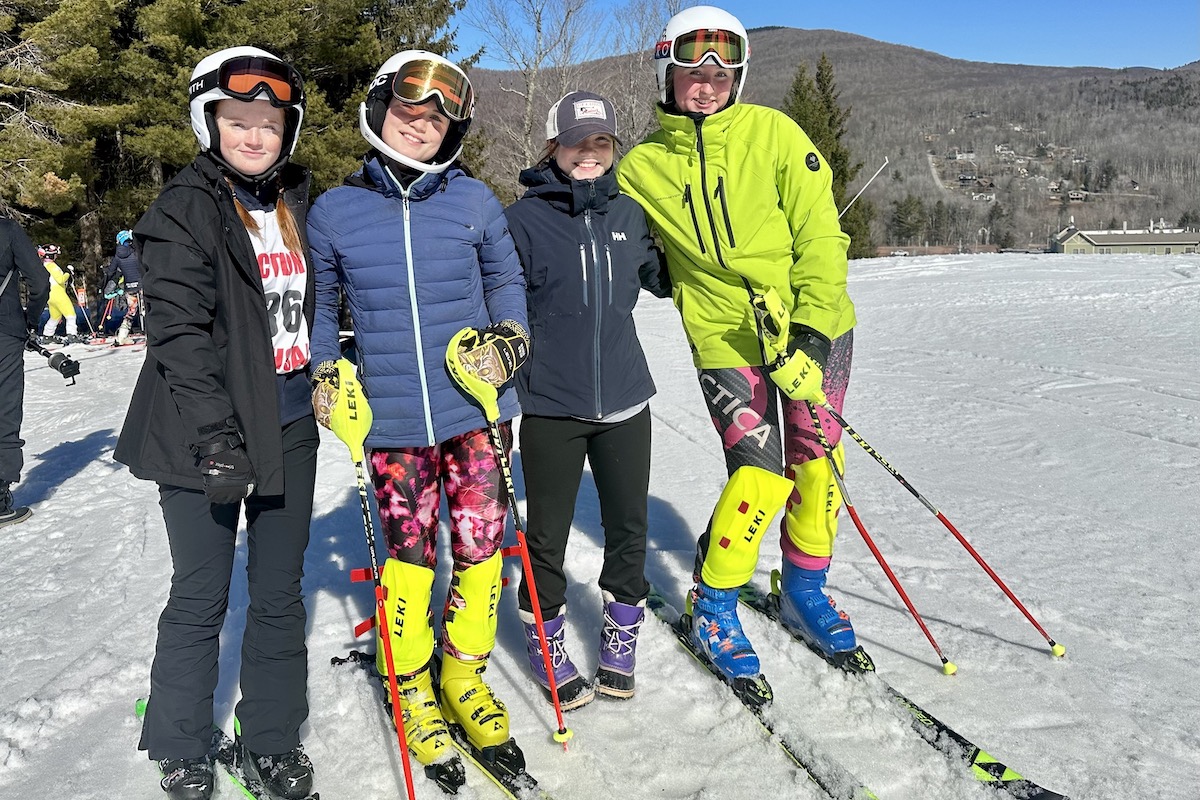 Bronxville skiers at Sectionals (l to r):  Stella Wooley, Lucy Sevin, Annie Sevin, and Brooke Thompson. Photo by M. Sevin.
The mild winter delayed the start of the ski season, but the team was able to get in some races at Thunder Ridge in Patterson. By the end of the season, six Bronxville skiers qualified for the Sectional Race at Hunter Mountain.  Lucy Sevin, Brooke Thompson, Stella Woolery, Ray Thompson, Charlie Watkins, and Andrew Wilmont headed north last Tuesday and competed in both the slalom and giant slalom.
It was the third sectional meet for sophomore Lucy Sevin who first qualified for Sectionals as a 7th grader. This year, she placed 5th in the slalom and 22th in the giant slalom finishing 13th overall in field of 60 racers. 
"It definitely was my best finish at Sectionals," said Sevin. "I sometimes crumble under the pressure, but this time, it was a better result. The conditions were difficult, but I am used to skiing in not such great conditions because I train in Vermont. It was easy for me to get into a groove."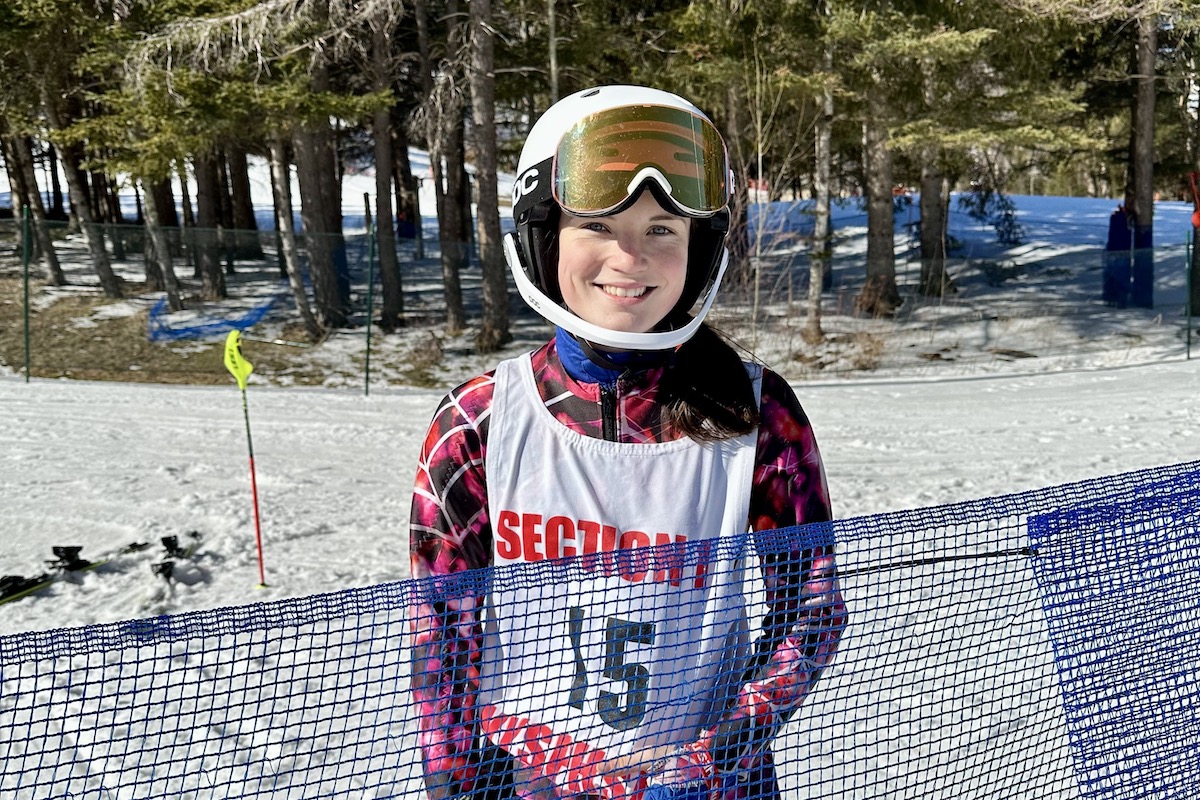 Lucy Sevin at Hunter Mountain last week. Photo by M. Sevin.
Sectional Results are listed below:
Slalom Results (1st and 2nd Runs Combined)
Lucy Sevin, 5th, 1:19.63 
Brooke Thompson, 29th, 1:30:69
Stella Woolery, 50th, 1:42.13
Ray Thompson, 20th, 1:21.97
Charlie Watkins, 44th, 1:46.79
Giant Slalom Results (Best run)
Lucy Sevin, 22nd, 40.09
Brooke Thompson, 31st, 42.48
Stella Woolery, 43rd, 46.28
Charlie Watkins, 43rd, 46.94
Basketball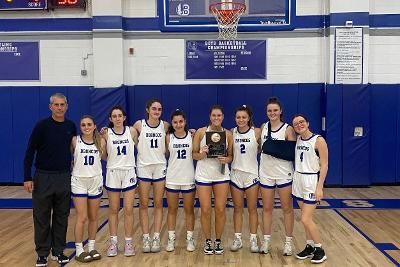 The Bronxville girls' basketball team earlier in the season. Photo courtesy of @BXVGirlsHoops.
The girls' basketball team was the No. 8 seed going into the playoffs. They faced No. 9 North Salem in a home game and came away with a 48-42 double overtime win to advance to the quarterfinals. The Bronxville girls ended their playoff run with a 62-32 loss to No.1 Putnam Valley. The team finished the season with a 12-10 record.
The boys' basketball team was seeded No. 14 in the Class B playoffs. In the outbracket round, they defeated Yonkers Montessori 45-19 but lost 66-46 to No. 3 Byram Hills in the first round. The boys' team finished the season 8-13.
Go Broncos.