Pictured: Coach Julia LeCoq with (L-R): Rosie Vorbach, Caroline Cregan, Maggie Miner, Emma Glaser and William Glaser
By Staff
Feb. 8, 2023: The Bronxville Middle School squash team traveled to Philadelphia the weekend of January 27th to compete in the 2023 U.S. Middle School Team Squash Championships. Bronxville sent two teams, a total of ten players, to the event. A staggering sixty-seven teams from across the country participated. 

Bronxville's first team competed in Boys/Mixed Division I. Bronxville was one of only three co-ed teams in this Division which contained the strongest middle school teams in the nation including local private school squash powerhouse Brunswick of Greenwich, CT.  This is the 11th year in a row that Bronxville has been placed in the highest division of the tournament, a testament to the strength of the Bronxville squash programs and its players.   

Bronxville's first team included eighth graders William Glaser, Maggie Miner, Caroline Cregan and Rosie Vorbach, and 6th grader Emma Glaser. Bronxville fell to Haverford, the #2 seed in the first round and ultimately faced its toughest match in the semi-finals of the plate losing to Episcopal Academy 4-1. William Glaser won his match 3-1 in the #1 position, while Maggie Miner lost a 5-game battle at #2, and Emma Glaser went down in a tough match at #3.
Bronxville's second team competed in Boys/Mixed Division III. The team included 7th graders Marshall Liggitt, Carter Blumenreich and Alexander Zachinyaev and sixth graders Reed Dougherty and Claire O'Mara.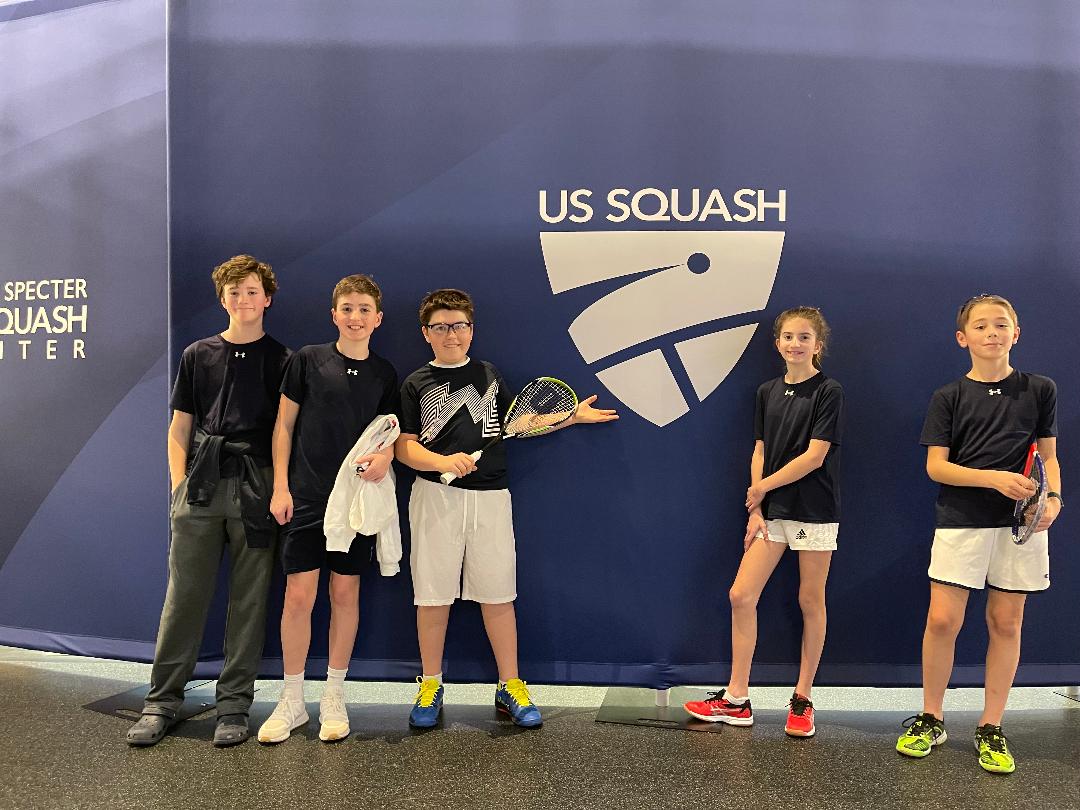 Pictured (L-R): Marshall Liggitt, Carter Blumenreich, Alexander Zachinyaev, Claire O'Mara and Reed Dougherty
The team faced two strong teams in its early matches and ultimately defeated New Canaan Saxe B to finish 7th overall in its division. The New Canaan match included wins by Reed Dougherty and Claire O'Mara and an epic performance by Carter Blumenreich, who prevailed in the 5th game over his opponent. 
The middle school team is coached by pros from the Bronxville Field Club, Supreet Singh, Tunde Ajagbe, Julia Le Coq and Abhishek Agrawal.
Mark Miner, father of 8th grade player Maggie Miner, served as the parent team manager and helped organize all aspects of the squash weekend.  In reflecting on Middle School Nationals, Miner said, "I couldn't have been prouder of the way our players competed against the nation's best."
Go Broncos.
Pictures provided by Bronxville Middle School squash team