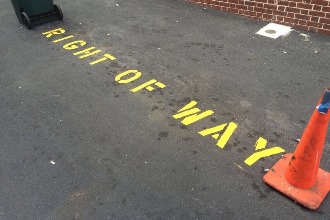 By Carol P. Bartold

Feb. 17, 2016:  A postponed appearance by Pondfield Court LLC, developers of a proposed 11-residential-condominium conversion of the former Manhattan Storage building at 100 Pondfield Road, precluded the Bronxville Planning Board from taking any action on the application at its February 10 meeting.
The board issued a conditioned negative declaration relative to the application at its July 2015 meeting. According to Eric Blessing, planning board chairman, Pondfield Court is still seeking to address and satisfy certain conditions of that negative declaration.
The board did, however, hear public comments about the project. Village resident Peter McSherry told the board that the project appears dangerous and would be bad for the community. He said that, although he has read about warning systems designed to alert pedestrians on Pondfield Road to cars entering and exiting the site, "I don't think 8-to-17-year-old kids are going to see that." He noted that, especially at lunch hour, a large number of Bronxville School students use the sidewalk that crosses the easement to the 100 Pondfield Road property.
Ellie Urstadt, longtime Bronxville resident, stated that, although the consensus seems to be that the empty building has not had a negative effect on village property values, the proposed development would be dangerous for the village in terms of vehicular and pedestrian traffic.
"This access crosses a sidewalk that has heavy pedestrian traffic," Urstadt said. "I can't imagine that children are going to be stopped by some light coming from that alleyway. I don't think you realize how strongly those kids possess that sidewalk at lunchtime or after school."
Corwin ("Corky") Frost, in an email message Urstadt read to the board, stated that, in his opinion, the 100 Pondfield Road site is not appropriate for any residential or commercial development because of the access issue. An easement from Pondfield Road, approximately 15 feet wide, provides the only ingress and egress for the building.
Frost added that, because the 100 block of Pondfield Road experiences several hours of vehicular congestion on the street and a significant number of pedestrians using the sidewalk throughout the day, he has come to the "conclusion that only some form of public use is viable for that site."
Urstadt urged the board not to approve the application. "It's really asking for trouble," she said. "It would be much better to turn it down and let us all take the consequences than to keep pursuing it."
The Pondfield Court LLC application is continued while the developer works to satisfy the conditioned negative declaration. The planning board will meet on Wednesday, March 9, at 7:20 pm in the trustees room at Bronxville Village Hall.
Pictured here:  Road entrance to proposed development at 100 Pondfield Road.

Photo by A. Warner