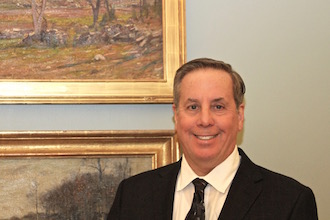 By Carol P. Bartold     

Feb. 17, 2016:  When Wayne T. Ballard, Bronxville's new superintendent of public works, left college to work in construction, he looked up from a hole he and other workers on a crew were digging for a concrete foundation. "I saw somebody standing with a set of drawings, and he was telling everybody what to do. I said to myself, 'I want to do what he does.'"
By getting to know that person, Ballard was introduced to the project architect who took Ballard under his wing and taught him about buildings. "I was really intrigued by that," Ballard said. "I was always very good in math in high school and, when you marry buildings with math, you get engineering."
Ballard returned to college and earned a bachelor of civil engineering degree from the City College of New York. He comes to Bronxville from the Clarkstown Highway Department in Nanuet, New York, where he was responsible for 300 miles of roads, 14 commuter parking lots, a 100-person department, and a $15 million budget.
Ballard's 32 years of engineering experience includes work in the private and public sectors. He formed Ballard Engineering Consulting, which specializes in site and risk management, as well as soil and groundwater investigation and management. He was senior project manager at Valid Construction Services, Inc.; director of engineering at The Envirovision Group, Inc.; national construction manager and environmental compliance manager at Avis Service, Inc.; and structural engineer at both Skidmore, Owings, and Merrill and Meyer Dorfman Consulting Engineers.
Ballard fills the position left vacant when Rocco Circosta left in June of 2014. He credits Circosta along with department of public works general foreman Victor Lema for making it "easy to walk in" to his new position. "Rocco is an engineer's engineer," Ballard said. "I'm finding exactly what I need to get to work, and it's all here. And Vic knows everything."
Ballard noted that major projects on the immediate horizon include the Federal Emergency Management Agency Midland Valley Drainage Project; wrapping up the video inspection of the village sanitary sewer system and its evaluation, which will determine the extent of repairs needed; the street lighting program, under which 50 lights in the downtown business district will be replaced; and repairing and refurbishing the front walk and steps at village hall.
"The village is very receptive to getting things done, which is a very important detail for me," Ballard said. He added that a superintendent of public works is only as effective as the trustees' support given for projects. "These trustees care about their village and they know about its every pocket."
Ballard emphasized that the primary goal of the department of public works is ensuring the quality of life and safety in the village. "Bronxville is a wonderful, historic village," he said. "It's well taken care of and the trustees are dedicated to their constituents."

Pictured here:  New superintendent of public works, Wayne Ballard.

Photo by N. Bower