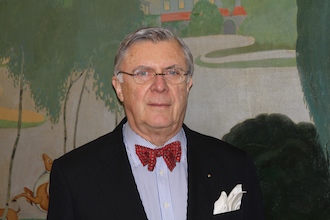 By George McKinnis, Justice, Bronxville Justice Court

Feb. 17, 2016:  The Bronxville Justice Court, led by longtime Bronxville Judge George C. McKinnis, has initiated an alternative sentencing program that aims to help criminal offenders rebuild positive lives. This program is called Community Restorative Justice ("CRJ").
CRJ has been installed in the Bronxville Court in response to the large number of incarcerations with high rates of criminal recidivism, annual costs that exceed an Ivy League college education, and the high cost to human potential caused by the conditions that prevail in overcrowded prisons combined with the stigma of criminal conviction and incarceration that inhibits employment.    
CRJ enables the Bronxville Court to provide eligible defendants with an individualized program that may include counseling, supervised community service and mentoring, educational or vocational training, drug and alcohol rehabilitation, family counseling, and addressing school problems and literacy.  
When the victim of the crime agrees, a restorative justice conference will be included, in which an offender faces his or her victim in a facilitated session to hear the impact of the crime and to offer the opportunity to take accountability for the criminal act and address with the victim the harm the defendant caused.  
Community members participate in the restorative process by attending the conferences, providing mentoring, supporting victims, and allowing offenders a chance to rebuild their lives with community support. Two highly qualified community volunteers are engaged by the Bronxville Court to monitor and aid those sentenced to a CRJ program to successfully perform his or her responsibilities and to track compliance for the court. They are Mary Mackintosh and Doris Benson.
The CRJ program will be offered in cases in which the defendant has the assessed capacity to understand and benefit from the program. This program will not be offered to hardened recidivists or those who are perceived as dangerous.
Participants will be given a one-year adjournment of their sentence during which they will go through a supervised restorative program of therapies and interventions. If they successfully complete the full one-year program, they will have their charges dismissed. This approach will allow a person to move forward with a life unencumbered by a criminal record and with the participant's problems addressed in a manner that is likely to cause the individual to turn away from criminal behavior.
An individualized plan of therapies and interventions for each defendant will be developed by the court with the aid of a Westchester County agency, Treatment Alternatives for a Safer Community ("TASC").  
Participants in the program will have regular court appearances to report to the judge on their progress and to hear the reports of the court volunteers on each defendant's compliance with the requirements of his or her program. Any failure to take the program seriously or failure to comply may result in additional program requirements, or, ultimately, a return to court to face sentencing on the original charge.
The Bronxville Court, its justices, and its community volunteers will continuously evaluate the CRJ program and hope to enhance and expand the program to town and village courts throughout Westchester County.

Pictured here:  Judge George C. McKinnis. 

Photo by N. Bower