Bronxville girls' basketball team with the Bill Green tournament plaque. Photo courtesy of @BXVGirlsHoops.
By S.Q. DeJoy and J. Murrer
Dec. 24, 2022: The girls' basketball season got underway in early December, and last week they participated in the annual Bill Green Tournament that is traditionally held right before the holiday break. The Broncos won the two-day tournament with a 35-21 win over Valhalla last Thursday and a 62-42 win over Tuckahoe on Saturday.
In the final game against Tuckahoe, the Broncos were down 18-17 with four minutes left in the half but were ahead 28-23 at halftime and never relinquished the lead again. Bronxville's Anna Becker was recognized as the tournament MVP, and Catherine Berkery was named to the All-Tournament team. Tuckahoe's Sophia Colasacco and Adriana Rocco were also chosen for the All-Tournament team.  
Bill Green, an athletic director who coached many sports at the Bronxville School, was best known for his love of basketball. The tournament was established in his name upon his retirement in 1985.
The team returns six players including captains Berkery, Becker, and Katelin Petty.  Petty will be out for several weeks after breaking her wrist in the Tuckahoe game.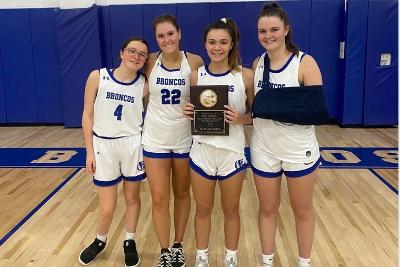 L to R: Rachel Conniff, Catherine Berkery, Anna Becker, and Katelin Petty. Photo courtesy of @BXVGirlsHoops.
One new face on the team is Coach Vic Quirolo who replaced longtime coach Donny Lucas. Quirolo was an assistant coach on the football team this past fall and coached for many years at Iona Prep.
"A new coach brings new energy," said Berkery. "I think everyone is really motivated and comes into practice with a lot of energy.  The team focuses a lot on the little things of how to get better, which really helps build up our confidence." 
The 5-3 Broncos lost to Westlake 65-47 on Monday. They will take a break for the holiday and return to the court on January 4th with a game against Yonkers Montessori.
Go Broncos.