The Bader dining room prior to his debut on September 20th.  Photos provided by J. Baio.
By S. Q. DeJoy and J. Murrer
Oct. 5, 2022: It is a great year to be a New York Yankees fan. In September the Yankees clinched the AL East title, and while lots of attention has been on Aaron Judge's homerun record, there is also some big local news. Two weeks ago, Bronxville native Harrison Bader played his first game as a Yankee after having been traded from St. Louis in August.
Bader started playing baseball for Eastchester Little League at the age of five and continued his baseball career in high school at Horace Mann.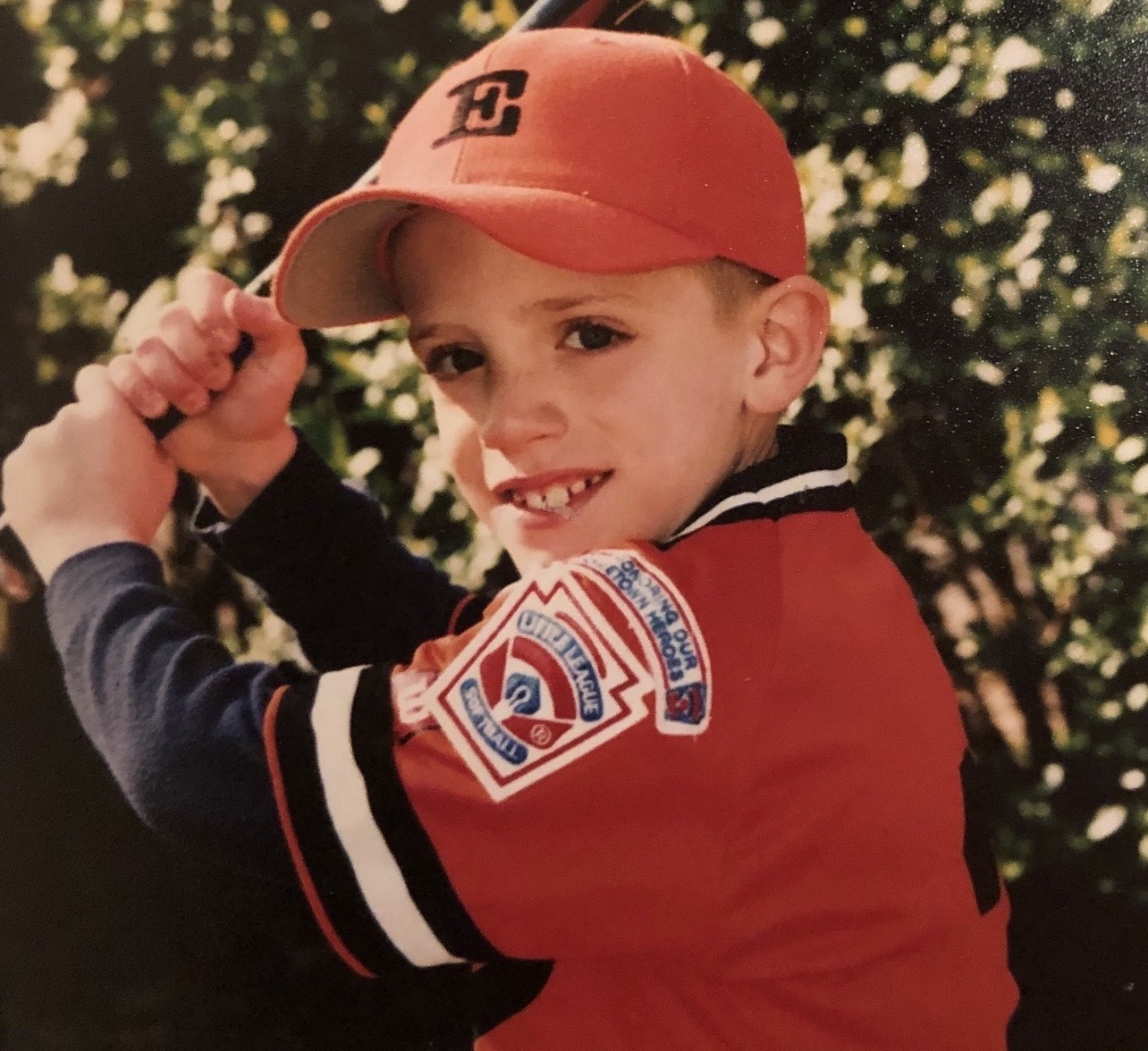 Harrison Bader as a little leaguer in Eastchester. 
In high school, Bader also played for the New York Grays, a travel team that took him to tournaments in Georgia and Florida. When he was at a tournament with the Grays in July of 2012, the University of Florida was impressed with Bader's talent and asked him to join their team. He jumped at the chance to become a Gator. Bader hit .313 his freshman year, had 17 homeruns during his third year, and was named All-SEC every year he played.
In 2015, the Gators made it to the College World Series. In their 10-2 win over Miami, Bader got up in the first inning and hit a homerun to dead center, and Gator teammate Pete Alonso, who now plays first base for the Mets, hit one to the exact same spot in the seventh. With the Yankees and the Mets having stellar seasons, it is easy to imagine that Bader and Alonso might meet again this year in a Subway Series.
Just prior to the College World Series, Bader was drafted by the Cardinals. He played in the minors for 2 ½ years and joined the Cardinals full-time in 2018. Bader had great success in St. Louis.  During his time with the Cardinals, he batted .246, had 168 RBIs, and 52 homeruns. As a center fielder, he was honored with the Gold Glove Award in 2021.
After playing with the Cardinals for six seasons, Bader joined the Yankees this summer. On August 2nd just fifteen minutes before the trade deadline, Bader got a call from the Cardinals' President of Baseball Operations to inform him about the trade. Louis, who was home to hear the news from his son, immediately called his wife. "You have to come home," he said. "Harrison has just been traded to the Yankees."
As amazing as it was to get the news, it was bittersweet to say goodbye to the Cardinals. Bader, who started his MLB career in St. Louis, wrote a goodbye letter to the Cardinals and their fans.
"Being a Cardinal in St. Louis is just special" wrote Bader.  "And I just want to make sure all the fans understand how much I enjoyed playing in front of you guys every single second."
Although he was traded in early August, Bader was put on the IL because of plantar fasciitis. He made his Yankee debut on September 20th with 2 hits and 3 RBIs, and his parents were in the stands.
"I saw him up there on the jumbotron, and I am happy he is home playing for this team," said his mother.  "I still cannot believe he is playing for the Yankees." 
"He looks great in pinstripes," added his father.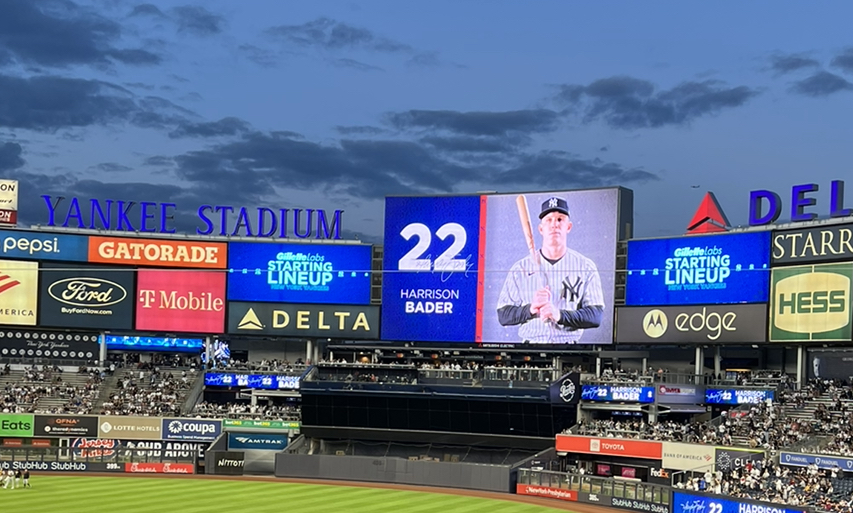 Bader on the jumbotron for his Yankee debut.
As a little kid, Bader loved the Yankees and was a big fan of Derek Jeter and Mariano Rivera.  He even celebrated his 8th birthday with a Carvel cake decorated with the Yankee logo.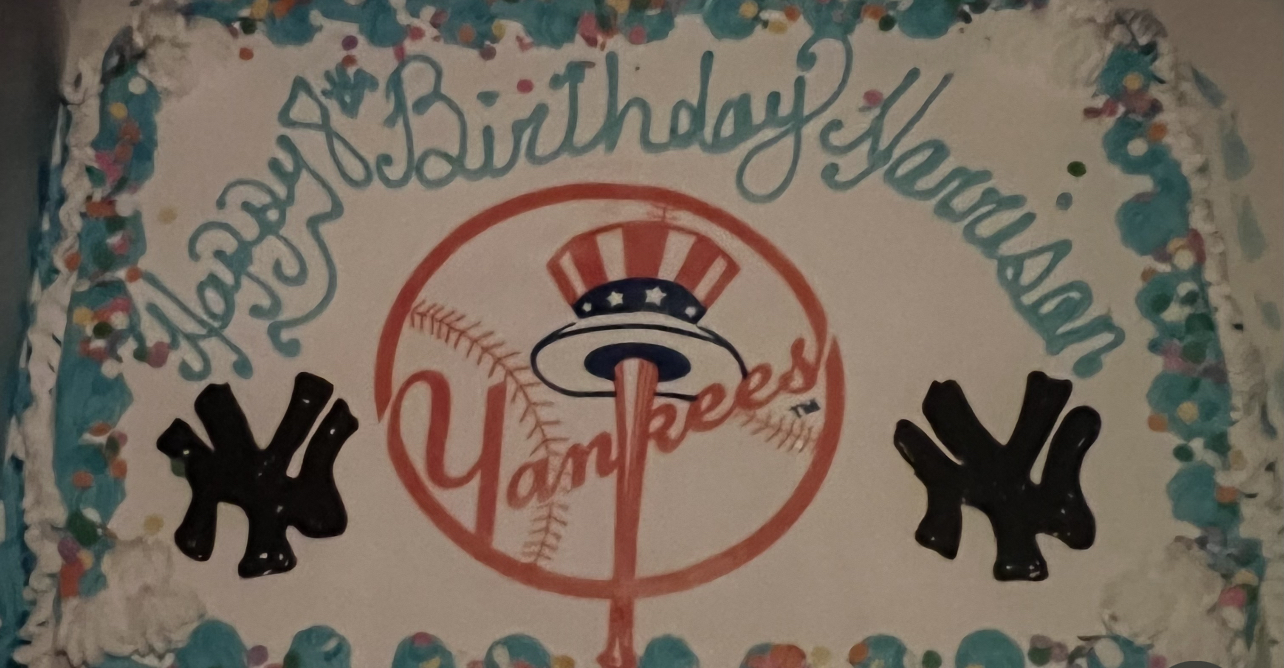 Bader looks a little different now that he is playing for the Yankees. He was easily recognizable with his trademark long hair while in St. Louis, but the morning after the trade, he cut his hair short to follow Yankee policy.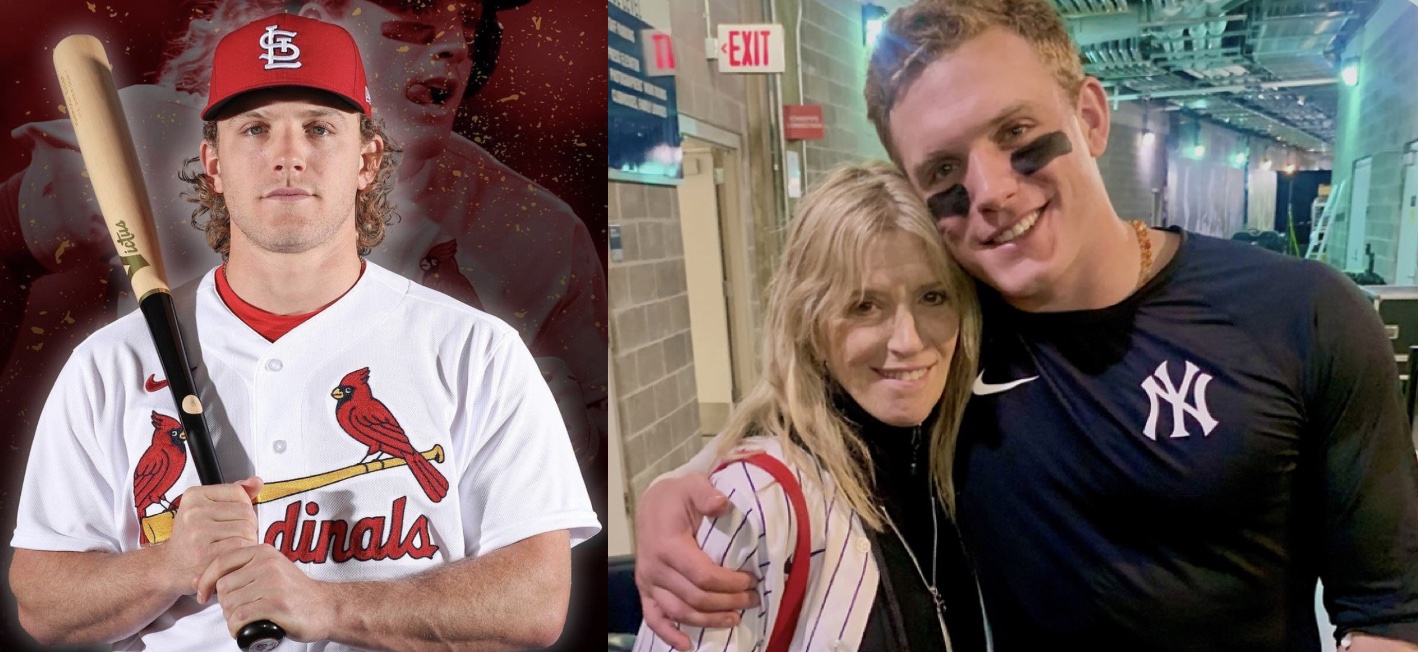 Long-haired Bader as a Cardinal and Bader with his Mom at Yankee stadium. 
Earlier this year, Bader and fellow Eastchester Little League alum John Doherty were honored at the opening of the newly renovated O'Rourke Field on Garth Road.  Doherty, who played for Concordia College in the late eighties, went on to pitch for the Detroit Tigers.

Opening of O'Rourke Field in May. Photo by J. Baio.
Bader is still involved with Eastchester Little League, and in the off-season, he volunteered at an Eastchester Little League Clinic at the Sports Underdome in Mt. Vernon.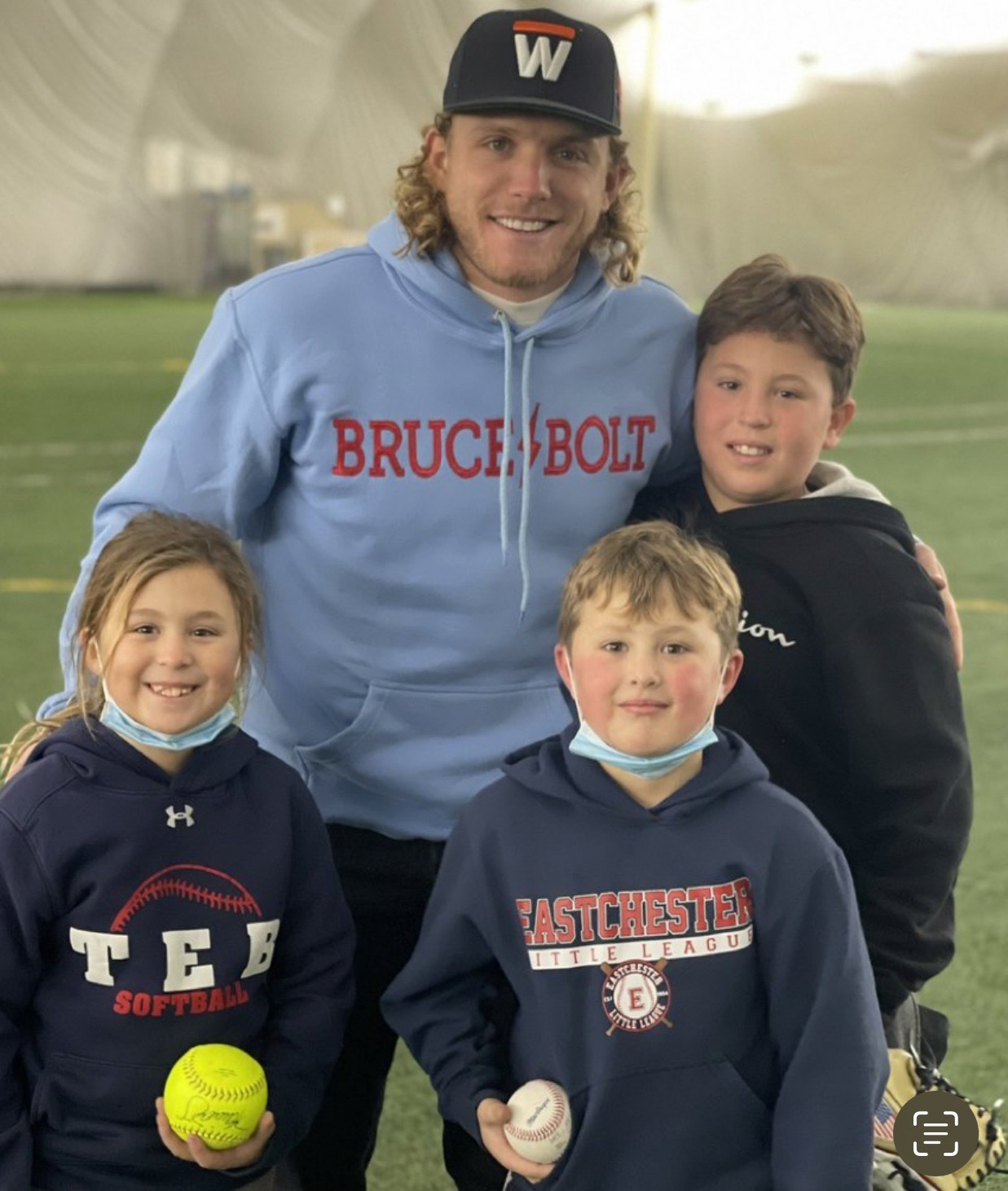 Bader with his little league fans at the Underdome.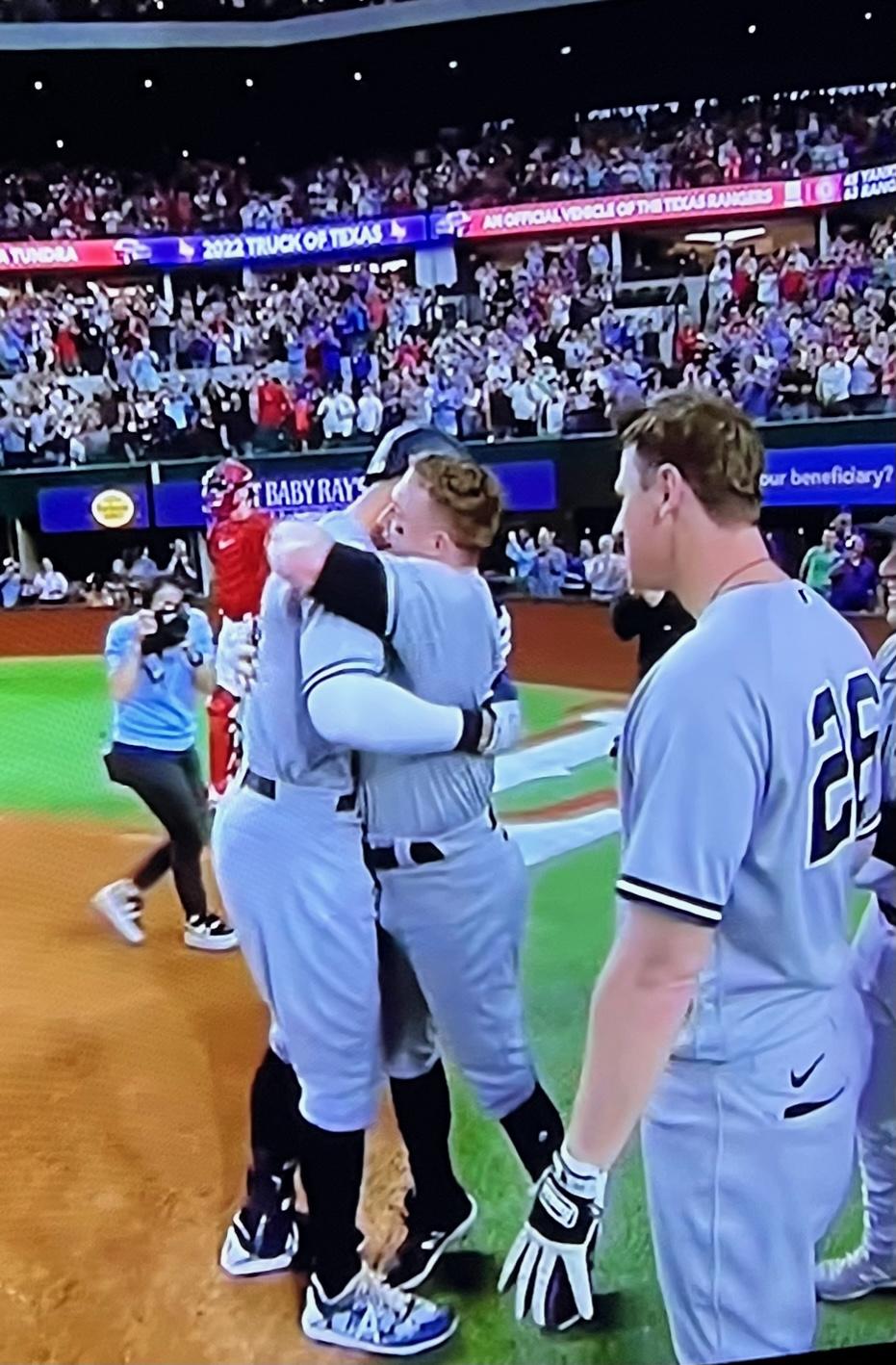 Bader on the field congratulating Judge as he breaks the tie with Roger Maris on October 4, 2022
Since his return on September 20th, Bader has been a regular in the Yankee's lineup. The Yankees finish up the regular season this afternoon with a game against the Rangers. Their first playoff game is scheduled for Tuesday, October 11th at home against the winner of the Wild Card Series between Tampa Bay and Cleveland.
Go Yankees.