Pictured: Kiki Tormey and Molly Krestinski congratulate each other after winning the New York State Championship. Photo by Joe Villanueva.
By S. Q. DeJoy and J. Murrer 
July 13, 2022: The Bronxville lacrosse program has a history of talented teams. This past spring, the girls' team won the Class D New York State Championship for the first time, and they finished the season ranked No. 8 nationally. The boys' team finished 12-6 with quality wins over Iona Prep, Stepinac and Scarsdale and were ranked No. 5 in New York State.  During the regular season they defeated Briarcliff who was ranked No. 2 in the state, but they lost to the Bears during sectional playoffs.  
The Bronxville athletic program has encouraged athletes to work hard on and off the field, and seven Broncos from the Class of 2022 will go on to play lacrosse in college.  
"As a Bronco, I learned how to work well with others and to understand the value in working hard to accomplish a final goal," said Caroline Ircha, a co-captain of the team.  "This year, I learned that anything is possible when you have a group of people putting 110% every day for a common goal."
Ircha was named All-American, was a Golden Dozen recipient and received the Class of 2022 Award for Overall Academic Excellence.
Over the past four years, the Bronxville School has sent 19 student-athletes to play lacrosse in college.  It takes a tremendous effort to be recruited and athletes work hard to explore all options and put all the pieces together.
"The recruiting process teaches you a lot about how to deal with ups and downs," said Tommy Garofalo, who will play for Franklin and Marshall. "If you keep your mind on your end goal, you can achieve it. I chose F&M after I toured it with the coaching staff and felt that the challenging academics, small school community, and lacrosse program was a perfect place for me to thrive as a student athlete."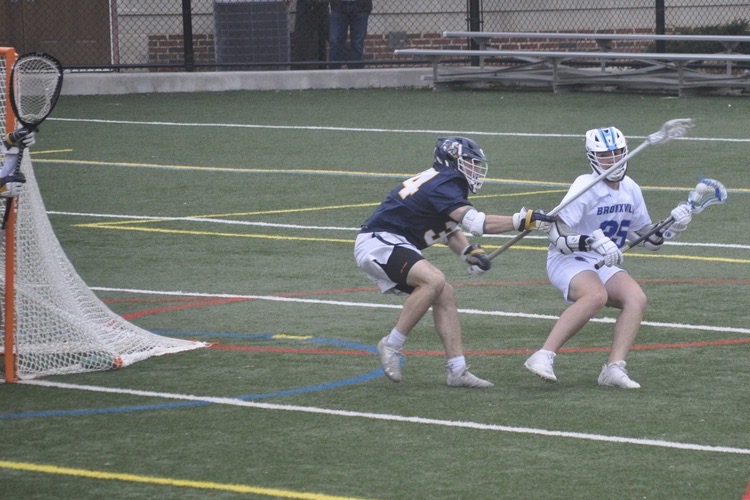 Tommy Garofalo (25) in a game against Pelham during the regular season. Photo by J.Murrer. 
Garofalo was a two-year captain of the lacrosse team and in 2021, despite the shortened season, was the third Bronco ever to score 100 points in a season.
Garofalo's teammate Preston Maze, will be heading to Colby College in the fall. Maze was named All-League for both the 2021 and 2022 seasons and was named Co-defensive MVP this spring.
"The recruitment process was exciting," said Maze. "I chose Colby because of its prestigious academic reputation, class size, and welcoming team and coaches."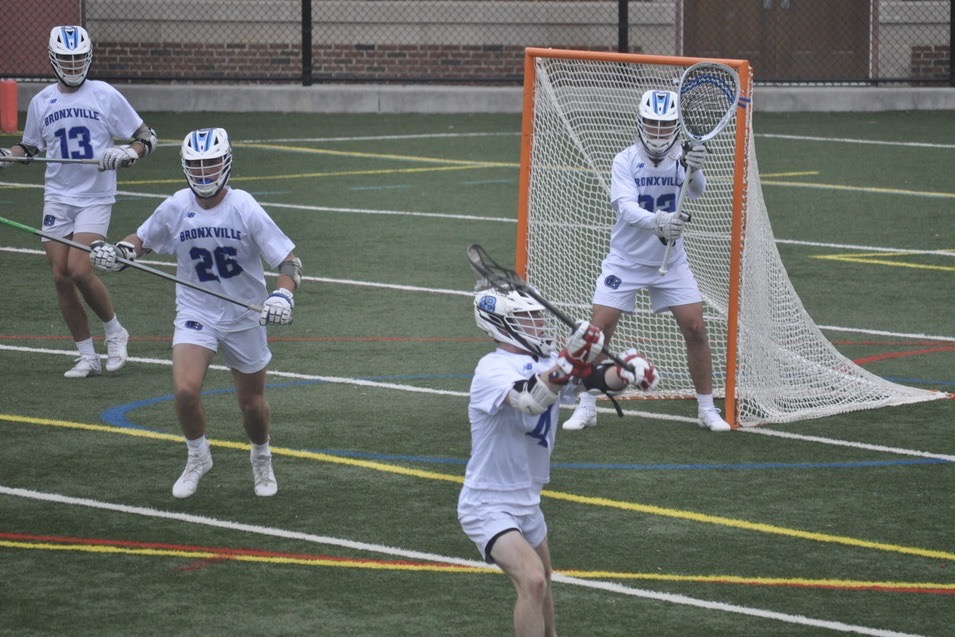 Preston Maze (26) against Pelham in late April. Photo by J. Murrer.
Caroline Ircha, who will play at the University of Pennsylvania in the fall, also made her decision based on both athletics and academics.
"I wanted to choose a school that would offer me my best opportunity academically, while also being competitive on the field," said Ircha. "I also knew I wanted to study finance, so a competitive business school was something I was looking for. For me, Penn checked all the boxes."
The Bronxville lacrosse teams benefit from some great coaching. Rob Ambrose, coach of the boys' team, was inducted into the National Interscholastic Lacrosse Coaches Association (NILCA) Hall of Fame in the fall 2021. Athletic Director Joe Haven, who took over coaching the girls' team this year, was named Lohud's Coach of the Year.
The athletes also receive great support from the Bronxville community.
"The best part about playing Bronxville Lacrosse was the constant support from the community," said Garofalo. "I have made many friendships with students and parents which I never would have gotten to without Bronxville lacrosse."
College Recruits
Bridget Finley, Amherst College
Tommy Garofalo, Franklin and Marshall College
Caroline Ircha, University of Pennsylvania
Megan Krestinski, Bucknell University
Molly Krestinski, Colgate University
Preston Maze, Colby College
Kiki Tormey, Brown University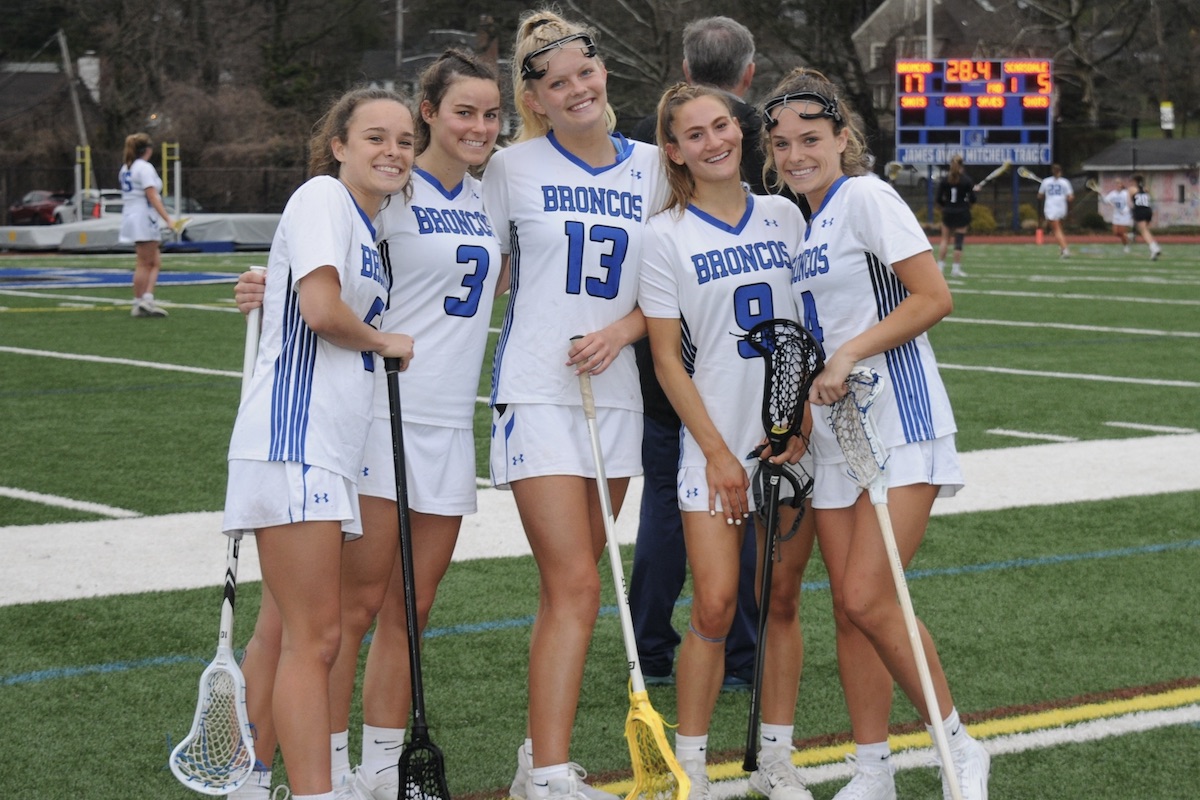 Pictured: Bronxville girls' lacrosse captains Megan Krestinski, Bridget Finley, Kiki Tormey, Caroline Ircha, and Molly Krestinski. Photo by Jane Ircha.
Go Broncos.