Bronxville boys' golf team. Photo by Chris Lockwood.
By S.Q. DeJoy and J. Murrer
May 4, 2022: The varsity golf team is having an exceptional season, and with a big win over Scarsdale yesterday, the Broncos improved their record to 11-1.  Bronxville played Scarsdale for two consecutive days this week and lost to them on Monday.
In Monday's match between Bronxville and Scarsdale, the Broncos tied the Raiders, with each team scoring 200. The 6th score was used as a tiebreaker, and Scarsdale clinched the win, 247-243.
Bronxville turned the tables on Tuesday with a 199-200 victory over Scarsdale, making it the first time in four years that the Broncos have bested the Raiders.
Low scores in Monday's match were Greydon O'Keefe scoring 37, Will Fang, 38, and Eddie Hannigan, 39.
"The past two times we've played Scarsdale, it's come to a tiebreaker," said junior David O'Shaughnessy after yesterday's match.  "After losing Monday in a tiebreaker, I think the level of focus increased, and we were ready to go today."
"I'm really proud of this team and how much they have improved over the past year," added senior Hannigan. "We went in there and beat one of the best teams in the state."
The golf team has been busy as they approach the end of the regular season. They had back-to-back wins last week despite some blustery conditions. In the win last Wednesday against Blind Brook, O'Keefe and Hannigan scored in the 40s, and the Broncos finished with a score of 206.  The next day, the team defeated Harrison High School with Hannigan and Owen Atkinson each recording low scores of 40.  In that match, the Broncos scored 205. 
"Our average team score for five golfers and nine holes of golf is 205, a true sign of our consistency throughout our starting lineup," said Coach Chris Lockwood.
The lineup includes captains, Hannigan, O'Shaughnessy and junior Charles van Tienhoven, who have led this group by being consistent throughout the matches.  The starting lineup is rounded out by Atkinson, O'Keefe, and Will Fang.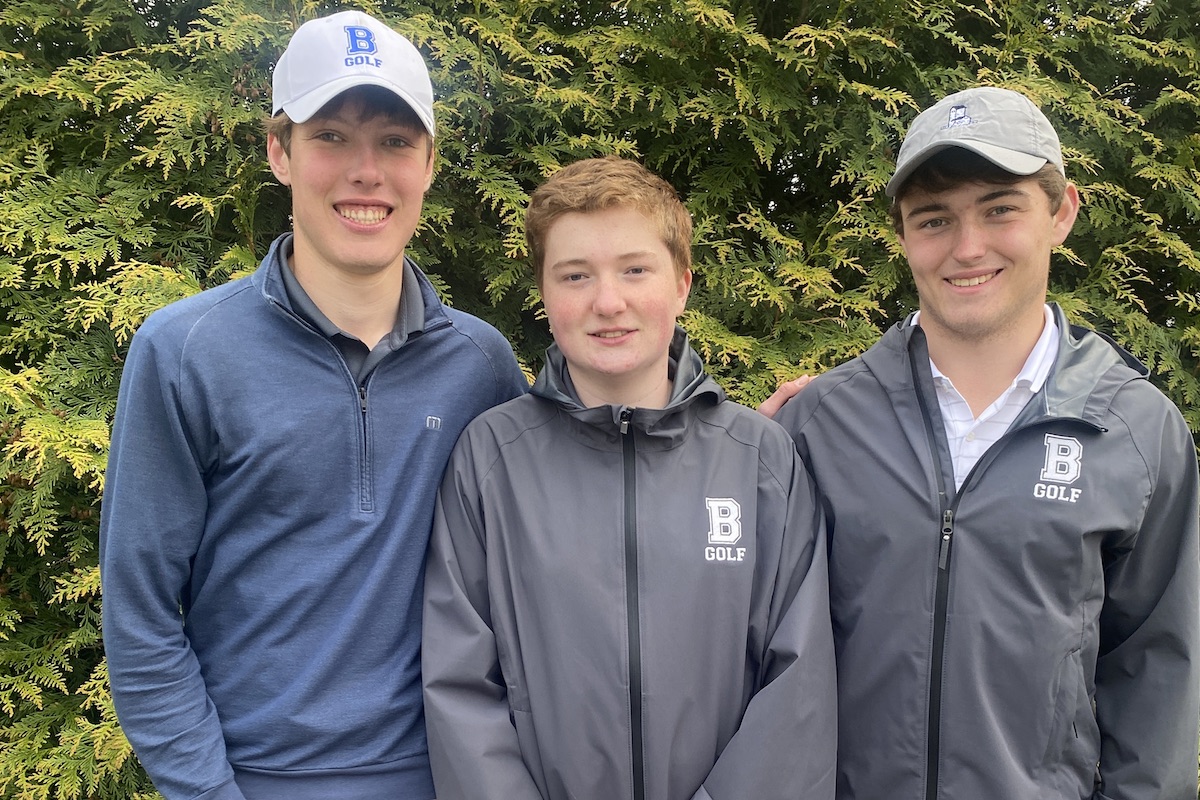 Bronxville golf team captains (l to r): Charles van Tienhoven, Eddie Hannigan and David O'Shaughnessy. Photo by Chris Lockwood.
"We have a lot of guys who are passionate about the sport and put the work in," said van Tienhoven. "All of our starters are upperclassmen, which is super important when it comes to nerves and playing under pressure."
The playoff season is rapidly approaching, and there will be a Section 1 Team Tournament and a Section 1 Individual Tournament.
"If we keep posting good numbers, there's a very high chance that we make team sectionals," said Hannigan. "In addition, our top six guys are in contention for the individual tournament."
The Section 1 Tournament will be held on May 16th and May 18th at Waccabuc Country Club and Westchester Country Club. 
Go Broncos.
Other Broncos Scores This Week
Baseball (15-2)
4/28: Bronxville 13, Dobbs Ferry 2
4/30: Bronxville 11, Irvington 1
5/2: Bronxville 20, Irvington 5
Boys' Lacrosse (8-4)
4/29: Bronxville 16, Westlake 2
4/30: Rye 12, Bronxville 6
Girls' Lacrosse (12-1)
4/28: Bronxville 18, Pleasantville 10
4/30: Bronxville 10, Mamaroneck 7
5/2: Bronxville 13, Rye 5