Photo by Susan Miller McCormick
By S.Q DeJoy and J. Murrer
Sept. 15, 2021: The Bronxville varsity football team picked up a 48-46 win on Saturday night in a tough battle against Pearl River. It was the first game of the season, and to commemorate 9/11, the Bronco players waved flags as they were led onto Haindl Field by a bagpiper.  The game was held at the Eastchester field because Chambers Field suffered damage during Hurricane Ida.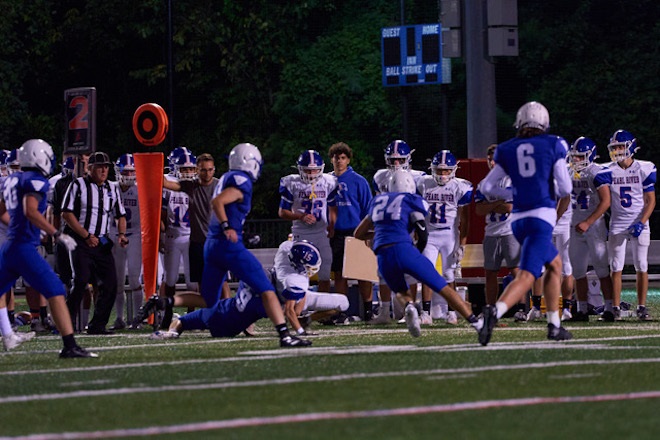 Broncos in the 48-46 win against Pearl River. Photo by David Fenner. 
The Bronco offense was unstoppable scoring five touchdowns and taking a 34-13 lead at the end of the first half.
"Definitely the craziest game I have ever played in," said Co-captain Spencer McCormick.  "At the beginning, we came out hot and, at half we were up by 20. Going into the second half we were fired up, and then we started making a couple of mistakes."
The Broncos scored 40 points in the first three quarters but a couple of turnovers in the 4th gave the Pirates the opening they needed. Pearl River narrowed the gap to 48-40, and with just two minutes left in the game, scored once again bringing the score to 48-46.
Pearl River lined up for the two-point conversion in an attempt to tie the game, but the Bronco defense stepped up and stopped the Pirates from scoring. Right before the two-point conversion, the game had a long delay due to an injured Bronxville player. 
"The whole game relied on that play," said McCormick. "After our player got injured, we wanted to win the game for him. And we did."
The goal line stop on 2-point conversion: Spencer McCormick #55 and Chris Kelty #3. Photo by David Fenner
Quarterback Conor O'Neil carried the offense with four touchdown passes and three touchdown runs. O'Neil was 7-13 with 160 yards and rushed for 286 yards, which included two 93-yard runs. Chris Kelty scored on a 48-yard pass from O'Neil to start the game, and Luke Stephens scored on a 63-yard pass.
Senior O'Neil joined the Broncos in March but because of eligibility issues only played one game. O'Neil was named to Lohud's Elite 11 list and has offers from Fordham, Cornell, Georgetown and Amherst.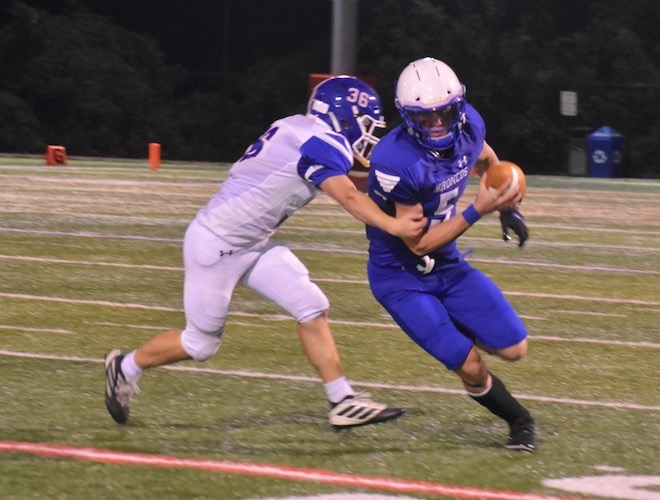 Conor O'Neil (5). Photo by Susan Miller McCormick.
The Broncos had tremendous success in Class C in March during the Fall 2 season, easily winning all six of their games. They are playing in the more competitive Class B this fall due to increased enrollment in the high school.
"I think that Class B is a harder hill to climb," said Co-Captain Tommy Garofalo, "but I think we are up to the challenge and can dominate the section."
There are 33 players on the roster, and the team is led by Captains Spencer McCormick, Tommy Garofalo, Conor O'Neil, Chris Kelty and Preston Maze. The Broncos graduated a lot of seniors so many players have moved into starting roles this fall.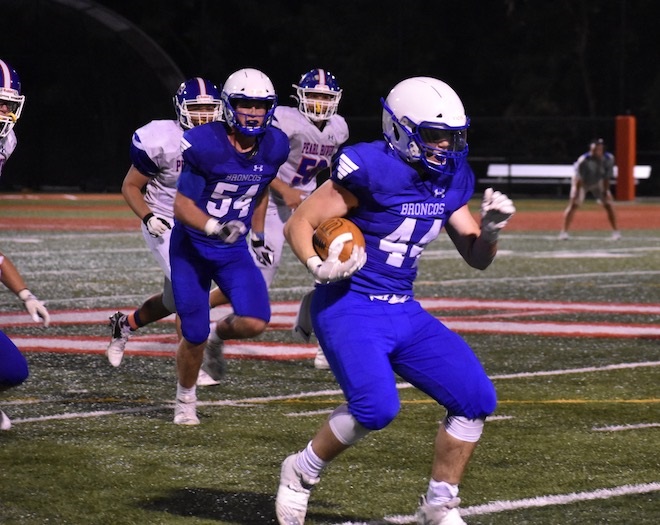 Tommy Garofalo (44) and Preston Maze (54). Photo by Susan Miller McCormick.
"I would call it a reloading year," said Garofalo.  We have a ton of good talent with the junior class and two sophomores. Just getting the younger players into the mix is critical for us, and having them step up and play well is a huge part of our success."
The Broncos will play six more games, including away games at Nanuet, Ardsley, Pleasantville and Byram Hills, and two home games against Westlake on October 2nd and Putnam Valley on October 23rd.
They will be playing under lights once again this week at Nanuet on Friday.
Go Broncos.