By S.Q DeJoy and J. Murrer
July 21, 2021: All the Bronxville School sports were impacted by the pandemic during the 2020-2021 season.  The teams dealt with shortened schedules, new restrictions and no fans to cheer them on, but the Bronco athletes prevailed with great results. The spring athletes excelled in their respective sports and were honored with 58 All-League awards, 15 All-Section awards, 10 All-County, two All-American and one academic All-American.
The Broncos showed that they were at the top of their game, and twelve athletes from the Class of 2021 have been recruited to play in college. Last week we covered the five fall and winter athletes who were recruited for college sports in this article: BRONXVILLE CLASS OF 2021 COLLEGE RECRUITS: ATHLETES WHO COMPETE IN FALL AND WINTER SPORTS.
This article features the seven spring athletes who were recruited for college sports.
At the beginning of the school year, no one was certain about the fate of high school sports in New York. Lacrosse player Henry Sheehan, who will play for Holy Cross, was on the Bronxville boys' soccer team last fall. 
"During the beginning of September, the soccer season was pushed back but once we got on the field, I was encouraged by how many games we could play," said Sheehan.  "As we progressed, we had some small outbreaks that put a halt to some winter sports, but then as people were starting to get vaccinated, that's when I felt way more comfortable for the lacrosse season."
The recruiting process for lacrosse players went smoothly because it took place pre-pandemic, but there were some recruiting changes for both baseball and track.
It was a more challenging recruiting process," said Spencer Dessart who will play baseball at NYU. "There was more done online, and coaches were not allowed to be at your games. I had it easier because I played on a club team in New Jersey, which was a lot more lenient than New York."
For track athletes, times and distances matter, but it is also important to meet with coaches. Jules Gravier, who will compete in pole vault at UMass at Lowell, had all her meetings done by Zoom and committed to the school before ever visiting the campus.
For some athletes, injuries had an impact on recruiting.  For Victoria Ruffo, who will play lacrosse at Columbia, sustaining an injury made it all the more challenging.
"My recruiting process was tough because I got injured the summer before my junior year so I had to attend scouting events and tournaments in the fall while at the same time playing soccer."
Lacrosse teammate Alex Doukas, who has committed to play at Fairfield in the fall, had her senior spring season end early when she suffered a serious knee injury after only playing a few games.
"Despite my injury, I am looking forward to being a part of the Fairfield Women's Lacrosse Team," said Doukas. "Although I won't be able to play my first year, redshirting is definitely an option I am considering."
Deciding to compete in collegiate sports is a big decision. Sprinter Eric Fleisig, who will join the track team at Dickinson College, made his decision in 10th grade.
"I realized by sophomore year that I wanted to pursue some sport in college because sports have been very important to me all my life," said Fleisig.  "I realized I was very good at track so I ended up quitting basketball and pursuing winter track."
There are many reasons why students chose their specific college or university and both good academic and athletic programs are part of the draw.
"Columbia was always one of my top choices because of the academic prestige," said Ruffo. "I also really like the athletic program which is positive and encouraging. My Dad also went there so he is excited."
The Broncos who have been recruited to play spring sports are featured below. 
Henry Sheehan: Holy Cross (lacrosse)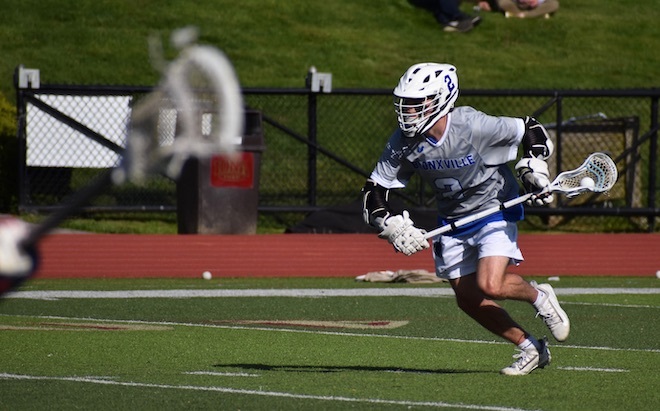 Henry Sheehan. Photo by Susan Miller McCormick.
Henry Sheehan was a two-sport athlete at Bronxville playing both soccer and lacrosse. He will continue his lacrosse career at Holy Cross. He played attack at Bronxville and was named All-League and All-Section this spring. The highlight of his senior year was winning the Sectional Championship.
Sheehan has been recruited to play attack or middie but will be happy to play whatever gets him on the field faster.
"When I visited Holy Cross in late September of my junior year, it was not on my radar" said Sheehan. "I was blown away by the campus. The kids were genuine and nice and definitely kids I want to surround myself with for the next four years."
Holy Cross will have a new coach in the fall.
"The coach that recruited me is gone and there is a different coach now," said Sheehan.  "I met the new coach and he is amazing. He was the offensive coordinator at Maryland and is really turning this program around."
Spencer Dessart: NYU (baseball)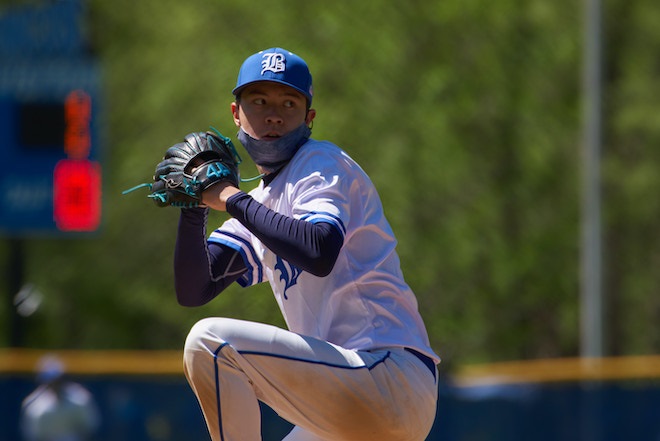 Spencer Dessart. Photo by David Fenner.  
For Bronco pitcher Spencer Desssart, helping the baseball team make it to the sectional final for the first time in Bronxville history was a highlight of his senior year. Dessart finished the season with a 5-2 record and will play for New York University in the fall.
This past spring, he received All-League and All-Section honors and was tnamed the League Pitcher of the Year. His Team MVP award reflected both his pitching prowess (sub 1 ERA) and his offensive contributions (.500 BA and 16 RBIs). He was honored with the Diamond 9 award, which is given to nine players in Section 1 for their athletic, academic and extracurricular accomplishments.
The NYU baseball program is relatively new. It has been in existence for six years and has had a winning record every year.
"I wanted a school with good academics and good baseball," said Dessart. "I am excited to be playing at the Brooklyn Cyclones Stadium."
Jules Gravier- UMass, Lowell (pole vault)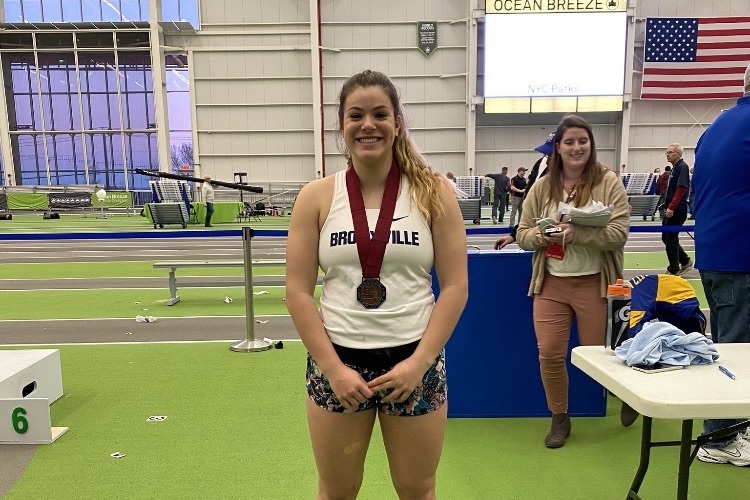 Jules Gravier after placing 8th in the pole vault at the 2020 New York State Championships. Photo courtesy of @sports_broncos.
Jules Gravier first broke the Bronxville School pole vault record during her sophomore year, and continued to break her own record until she set her personal best this spring.
"The spring went pretty well. I jumped 11'1" which is a lifetime PR and an outdoor school record. I have both the indoor and outdoor records," noted Gravier.
Gravier has been awarded with All-League, All-Section and All-County recognition and was named MVP this spring. She will compete at the University of Massachusetts at Lowell in the fall.
"I met the team by Zoom and UMass stood out to me because they are really a tight knit team," said Gravier. "When I met some of the girls and boys, I instantly felt this was a community that I was looking for."
Gravier honed her pole-vaulting skills during high school at the Hudson Valley Flying Circus in Warwick, N.Y. and will continue to train there this summer. 
Eric Fleisig: Dickinson College (track and field)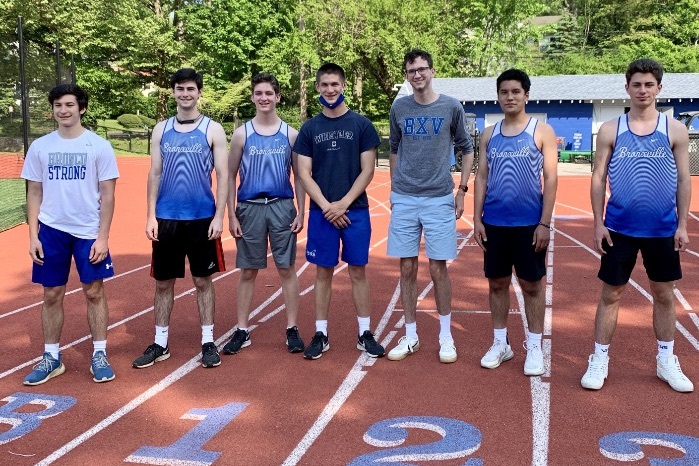 Eric Fleisig (left) and his senior teammates. Photo courtesy of @sports_broncos.
Eric Fleisig, who played football and ran track at Bronxville, will be joining the track team at Dickinson College in the fall. Fleisig was named All-League and All-Section in track in 2018 and also received All-League honors in football.
Fleisig was a sprinter for the track team running the 100m, the 200m and the 4x200m relay. As a member of the football team, he was a wide receiver and cornerback.
The pandemic created quite a challenge for Fleisig in the last year. The 2020 outdoor track season was canceled, and the 2020-2021 winter track season held only one meet because of Covid.  Fleisig's participation in track this spring was limited because he played football in the Fall 2 season and was nursing an injury during the outdoor track season.
He was able to visit Dickinson last August, and is looking forward to joining the winter and spring track and field teams. 
Victoria Ruffo: Columbia University (lacrosse)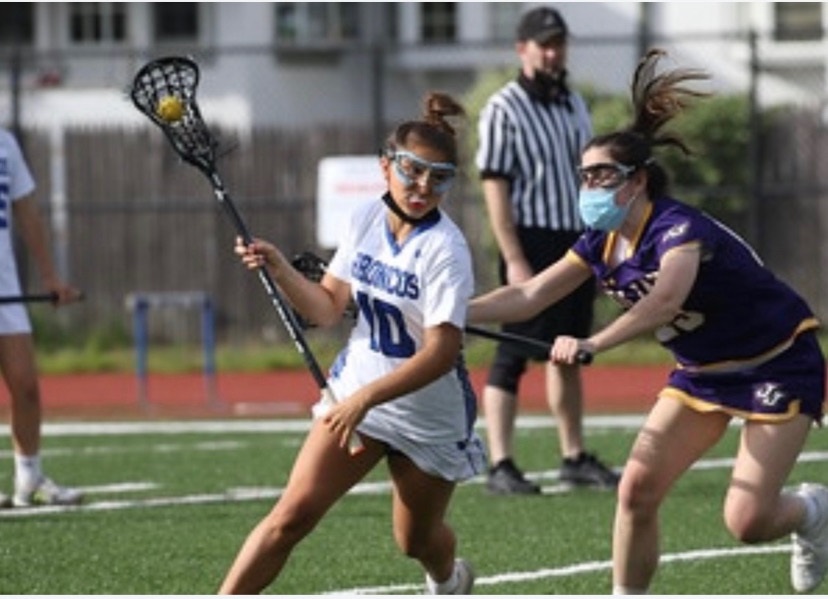 Victoria Ruffo (10). Photo by Joe Villanueva.
Victoria Ruffo, who played both soccer and lacrosse at Bronxville, will be playing lacrosse at Columbia University in the fall. Ruffo, a four-year varsity player, was named All-League and All-Section for both sports and was also recognized as All-State Honorable Mention for soccer.  Ruffo was the recipient of the lacrosse Golden Dozen award, which recognizes the top twelve athletes in Section 1 for their athletic, academic and extra-curricular accomplishments.
Ruffo's highlight of the year was winning the Sectional Championship.
"Everything just came together.  I knew we were going to be good, but having lost good players last year and because we did not have a preseason due to Covid, we weren't sure. We worked really hard and everything fell into place."
Ruffo committed to Columbia in the Fall of 2019.  Because of the pandemic, the Ivy League lacrosse season has been cancelled the last two years. Ruffo will start to play right away as the Columbia's women's lacrosse team will finally be back in action playing fall ball and competing in tournaments.
Alex Doukas: Fairfield University (lacrosse)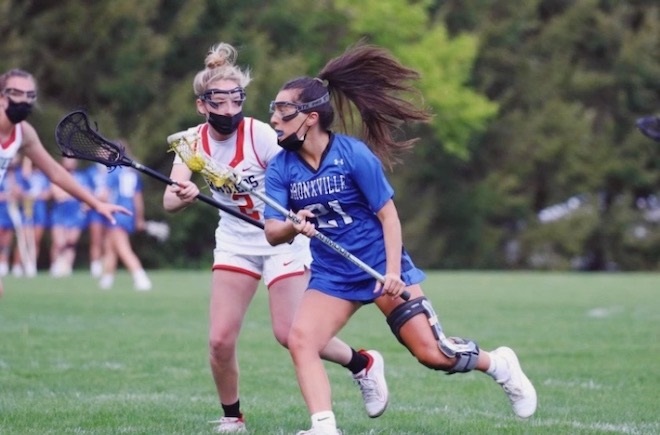 Alex.Doukas (21). Photo by Joe Villanueva.
Alex Doukas played five years of varsity soccer and four years of varsity lacrosse. She was honored with multiple All-League awards for both sports, and was the recipient of All-Section and All-State honors for soccer in 2019. She has been recruited to play lacrosse at Fairfield University.
The pandemic prevented Doukas from playing lacrosse in 2020, and unfortunately, an early season injury ended her high school lacrosse season this past spring. She is determined to get back to playing lacrosse at Fairfield.
"I know that with the help of my coaches, teammates and mentors, I will be able to overcome my injury and return back to the sport I love. Fairfield has an incredible athletic program along with a tight knit and supportive community that will inspire me to persevere."
Kathryn Haggerty: Boston College (rowing)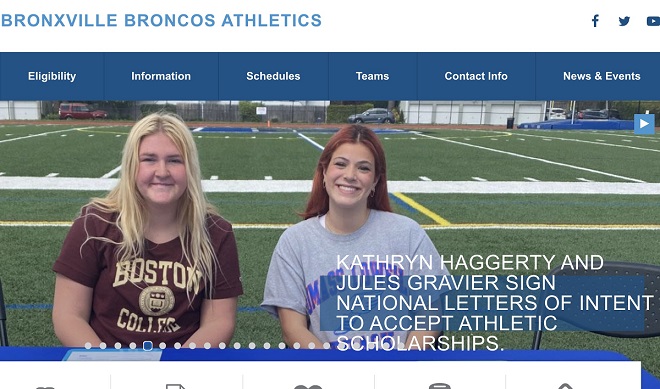 Kathryn Haggery (right). Photo courtesy of bronxvilleschool.org.
Kathryn Haggerty, who has trained with and competed for RowAmericaRye, will join the rowing team at Boston College in the fall. Haggerty's best finishes include 4th place in the women's V8 (5-seat) at the Head of the Riverfront in Hartford and a 12th place finish in the U19 Open-Weight 4x (3-seat) at Club Nationals in Bethel, Ohio.
All regattas were canceled in 2020 because of the pandemic, but by June of last year, rowers at RowAmericaRye were back on the water practicing six days a week.
Seventeen rowers from RowAmericanRye were recruited to compete in college and will attend a variety of schools including Columbia, University of Virginia, Dartmouth, Fairfield and the University of North Carolina. 
Go Broncos.