The senior girls and their parents on Senior Day. Photo by Jane Ircha
By S. Quinn DeJoy and J. Murrer 
May 19, 2021: The Bronxville teams have been exceptional this year but with restrictions on the number of people in the stands, many fans have not been able to enjoy the games in person. Last Wednesday, the New York State DOH revised the rules from allowing only two spectators per athlete to allowing a total of 500 fans for all outdoor events. This is good news for Bronco fans and for the athletes who have missed the enthusiastic support from their friends and family.
The baseball team will be facing Dobbs Ferry today at Scout Field. With strong pitching and great hitting, the team is having a near perfect season with an 8-1 record. The boys' lacrosse team, ranked 7th in all of Section 1, will face rival Pleasantville away tomorrow and will be back in action at Chambers Field on Saturday at 1 against Fordham Prep. The undefeated girls' lacrosse team continues to be ranked No. 1 in Section 1 and will play at home on Monday against Fox Lane.
Boys' and girls' track and field had outstanding performances at the Fulton Invitational on Saturday with five first place finishes for the girls' team and one for the boys.
Below is a look at how each team fared last week.
Baseball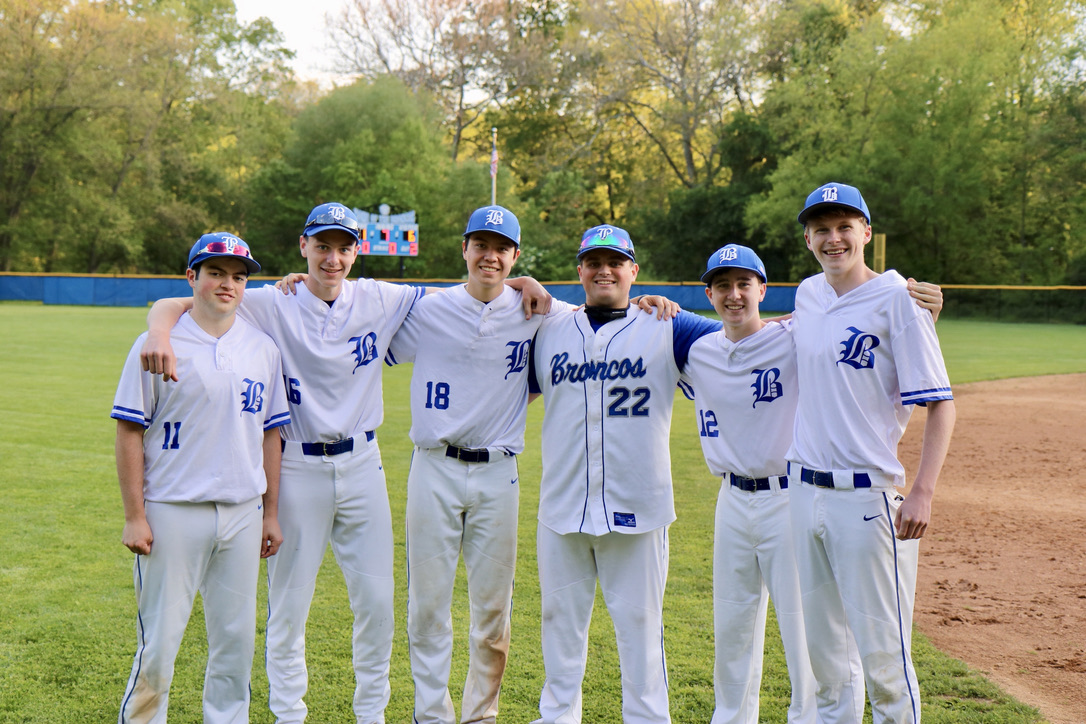 Seniors on the varsity baseball team. Photo by Anthony Vaglica.
The baseball team played four games last week, winning three and suffering their first loss of the season to Westlake. The Broncos defeated Hastings twice (12-0 and 11-6) and Irvington (13-0).
The Bronco pitching has been impressive the whole season. In the game against Hastings on Saturday, Spencer Dessart pitched a no-hitter in five innings and had ten strikeouts. Ted Heraty picked up his first win against Irvington throwing five scoreless innings with six strikeouts, and Chris Lockwood earned his second victory coming in relief for four innings and striking out seven. Bronxville also had strong at bats from Peter Coquillette, Jamie Valdez, Jeremy Freeman and Dessart.
Boys' Lacrosse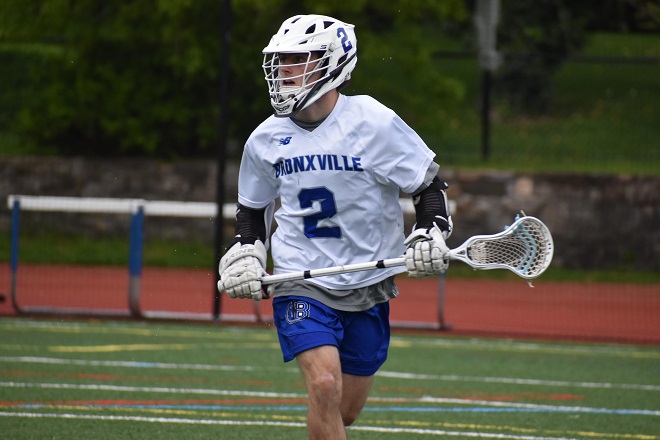 Henry Sheehan in the game against Haldane last week. Photo by Susan McCormick.
The Broncos are 5-3 so far this season with losses to Long Island's Shoreham Wading River and Iona Prep, and Briarcliff, a team ranked No. 4 in Section 1.
Last week the boys' team played three straight days and had wins over Westlake (12-6) and Putnam Valley (18-3) and a loss to No. 2 Iona Prep (16-8).
In the game against Westlake, the Broncos were down 4-0 and came back to score 8 straight goals. Scoring in the game were Chris Patterson (5G/1A), Tommy Garofalo (3G/1A), Luke Sheehan (3G/3A), and Henry Sheehan (1G, 1A). In the game against Putnam Valley, Patterson and Garofalo teamed up to score 9 points and Henry Sheehan scored four goals.
Bronxville, a Class D school, has some of the top scorers in Section 1. Tommy Garofalo is third among all Section 1 players with 48 points (28G/20A), Patterson is No. 10 with 36 (27G/9A), and Henry Sheehan is No. 22 with 26 (18G/8A).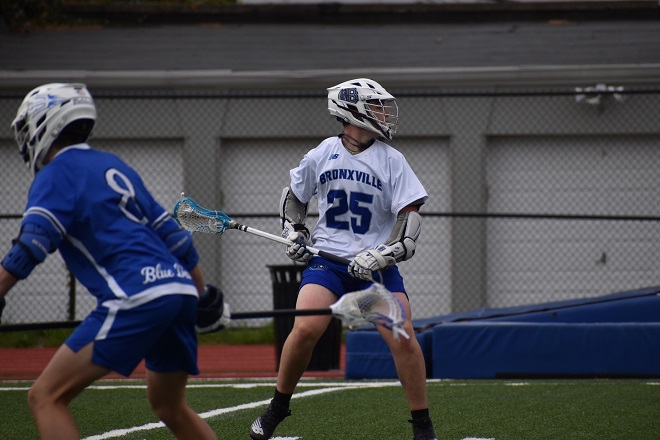 Tommy Garofalo (25) in the game against Haldane last week. Photo by Susan McCormick.
Section 1 Class D boys' lacrosse is highly competitive in the state. The Broncos missed last season but in 2019, Briarcliff, Pleasantville, Bronxville and Westlake were top Class D teams in New York State.
Girls' Lacrosse



The girls' lacrosse team standing in front of senior posters. Photo by Jane Ircha.
The Bronxville girls' lacrosse team is 8-0 with wins over Pleasantville (23-11), Rye (16-6) and Mamaroneck (16-10) in the last five days. In the game against Pleasantville on Friday, Megan Krestinski and Victoria Ruffo were top scorers with five goals each. Also scoring were Kiki Tormey (4), Bridget Finley (3), and Molly Krestinski (2). Caroline Ircha scored seven points for the Broncos with two goals and five assists. Olivia Shinsato had nine saves.
In the Rye game on Monday, the Broncos defeated the No. 6 Garnets with scoring by Tormey (6) Megan Krestinski (3), Molly Krestinski (2), Ircha (2) and Catherine Berkery, Anna Becker and Bridget Finley had one goal apiece. Shinsato continued with her strong presence in the goal with six saves.
In the past two weeks, the determined girls' lacrosse team has come up with wins against six of the best teams in Section 1.
"Our team has been playing very well against some great competition," said Coach Sharon Robinson.  "With the compressed spring schedule, it has been a challenge to play so many games back-to-back, but our girls are rising to the occasion and are excited to finish strong."  
Girls' and Boys' Track and Field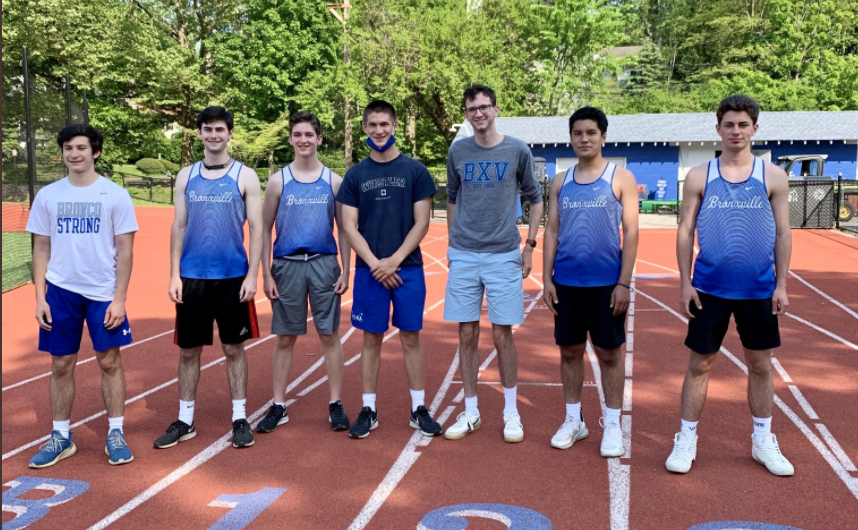 Seniors on the boys' track and field team. Photo by Brian Halling.
At the Fulton Invitational held at Harrison High School on Saturday, John Ryan had a first-place finish in the 3200m run (9:36.41). Also finishing in the top three for the Broncos were:
-800m: Ellis Goodson (2nd, 2:06.38)
-110m hurdles: Jed Donohue (3rd, 19.41)
-4x400m relay: Ryan, Goodson, Will Redman, Kyle Dillon (2nd, 3:39.25)
On the girls' side, the Broncos placed in the top three in the following events:
-100m: Milly Koenig (1st, 13.24), Juliet Winiecki (3rd, 13.84)
-200m: Koenig (1st, 24.33), Donna Napolitano (3rd, 27.69)
-800m: Maddy Stupart (1st, 2:26.53)
-Pole vault: Jules Gravier (1st, 10'6")
-Long Jump: Koenig (2nd, 16'6")
-4x400m relay: Winiecki, Hope Hershberg, Napolitano, Koenig (2nd, 4:13. 46)
-4x800m relay: Stupart, Isabella Fenner, Rory Denning, Maeve Sullivan (1st, 10:16.89)
Tennis
After suffering losses to Dobbs Ferry and Mamaroneck last week, the boys had a 5-2 win over Hastings on Monday. Seniors James Rhee/Amir Yaghoobi and Nate Kim led the Broncos in the win. The tennis team improved its record to 3-3.
Football
Four Bronxville football players received special recognition last week. Henry Donohue, Connor Randall, Riley Ramundo and Will Murray were awarded All- Section Honors. In addition, Donohue was named Class C/D Player of the Year, Offensive Player of the Year, and Offensive Back of the Year. Riley Ramundo was recognized as Class C/D Defensive Player of the Year and Defensive Lineman of the Year, and Connor Randall was named Class C/D Defensive Back of the Year. The Bronxville football team finished the shortened season 6-0.
Go Broncos.