By Jane Staunton and Kerry Walsh of BXV for BXV Stronger Together
Oct. 21, 2020: MHTB is featuring local businesses every week, so you can get to know the entrepreneurs behind our great local stores. This week, we are featuring Bayside Travel, Trapp Opticians, and Whim. Enjoy!
Bayside Travel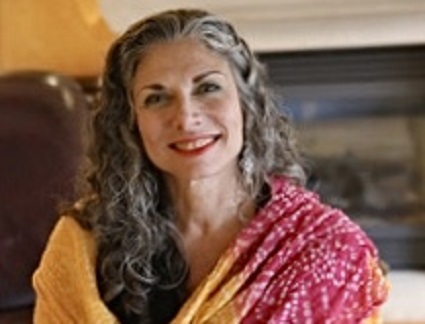 Barbara Nichuals
Oct. 21, 2020: How does an Econ and Psych Major go from pension underwriting at an insurance company to starting a travel agency? For Bayside Travel owner Barbara Nichuals, it was the "nerve of youth."
As a disenchanted young adult, a friend suggested that Barbara become a travel agent because she was so good at planning her own trips. After a quick course at The Learning Annex followed by a certificate course at Marymount, she was soon booking trips for co-workers and people in her community.  
In 1987 Barbara's late husband suggested she do this full time and buy an agency. Scouring the classifieds, they saw an ad for Bayside Travel, a turnkey operation founded in 1960 in Queens. Barbara then literally "quit on Friday and opened the door on Monday" for her new venture.
Barbara, who enjoys dance – Belly, Persian, World Dance, and Tap – was on her way to a Larchmont dance studio in 2000 when she spotted a For Rent sign on a property. A quick U-turn, a call to the landlord, and voilà — she moved her business to Larchmont.
But Barbara "always loved Bronxville, the community and shopped here," so when the opportunity to purchase the long-established Gramatan Travel presented itself in 2003, she jumped. Other local acquisitions followed, and five years ago, it was a no-brainer to consolidate the team at her beloved Pondfield Road location. And what a team it is! Bayside just received the Best of Westchester 2020 – the sixth time she's been honored with this award!
When not working, belly dancing, or writing poetry, Barbara co-facilitates workshops at the Bereavement Center on healing grief through writing. It is her way of helping others and giving back to the community. 
While COVID-19 has temporarily put a damper on travel, Barbara believes going forward that people will realize the value of using a travel advisor as an advocate to help them navigate all the various health and safety protocols. When restrictions are lifted, this beach lover is looking forward to a family vacation to celebrate her two sons' college graduations.
Trapp Opticians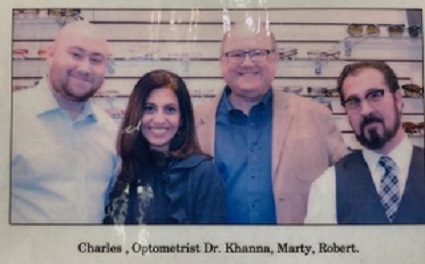 Co-owner Marty Schulman is looking forward to celebrating the 75th Anniversary of Trapp Opticians this November. How appropriate that this special anniversary should occur in 2020!
Brothers Dick and Erwin Trapp originally started the business in 1945 in the backroom office of local physician Dr. Connolly but soon after moved to its current location at 42 Pondfield Rd.
With his partner Barry Grossbaum, whom Marty worked with at the Manhattan firm Lugene, they acquired the business in 1982 and quickly expanded to Scarsdale, Rye, and Greenwich. Very much a family business, Marty's son Charles (Chip) is preparing to step into the all-important role of successor in the Bronxville shop.
With a family of five children, you would think it would be easy to find a successor, but Marty's other children had no interest in the business as they went on to become lawyers and data analysts. But a young Charles knew in kindergarten that he wanted to follow in Dad's footsteps to become an optician.
Marty, who grew up in the Bronx, learned the importance of giving back from his Dad Milton, who was the Director of Education & Research for the NY State Credit Union League. Marty believes "the strength of a village comes from everyone giving back to the best of their ability in an effort to raise the tide for all concerned."
A man true to his words, Marty has been active in the Bronxville Rotary since 1982, where he served as President in 1988-1989 and was a member of their COVID-19 Emergency Task Committee. He is also the District Rotary Governor Nominee for 2022-2023, a past President of the Maxwell Institute as well as the FCS Family & Community Service of Eastchester, Tuckahoe & Bronxville, and a member of the Bronxville Derby Association.
This active community participant proudly notes that many of Trapp's favorite clients are folks who believe in the importance of giving their time to community service.
When not working or helping to raise the tide, Marty enjoys his five grandchildren and spending time with his wife at their Rhode Island seashore home in Narragansett. And when he can, he sneaks in a little golf – mostly for charitable outings.  
Whim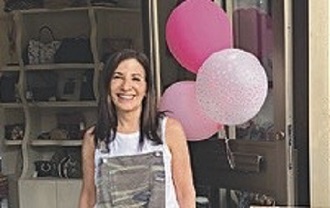 Vivian Hoffman
Co-owners Vivian Hoffman and her son Greg founded Whim after she retired from a successful 43-year career in retail. Whim is a fashionable women's boutique where Vivian believes dressing women well is more about their lifestyle than their age.
And she certainly knows what works well on women, having worked at the department store Bonwit Teller and spending 25 years as Director of Merchandise at Century 21 Department Stores. 
Intent on filling her retirement with travel and tennis, Vivian happened upon a For Lease sign in downtown Mt. Kisco in 2017. She decided then and there to open a store, so the name Whim is most fitting. 
A second location soon followed in Bronxville in November 2018, a third in Stamford earlier this year. She also recently opened a pop-up store in Ridgefield that will become permanent if all goes well. Not ready to venture outside yet? Then you can visit www.Whimlove.com, their online store that is managed by Greg, who also oversees the business finances.
What's important to Vivian and her staff is that customers "buy something they love." Equally important is that the staff be "totally honest with the customer," even if something isn't becoming on them. A testament to her loyal Bronxville following is the many customers who traveled to the Stamford store to shop when Connecticut reopened before New York.
Bronxville was "just what we thought it would be - we love being part of a community," notes a grateful Vivian. In fact, Vivian loves to give back and help support local charities and school activities and looks forward to participating again when these activities resume.
Vivian's free time is all about family. She spends it with her husband, who had a long career in finance, her 90-year mom and father-in-law, and her children, Sophia, who helps out in the stores, and Greg. And yes, despite all this and running four stores, Vivian still has some time to enjoy tennis, exercising, reading, and cooking. 
Other Spotlight Features
If you'd like to read about other businesses in town, click on these links for other Spotlight Features.
Spotlight on Found Herbal, Mossy Fern, and Provisions for Pets
Spotlight on Booskerdoo, Bronxville Jewelers 90 and Station Plaza Wine
Spotlight on Bronxville Fitness Club, Fabio's Hair Studio & Wild Vine & Liquors
Spotlight on Adrian East, Bronxville Furriers and Beer Noggin
Spotlight on Chantilly Patisserie and Bakeshop, Enrico Gargano Hair & Hickey's Del
Spotlight on Ladle of Love, Mrs. Morgan's Flower Shop & Gillard's
Spotlight on Slave to the Grind, Maison Rouge & Continental 109 Salon
Spotlight on Brother's Fresh Fruit and Vegetables, Mini's Prime Meats & Park Place Bagels
Photo at top: A.Warner; Other photos provided by the local businesses.

Editor's note: As a public service, MyhometownBronxville publishes articles from local institutions, officeholders, and individuals. MyhometownBronxville does not fact-check statements therein, and any opinions expressed do not necessarily reflect the thinking of its staff.