By Madelyn Oden, BXV for BXV Stronger Together
Brother's Fresh Fruit and Vegetables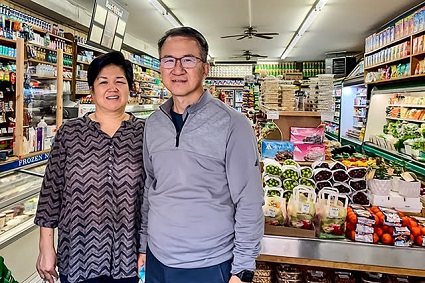 Sarah and Kenny Whang
Oct. 15, 2020: Sara and Kenny Whang had just married when they opened Brother's Fresh Fruit and Vegetables 29 years ago. As Sara's brothers are in the same business, the Whangs decided to name the store "Brother's."  
Work occupies seven days of the week, and the plan is to continue for "10 more years". Sunday provides a slight respite. After checking on the store, Sara and Kenny attend the Tarrytown church where they were married, followed by dinner with friends. In good weather, Kenny tries to golf once or twice a week. When asked what she does in her free time, Sara cheerfully replies that most of the time, she's working. When she's not working, Sara is cooking and looking after her family. Daughter Hannah Whang works in computer graphics, and son Jesse just graduated from the SUNY Maritime College with a specialty in maritime engineering. If she can free up time, Sara wants to attend English classes as she would like to be more fluent.  
The Whangs know what their customers like and make sure to keep favorite products in stock. As an essential service, business at Brother's was steady during the shutdown months. With safety precautions in place, the Whangs were happy to provide work for their six employees and be a convenient resource for hospital workers across the street. To brighten up your home, three flower wholesalers deliver twice a week. Sara has even ordered favorite flowers for customers on request.  
The Whangs "love" Bronxville. "It's quiet and safe." Everyone who comes into the store, "the mayor, village employees, policemen, hospital workers," are so "friendly." A few older customers who have moved out of Bronxville still come back to Brother's to shop. They "like to chat," and so does Sara.
Brother's is located at 38 Palmer Avenue in Bronxville.
Mini's Prime Meats and Specialties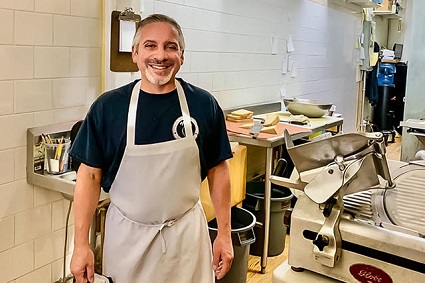 Paul Chietro
Following in his father's footsteps, Paul Chietro opened Mini's Prime Meats and Specialties in 2002. 
Paul would much rather tell you about his hero, his father Frank, a submarine specialist who served in WWII, than talk about himself. Returning home in 1945, Frank Chietro worked in the meat business, eventually opening Mini's Meateria. As a youngster, Paul spent time at the shop. As soon as he was allowed, he helped out. Frank worked with his son on the design of his Bronxville shop.  Sadly, he passed away just before Mini's opened.  
Paul and wife Lisa live in Dutchess County with their three sons. The Chietros are a karate family. Eldest son Paul began to study karate at age 5. When he turns 18 in a few months, he will have attained the prestigious rank of Master. Younger sons Evan and Matthew, and Lisa are all black belts. Paul contents himself with driving the family to and fro when he can.  
Here's a tip: Dull knives cause more cuts than sharp ones. Why? The force needed to cut with a dull knife results in more injuries than cutting cleanly with a sharp knife. Bring your knives to Mini's to be sharpened, a service Paul happily provides.  
As an essential service, Mini's stayed open Monday through Saturday during the shutdown. Demand was high. Safety precautions for the loyal staff, plus the need for frequent visits to the markets was taxing. "Tensions were high"….thankfully "it's calmed down." For a rundown of Mini's offerings, go to www.minisprimemeats.com. Suffice to say, there's more than meat.
In the way he runs his business, Paul states, "I'm not perfect…but I'm close." His goal is to provide value for the price. If a product is not "up to par," Paul addresses it immediately.
Mini's is located at 15 Park Place in Bronxville.
Park Place Bagels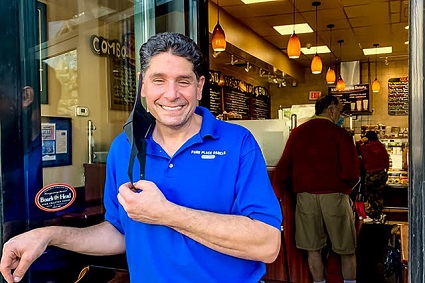 Claudio Iaccarino
When does a bagel store become a community treasure? Under the guidance of Claudio Iaccarino at some point in the past 29 years, Park Place Bagels transitioned to that status. It starts with a seriously good bagel. After working for others, Claudio acted on his desire "to own my own business." Under the aegis of "friend of a friend" who owned a bagel shop in Long Island, Claudio learned the secret to making bagels. 
Claudio's day starts with his 3:30 am arrival at "headquarters," the Park Place store. 
It's there that everything is made and sent to two additional locations. People ask about "my hobbies or sports," he says, "I have no hobbies. I love to work. Without work, I wouldn't know what to do with myself." Vacations are short and local. Maybe the key is that Claudio has learned to "have fun and work," a philosophy he passes along to his 25 employees.  
Marie, Claudio's wife, runs accounting and payroll. Married for three years when Park Place Bagels opened, the Iaccarinos now have three children. Their eldest daughter Marisa recently took the NYS Bar Exam. 
Middle child Rosa is enrolled in an 800-hour medical technology program at Westchester Medical Center. Son Anthony is in high school.  
An essential service, Park Place Bagels stayed open during the shutdown. Today business is just "slightly off." Customers contributed "gift cards" for provisions for firefighters, EMS, and hospital workers, some of whom were working 24 hours shifts. The gift cards ran out, but Claudio carries on the initiative, often opening earlier than his standard 5:30 am for these workers.  
Leftover food is contributed daily to the Lutheran Church and other programs providing for the food insecure population. Perhaps another key to success is generosity.  
Park Place Bagels has two locations in Bronxville: 9 Park Place and 52 Palmer Avenue.
Other Spotlight Features
If you'd like to read about other businesses in town, click on these links for other Spotlight Features.
Spotlight on Found Herbal, Mossy Fern, and Provisions for Pets
Spotlight on Booskerdoo, Bronxville Jewelers 90 and Station Plaza Wine
Spotlight on Bronxville Fitness Club, Fabio's Hair Studio & Wild Vine & Liquors
Spotlight on Adrian East, Bronxville Furriers and Beer Noggin
Spotlight on Chantilly Patisserie and Bakeshop, Enrico Gargano Hair & Hickey's Del
Spotlight on Ladle of Love, Mrs. Morgan's Flower Shop & Gillard's
Spotlight on Slave to the Grind, Maison Rouge & Continental 109 Salon
Photo at top: A.Warner; Other photos provided by M. Oden
Editor's note: As a public service, MyhometownBronxville publishes articles from local institutions, officeholders, and individuals. MyhometownBronxville does not fact-check statements therein, and any opinions expressed do not necessarily reflect the thinking of its staff.