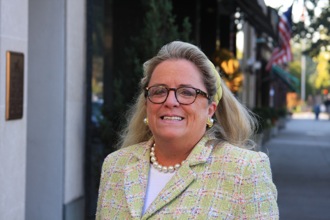 By Mary C. Marvin, Mayor of Bronxville

May 2, 2018:  I wanted to update you as to a variety of topics taking center stage for village government as we enter May.
Efforts to Mitigate Deleterious Effects of Federal Tax Cuts:  Of potential great consequence is Governor Cuomo's efforts, with the support of the legislature, to mitigate the deleterious effects of the federal tax cuts and Jobs Act on the taxpayers of New York State.
As background, New York taxpayers send $48 billion more to the federal government annually than we receive back, ranking us as the No. 1 state in disproportional giveback in the country. Under the new federal tax law, we stand to lose another $14.3 billion in lost deductibility because of the $10,000 cap.
In an effort to blunt the effects, Governor Cuomo has launched a three-pronged program:
New York will be the first state in the nation to decouple rules on deductibility from mirroring the federal law. On the 2018 state tax returns, New Yorkers will be allowed to take their full deductions.

Governor Cuomo has initiated a multistate lawsuit together with New Jersey and Connecticut to challenge the federal law on two counts:  that it preempts a state's ability to provide for its own citizens and it unfairly targets New York, Connecticut, and New Jersey and other similarly situated states in violation of the equal protection clause of the Constitution.

As part of the 2018-2019 state budget, a new law was adopted that allows communities, at local option, to establish a charitable gifts reserve fund by local law. The law would allow municipalities and school districts to issue tax credits for "gifts" made to the charitable fund per the IRS code determination of the meaning of charitable entities (Section 501(c)(3)).
As a government, we are trying to get out in front of this rather complicated provision and have attended every available training on the subject as we await the publication of a guidance document from the governor's office. In the interim, we are meeting with our fellow school officials to share information as we know it and discuss options.
As an added overlay/complication, since the federal law was enacted with such speed, it will most certainly give rise to a plethora of tax avoidance strategies, a consequence unforeseen by Congress. We will keep residents posted as we continue to educate ourselves on all of the above concepts. As the governor has rightly said, "New York has no future as the tax capital of the nation."
Public Works Projects:  On the very local level, the public works department has submitted its proposed list for road and curb repavement and replacement for the coming spring and summer months. They include:
Pondfield Road – from Westside Circle (Pondfield Road West) to just above underpass – intersection with Kraft Avenue.

Pondfield Road – from Cedar to 30 feet southeast of Midland Avenue intersection.

Park Place – in its entirety from Kraft to Pondfield.

Sagamore Road – from intersection with Kensington and Kraft north to Prescott Square.

Kensington Road – from Sagamore Road intersection to Beechtree Lane.

Parkway Road – from 300 feet north of Paxton Road to Upper Milburn Road.

New Rochelle Road – from Pondfield to village line with Town of Eastchester.

Elm Rock Road – Oriole Avenue to Masterton Road.

Tanglewylde Avenue – Willow Road to Park Ave. 

Forest Lane – North Road to Grove Lane.

Middle Road – Dead End to Forest.

Orchard Place – Oriole to Summit.
As you may know, Con Ed is installing a new gas line down Northway and Northwest Way and this will need to be paved. We may pave and Con Ed will reimburse. Midland Avenue is having a new gas line installed and will need to be repaved as well.
We continue an aggressive program of infrastructure repair, spending almost half a million dollars annually on roads alone. If your road does not appear on this list, reach out to us to add it for future consideration. We know the list is not to be exhaustive but is rather in priority form.
Restoration of Bacon Woods:  Another village project on the horizon is the restoration of Bacon Woods.
Bacon Woods is a 1.6-acre space that is owned by the Village of Bronxville and straddles an area between Kensington and Sagamore Roads. It is largely an unimproved mixture of plateau, hillside, and mixed woodland with areas of rock outcrop. There are a few important hardwood trees, including oak and beech, that must be protected. There is a significant erosion due to an area of steep grade combined with exposed tree roots and lack of groundcover vegetation.
Our current goal is to create an improved landscape that offers passive enjoyment for the local neighborhood by incorporating a combination of improved native woodland, some open lawn areas defined by understory shrubbery, and native flowering trees, and reconfiguration of the existing connector pathway. Installation of strategically placed retaining walls will be required to eliminate erosion, to provide more level plateau areas for lawn, and to create a landscape that blends into the existing site.
Given the scarcity of open space in our village, it is incumbent that we preserve and protect these oases of calm.
Editor's note:  As a public service, MyhometownBronxville publishes press releases, statements, and articles from local institutions, officeholders, candidates, and individuals. MyhometownBronxville does not fact-check statements therein, and any opinions expressed therein do not necessarily reflect the thinking of its staff.