George and Marlene McKinnis
By Nicola Standard, President, Bronxville Rotary
July 14, 2021: Former Bronxville Village Justice, George McKinnis was installed as the next District Governor for Rotary District 7230, on Wednesday, June 23rd, 2021. The ceremony was held at the new rooftop deck at Fogherty's Restaurant in Bronxville.
George will be District Governor over Rotary District 7320, the governing organization of 46 Rotary Clubs, 8 Rotaract Clubs and 21 Interact Clubs spanning the New York Metro area (Westchester, Manhattan, The Bronx, Staten Island) and Bermuda. George's term begins July 1, 2021 and ends June 30th, 2022.
Welcoming officials from Rotary District 7320 and Bronxville members at the in person portion of the event, and the Zoom participants, was Bronxville Rotary President, Nicola Standard.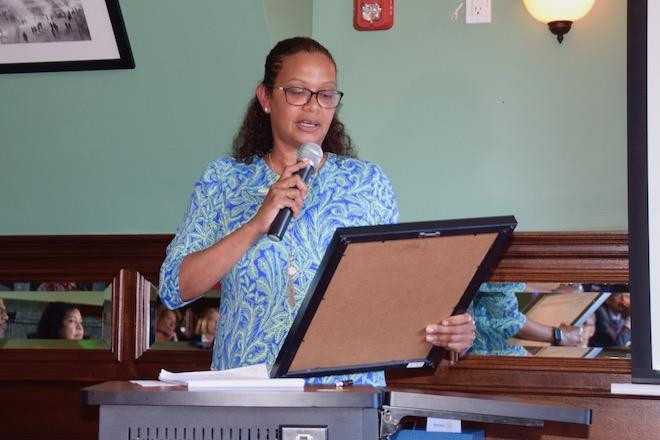 Nicola Standard, President of Bronxville Rotary
Administering the oath of office, accompanied by George's wife Marlene, was Past Rotary International Director, Jeffry Cadorette. Jeffrey also administered the oath of office to new officers who will serve with George this coming year.
George was also presented with the Citation from Westchester County Legislator, Ruth Walter, who also declared June 25th George McKinnis Day in Westchester County.
In his acceptance remarks, George talked about his philosophy of instilling a collegial approach to the governance of the district. He said he is very dedicated to supporting the mission of Rotary in helping people within their communities. He said that he would be working closely with District Governor, Mary Shackelton, as well the people already selected to succeed George in the next two years.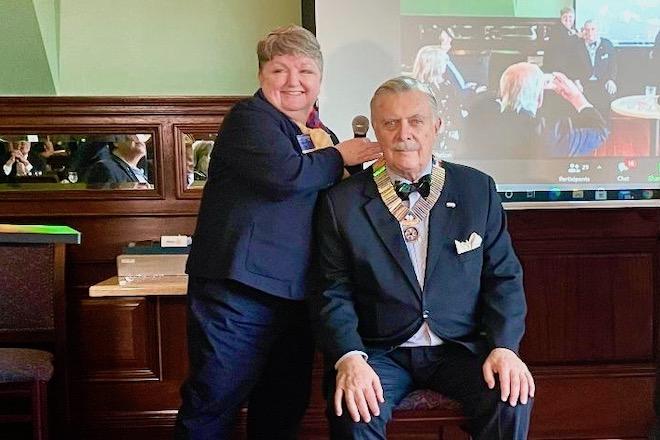 George McKinnis and Mary Shackelton
The 1.2 Million member Rotary organization describes itself as a global network of neighbors, friends, leaders, and problem-solvers that see a world where people unite and take action to create lasting change across the globe, in our communities, and in ourselves.
Photos by R. Warner