By Madeline Oden, BXV for BXV Stronger Together
Nov. 4, 2020:  Every week since early September, MHTB has been featuring articles about local businesses. Below is our current feature.  Links to previous Spotlight features is at the end of this article.  Enjoy!
Silver Spoon, 81 Pondfield Road, Bronxville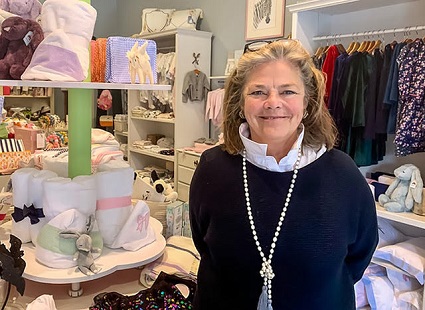 Barbara Amar, owner Silver Spoon
Barbara Amar opened Silver Spoon 20 years ago, a time span she finds "unfathomable…it's gone so quickly". Barbara grew up in Bronxville, and after graduating from Rosemont College, attended an investment lecture on precious stones and metals at the Bronxville Adult School.
Her interest piqued, she took a job at Tiffany's in customer service and soon moved to the diamond division, where she learned how to grade and appraise diamonds. She then worked as the stone buyer for a national jewelry store and went into partnership on a diamond and gold jewelry line.  
Wanting to open her own business Barbara surveyed her hometown and sensed a need for infant and toddler clothing and gifts. Silver Spoon was born.
Since February of this year, the business has been all-consuming as supply chains were disrupted and a few suppliers closed their doors. Heading into April through June, "the busiest time of year," it was like "starting again." Every hour of the day was spent sourcing new products and monitoring existing orders and shipments. 
Customers who needed gifts also began contacting Silver Spoon by phone and on various social media platforms. Silver Spoon would send product photos to the customers to confirm orders and then deliver wrapped presents to their homes. They then began to offer in-store pickup for items ordered by phone. With advanced notice, Barbara monograms clothing, throws, and other items, and baby names can be added to ornaments. 
Silver Spoon looks its usual "classic but trendy" self and is in Bronxville for the long run. New customers, not wanting to go to a mall, have emerged, and most importantly, Silver Spoon customers have been loyal.  
Before Covid, Barbara slipped away for mini-breaks to a Hampton Bays home she owns with her sister. Fingers crossed she "has time to chill" soon, with a "page-turner" novel in hand. 
Mano a Mano, 81 Pondfield Road, Bronxville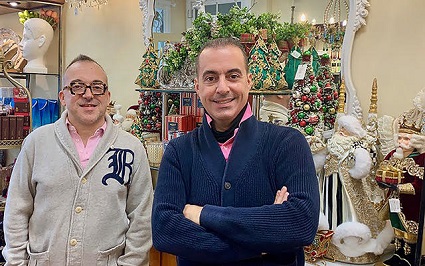 Bill Scapptone and Mario Grasso, owners of Mano a Mano
Bill Scapptone and Mario Grasso opened Mano a Mano (Italian for "hand to hand,")  23 years ago. They opened their first shop in a 200 square foot space on Kraft Avenue and built the business from the ground up before moving to Pondfield Road.  
The shop includes an eclectic mix of offerings carefully selected from a vast array of available products. They choose products based on what they like. "If we see something that piques our interest, we bring it in," says Mario.
Bill and Mario met in high school and have been together ever since. They share a love of family and a passion for décor and beautiful objects. Their formal home showcases a rotating array of fine furnishings and objects. "It's not crowded…we edit all the time," says Mario.  
The holiday season is Mario's favorite time of year. On Instagram, he is known as The King of Christmas. "You can create your own magic," says Mario. Christopher Radko, known for his iconic Christmas ornaments offered at Neiman Marcus, attended a holiday party at Bill and Mario's home and proclaimed it "magical."   
You might be wondering about recent sales at Mano a Mano. After the shutdown, Bill and Mario wanted to provide customers with incentives to purchase items to "feel normal" to give "more of a thought than a big present."    
If you need "Zoom earrings," a headband, an ornament, a tote, or just something to make you happy, think Mano a Mano. "You don't have to buy…it makes us happy if you enjoy looking," says Bill. And they are honest. If you ask their opinion and they don't think a product is a good fit for you, they do not hesitate to offer their view.  
Tryforos & Pernice Florist, 73 Pondfield Road, Bronxville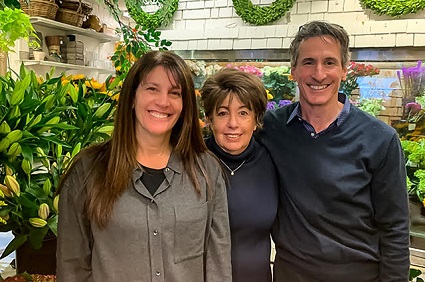 Anna, Mary and Gary Tryforos, owners of Tryfors & Pernice Florist
Brother and sister Gary and Anna Tryforos enjoy sharing the history of Tryforos & Pernice Florist.  
It all began in 1907 when the Tryforos brothers started selling flowers from pushcarts in New York City. In 1980 second-generation James Tryforos and his wife Mary purchased Pernice Florist in Scarsdale. The Bronxville store opened in 1983, and, over time, the business transitioned to Bronxville. They kept "Pernice" as part of the store name. "It just has a nice ring to it," says Gary. When James passed away in 1988, Gary and Anna gave up jobs in insurance and media and came on board.  
Anna can create an elegant, vibrant bouquet in minutes, which may be proof that floral design, which her father taught at the New York Botanical Gardens, is in her DNA. There are always requests for elaborate arrangements, but the trend these days is "low, tight designs that can be placed anywhere", says Mary.  
While Anna is the master designer, Gary focuses on running the business. "Flowers are commoditized today," says Gary. With the exception of roses from Ecuador, Gary purchases most of Tryforos' stock from Holland at on-line auctions. Flowers arrive two days later. The NYC market fills in the gaps.  
Mary credits Gary and Anna as the driving force behind Tryforos' continued success. It can be challenging for many businesses to survive over three generations because family members may not want to run the business. At Tryforos and Pernice, nothing could be further from the truth. Gary and Anna say the daily work is so consuming that they create a "moat" around it at day's end. What is never left behind is the siblings' camaraderie, and the love they have for their mother.     
Other Spotlight Features
Spotlight on Found Herbal, Mossy Fern, and Provisions for Pets
Spotlight on Booskerdoo, Bronxville Jewelers 90 and Station Plaza Wine
Spotlight on Bronxville Fitness Club, Fabio's Hair Studio & Wild Vine & Liquors
Spotlight on Adrian East, Bronxville Furriers and Beer Noggin
Spotlight on Chantilly Patisserie and Bakeshop, Enrico Gargano Hair & Hickey's Del
Spotlight on Ladle of Love, Mrs. Morgan's Flower Shop & Gillard's
Spotlight on Slave to the Grind, Maison Rouge & Continental 109 Salon
Spotlight on Brother's Fresh Fruit and Vegetables, Mini's Prime Meats & Park Place Bagels
Spotlight on Bayside Travel, Trapp Opticians and Whim
Spotlight on Silk Road, Cookies N' Cream and Fine Arts Gallery
Photo at top: A.Warner; Other photos provided by M. Oden

Editor's note: As a publicp within 24 hours. If you pop into the store, wear a mask, and bring your dog. A true dog lover, Sue always has treats and water on hand. service, MyhometownBronxville publishes articles from local institutions, officeholders, and individuals. MyhometownBronxville does not fact-check statements therein, and any opinions expressed do not necessarily reflect the thinking of its staff.