By Ellen Edwards
May 18, 2022: The Counseling Center's 50th Anniversary Gala Celebration on May 6th at the Bronxville Field Club was a festive, rollicking event!  More than two hundred guests gathered amidst gold and white décor to salute honorees Doug Cruikshank and Si and Vicki Ford, enjoy Prosecco, charcuterie, and delectable appetizers, and participate in raffles and a live auction.  The band Big Sexy created an exhilarating vibe. Doug Cruikshank was originally chosen for the 2020 gala, which was cancelled due to the pandemic.  Si and Vicki Ford made a rare appearance in Bronxville from their original home state of Minnesota, where they now live.
Held appropriately during Mental Health Awareness Month, the gala raised funds to continue the work of the nonprofit Counseling Center, in particular its program of offering fee-subsidies to clients who could not otherwise afford its services.  To its many clients over the decades who have struggled with mental health concerns and found confidentiality and compassion from its group of skilled therapists, The Counseling Center has been a trusted, valued resource that has guided them toward transforming their greatest challenges into opportunities for growth, empowerment, and fulfillment.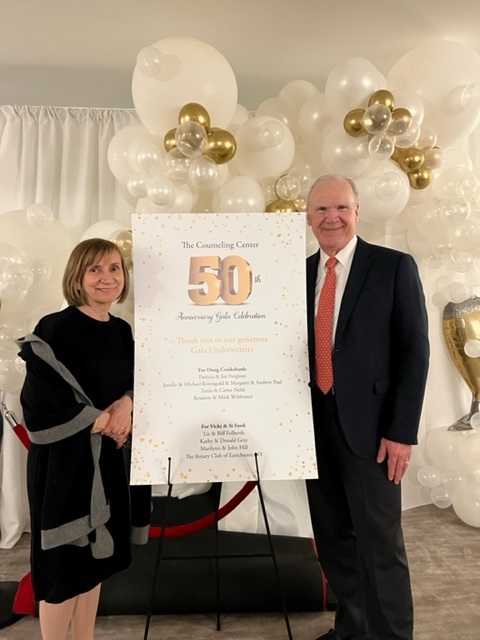 Anna and Joe Houlihan
Honoree Doug Cruikshank, a long-time Bronxville resident and racket sports enthusiast who has served on the boards of many local organizations, supports The Counseling Center because of his deep commitment to mental wellness for everyone.  He believes in normalizing and de-stigmatizing mental health treatment, and like many in the public eye these days, he wants people to feel comfortable and safe in getting well, and in feeling stronger emotionally.  He believes The Counseling Center provides that safe and open space for people to explore their needs. 
Honorees Vicki and Si Ford support The Counseling Center from a desire to help people through these unprecedented times with its unprecedented stressors.  After many decades of outstanding public service, they believe that the pandemic has created stress in all arenas of peoples' lives—in their ability to work, socialize, parent and grandparent, attend school, travel, deal with health concerns, and more. Peoples' lives have changed in many ways, and the Fords support The Counseling Center's goal to meet the community in its current needs.
The Counseling Center sends a heartfelt thank you to board members Linda Jones and Gail Cook for their tireless work in making the gala a resounding success.  The Counseling Center also thanks Lori Sahagian of the Field Club for her stalwart, gracious assistance.
The fiftieth anniversary, celebrated one year late because of the pandemic, was a joyful gathering of long-time and new supporters.  The evening's winners of the live auction took home orchestra seats to Broadways' "The Music Man" starring Hugh Jackman and Sutton Foster; other winners will enjoy private tennis lessons with consummate professional Patrick McEnroe.  The Counseling Center thanks the Bronxville businesses that provided generous gift cards or baskets for its raffle: A wine basket from Bronxville Wines & Spirits; a cheese basket from Dobbs & Bishop; and spa services from Maison Rouge. 
The event was fully underwritten. Underwriters for Doug Cruikshank were Mark and Rosanne Welshimer, Margaret and Andy Paul, Jonalie and Michael Korengold, Patty and Joe Forgione, and Tania and Carter Neild. Underwriters for the Fords were Liz and Biff Folberth, Kathy and Donald Gray, Marilynn and John Hill, and The Rotary Club of Eastchester, NY.
During these uncertain times, The Counseling Center's therapists are more in-demand than ever.  Ably lead by Executive Director Virgil Roberson, M.Div., L.P., NCPsyA, and Clinical Director Jennifer Naparstek Klein, Psy.D., The Counseling Center offers help for individuals and couples, adults and children of all ages.  Its staff, known for its expertise and collegial rapport, provides both in-person and teletherapy (video and phone) sessions.
The Counseling Center was founded in 1971 when Catherine Nicholas, L.C.S.W. and James Walkup, PhD. set up a single office in Christ Church, Bronxville.  Ten years later, the Center moved to a suite of offices in a dedicated wing of the Reformed Church, where it has remained. Now nine therapists strong, The Counseling Center looks forward to offering its compassionate, collaborative, and community-minded services for the next fifty years!
 The Counseling Center in Bronxville offers therapy for individuals, couples, and families, through video platforms, telephonically, and in person.  Please feel free to reach out if we can help, by calling Dr. Jennifer Klein, 914 793 3388.  To keep abreast of ongoing information and activities at The Counseling Center, please visit our website at https://counselingcenter.org/.
Ellen Edwards is a board member of The Counseling Center