Photo by A. Warner
By Staff
June 23, 2021: Below is information about upcoming events in and around Bronxville. If you would like to be included in the MHTB listing of events, please send event information to
June 29, 2021, 9am - 5pm, 80 Park Avenue in Bronxville:  One day tag sale to benefit Headway Foundation & Concussion Research!! Housewares, school supplies, chairs, desks, air purifies, home decor, clothes, games, puzzles, sporting equipment and much more!!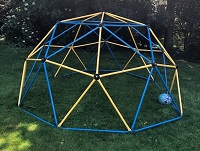 July 7, 12, 21, 28, 2021, Great Lawn of the Bronxville High School: The Bronxville Pops Concert Band will have a 2021 series of four Band Concerts of traditional American music. The concerts are are all Wednesday Evenings at 8PM. The musicians are very happy to be performing live once again. Bring a blanket, bring a chair....Music Under The Stars.
July 15, 2021, 6:30 pm - 9:00 pm. Parkway Road (between Bronxville Train Station and Lawrence Hospital), Plan B in Concert.  The spirit of rock and roll is irrepressible. Over the past year, Plan B has been masked up and rehearsing deep in the basements of Bronxville. They are ready to emerge, and would love for you to be there. Enjoy the fresh air!  Escape from Zoom calls! Bring your friends, family, kids and most of all your dancing shoes!  Come enjoy the Bronxville Village Street Concert. This is part of the Bronxville Summer Concert Series.
Ongoing: Cross County Center Summer Fest 2021 kicks off this week.  There are many events including
-Zumba Class with Guillermo Ruiz, on The Green Thursdays in June
-Outdoor Yoga Class with Bronxville Wellness Sanctuary on The Green Wednesdays in July
-Food Truck Friday's, every Friday in July from noon-6pm
-DJ & Street Performers, select Tuesdays, 5pm-7pm
-Concerts on The Green including FDR Drive Band, Wednesday, June 23, 6pm, FREE and 3D Rhythm of Life, July 15, 6pm, FREE
-Movies on The Green (to be named soon!) August 11, 18 and 25 at sundown 
Ongoing: Bronxville Farmer's Market.  Open every Saturday from 8:30 AM to 1:00 PM, corner of Stone Place and Paxton Avenue in Bronxville.
Ongoing: Bicycle Sundays:  During Bicycle Sundays, the Bronx River Parkway is open exclusively for bicyclists, in-line skaters, scooters, walkers and joggers from Exit 4 at Scarsdale Road in Yonkers to Exit 22 at the Westchester County Center. The round-trip distance is 13 miles. The road is closed to automobiles in that stretch of parkway. Admission is free. Masks are recommended for all Participants.  The program is open from May through October – except Memorial Day, Fourth of July, Labor Day, and Columbus Day weekends. 
Month of June: The Bronxville Adult School. Click here to go to their website and learn more.
Month of June: The Bronxville Senior Citizens offers Numerous zoom activities.  Click here to go to their website.
Month of June: Gramatan Village will offer many virtual activities for senior citizens this month. Click here to learn more.
Month of June:  Event for Adults, Teens and Children at the Bronxville Public Library in May.  Click here.
October 14, 2021: Senior Citizens Council 50th Anniversary Benefit
Photo by A. Warner