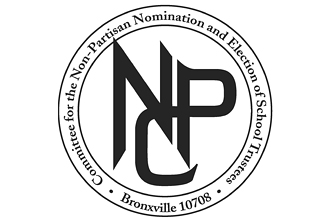 By Bronxville Committee for the Non-Partisan Nomination and Election of School Trustees

Apr. 11, 2018:  The Bronxville Committee for the Non-Partisan Nomination and Election of School Trustees ("NPC") is pleased to announce the endorsement of two nominees for Bronxville school trustee and will host a "candidate meet-and-greet" reception on Tuesday, April 24, from 7:00 to 9:00 pm at the Bronxville Field Club.
All Bronxville residents are welcome and urged to attend this informal gathering at which the two nominees, Jonathan Atkeson and Thomas Evans, will be available to answer questions from the community.
These two candidates have been nominated by the NPC to be placed on the ballot to run for the two open trustee positions on the Bronxville Board of Education. The NPC is very pleased about the nominees and the qualities they bring to the school board and hopes that community members will take advantage of this opportunity to meet them.
The annual school budget vote and school board trustee election will be held on Tuesday, May 15, 2018.
Below are biographies of the two nominees, listed in alphabetical order.
Jon Atkeson
Jon Atkeson has served on the Bronxville Board of Education for the past three years, most recently as vice president. Jon has been instrumental in many of the board's accomplishments over the course of his term, including the selection of a new superintendent, the proposal and approval of the bond referendum, and a new three-year teachers' contract, to name a few.
He currently works at Fortress Investment Group, LLC. Over the last eighteen years of his professional career, Jon has worked as a private equity investor and has served on a number of boards or acted in a board level capacity, overseeing daily management activities for both public and private companies.
Jon has been actively involved with a number of public charter schools in both Connecticut and New York for nearly two decades. In 1999, he worked together with a small group of New Haven residents to open a new public charter school called Amistad Academy, where Jon served as a board member for a number of years. Jon currently serves as the treasurer of the board overseeing the Brooklyn network of Achievement First charter schools. Jon has been actively involved in his sons' sports teams. He has participated in a variety of roles in the Bronxville Youth Lacrosse Association, as manager and coach.
He and his wife, Amy, have four kids in The Bronxville School, ranging from 3rd through 9th grades.
Tom Evans
A Bronxville resident since 2006, Tom Evans has built and led a number of technology companies, including Bankrate Inc., Official Payments Corp, and GeoCities Inc, which was later acquired by Yahoo! Prior to this, Tom was president and publisher of U.S. News & World Report for 10 years. Currently, Tom serves on a number of corporate boards, including that of Angie's List, now Angie's Home Services, and Shutterstock, Inc.
Over the course of the last 10 years, Tom has financially supported and raised funding for two schools in New York City that diagnose and provide therapy services for children on the autism spectrum, including the first such school in the Bronx. Together with his family, he helped establish the Perinatal Palliative Care and Bereavement Center at the Children's Hospital of Philadelphia. Additionally, the Evans family has provided college tuition for promising students from the local area who wouldn't otherwise be able to pursue higher education.
Tom and his wife, Kristen, have a seventh-grader in The Bronxville School.
About the NPC
The NPC was formed in 1936 to foster the election of trustees of The Bronxville School on a non-partisan basis. The NPC, which consists of three elected representatives from each of Bronxville's seven election districts, solicits qualified residents who are interested in serving as school trustee and nominates a slate of candidates to run in the school-district election each May. To learn more, visit www.bronxvillenpc.com.

Editor's note:  As a public service, MyhometownBronxville publishes press releases, statements, and articles from local institutions, officeholders, candidates, and individuals. MyhometownBronxville does not fact-check statements therein, and any opinions expressed therein do not necessarily reflect the thinking of its staff.