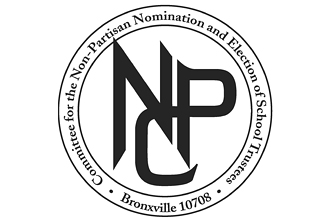 By Committee for the Non-Partisan Nomination and Election of School Trustees

Apr. 12, 2017:  The Bronxville Committee for the Non-Partisan Nomination and Election of School Trustees ("NPC") is pleased to announce that it has chosen two nominees for Bronxville School trustee and will host a candidates meet-and-greet reception on Tuesday, May 2, at 7:30 pm at the Bronxville Field Club. 
All Bronxville Village residents are welcome and are urged to attend this informal gathering at which the two nominees, Michael Finley and Jennifer Russo, will be available to answer questions from the community.
These two candidates were nominated by the NPC to be placed on the ballot to run for the two open trustee positions on the Bronxville Board of Education. The annual school budget vote and school board trustee election will be held on Tuesday, May 16, 2017. The following is background on each candidate:
Michael Finley
A Bronxville resident since 2004, Michael has had an extensive career in private equity, first at Lehman Brothers and then, for the past 17 years, at two private equity firms that manage multibillion-dollar funds. As part of his responsibilities, Michael monitored the portfolio of companies in which he had invested and worked extensively with management to form strategic direction of the business, raise debt, make changes to senior management, and act as a sounding board for c-suite executives. Over the course of the last 15 years, Michael has been a member of multiple private and public company boards, interacting with all levels and types of management teams. Michael holds an MBA and is a certified public accountant.
Michael and his wife, Denise, are raising two girls who both attend The Bronxville School; one is a senior and the other is in seventh grade. Michael has coached lacrosse and can often be found at the field supporting the Bronxville teams. He attended Union College and St. Thomas University in his native Minnesota, where he majored in business and economics. He received his MBA from The University of Chicago Booth School of Business.
Jennifer Russo
Since moving to Bronxville in 2003, Jennifer has been extensively involved in the community through her work with the school, her neighborhood association, and a number of philanthropic organizations in the area. For the past seven years, Jennifer has also run her own interior design business after working for several years at a New York City-based design firm. She was previously a corporate bond analyst at Lehman Brothers.
Jennifer is currently a trustee of child services organization Graham Windham, where she co-chairs an annual holiday program for more than 100 children living in Graham's residential facility in Hastings. For the past three years, she has also served as a board member of the Lawrence Park Hilltop Association. Previous nonprofit organization positions include the Lawrence Home Care Fund Board (board member) and the Junior Leagues of Bronxville (co-chair, fundraising committee; membership secretary) and Boston.
In addition, Jennifer has contributed extensively to The Bronxville School through multiple leadership positions on various school councils and the PTA. Jennifer and her husband, Jim, have two daughters at The Bronxville School, one in ninth grade, the other in sixth. Jennifer attended the University of Pennsylvania, where she majored in East Asian Studies, and she then returned to earn her MBA from The Wharton School.
The NPC was formed in 1936 to foster the election of trustees of The Bronxville School on a non-partisan basis. The NPC, which consists of three elected representatives from each of Bronxville's seven election districts, solicits qualified residents who are interested in serving as school trustee and nominates a slate of candidates to run in the school-district election each May.