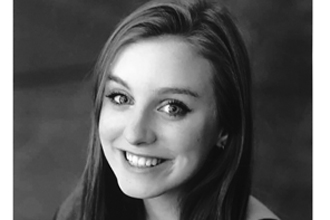 By the Family

Jun. 21, 2017:  Frances Catherine Cutting O'Neill died peacefully on June 13, 2017, in Charleston, South Carolina. She was born on February 1, 1998, in New York City and grew up in Bronxville with her brothers, Justin, Chase, and Andrew, and her sisters, Lily, Julia Eckley (a sister born of lifelong friendship and devotion), Celia, and Anabel.
Francie went to The Bronxville School through the 10th grade. She went on to graduate from The Hyde School in Woodstock, Connecticut. Francie completed her freshman year at the College of Charleston in May of this year.

At the time of her death, Francie was living and working in Charleston, her beloved home away from home. Charleston brought enormous happiness to Francie. She was bursting with enthusiasm and her days were filled with new adventures, self-discoveries, and loving friendships. She was often seen riding her bicycle all over town.

Francie was an extremely empathetic and compassionate person. She was talented, creative, and charismatic. Francie never lost her childlike sense of wonder. She was extraordinarily generous to her friends and family. Francie had the most beautiful sparkle in her eye that spoke to her mischievous humor. She was full of life and life was full with Francie in it. 

Even though the family's loss is enormous, they feel incredibly blessed to have had 19 years to know and love their dear, sweet Francie. Francie brought us all such joy, love, and laughter. She remains a most generous gift. Francie was deeply loved and treasured by her brothers, sisters, and parents, Ruth and Charles; her grandmother, Frances Auchincloss; her uncles, Bob O'Neill and Rex Auchincloss; her Aunt Linda O'Neill; and cousins, Kelly and Jill O'Neill; and Teddy--the best dog in the world. She will be missed tremendously by all who knew and loved her. 

A funeral service will be held at The Reformed Church of Bronxville on Thursday, June 22, at 11:00 am.
In lieu of flowers, please make donations in Francie's memory to The Reformed Church of Bronxville Youth Program, 180 Pondfield Road, Bronxville, NY 10708.