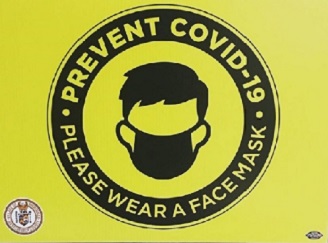 By Staff
Jun. 17, 2020: New York State has three dashboards with important data:
Percentage of Positive Results by Region

New York State COVID Statistics
According to the New York State Department of Health, as of June 16, 2020, at 11:05 PM, there are 384,575 positive cases in New York State. This includes 34,358 in Westchester County. A total of 1,537 people in Westchester County have passed away from COVID-19.
Click here for a full breakdown by county.
Other Local COVID-19 News This Week
On June 16, Governor Cuomo announced that the U.S. Open will be held in Queens in August.  No fans will attend, and the USTA will "take extraordinary precautions to protect the players and staff."
He also reported that New York has conducted over 3 million COVID tests to date, which is more than any state or country per capita.  COVID hospitalizations continue to "hit record lows." 
On June 15, Governor Cuomo announced that gatherings of up to 25 people will be allowed in Phase 3 reopening. For regions in Phase 4, low-risk youth sports can begin on July 6.  These include baseball, softball, gymnastics, field hockey, cross county, and crew, with "up to two spectators allowed per child." He also opened a bicycle and pedestrian path on the Governor Mario M. Cuomo Bridge.
On June 12, Mayor Marvin and Chief Satriale reported that Bronxville is almost one week into Phase 2 opening. Some restaurants have created outdoor dining. Chief Satriale emphasized the importance of face coverings to help prevent the spread of the virus. He also reminded local businesses that employees must wear face coverings. Mayor Marvin again encouraged all residents to take the census. Call this number 844-330-2020.  Mayor Marvin urged everyone to support local businesses.

On June 11, Governor Cuomo said that five regions were entering Phase 3 of reopening, including Central New York, Finger Lakes, Mohawk Valley, North Country, and Southern Tier. Phase 3 allows "indoor restaurant and food services and personal care services, including nail salons, spas and tattoo and piercing facilities, to resume. Each industry is subject to specific state guidelines that maximize safety and social distancing.
Photo courtesy Bronxville Police Department