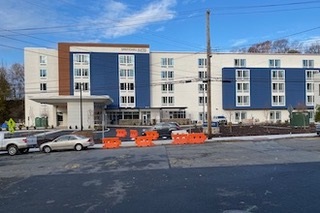 By Katharine Outcalt
Dec. 4, 2019:  The much-anticipated hotel at 109 Marbledale Rd. in Tuckahoe is nearing completion. SpringHill Suites Tuckahoe, which is owned and operated by Marriott, will open its doors on December 19.
Located on the site of the historic Tuckahoe Marble quarry, this newly built hotel is taking a modern twist on accommodating the short or long term stay for business and leisure travelers. For those that like to maintain their routine while away from home, this hotel may be for you.
The five story hotel will offer 153 over-sized suites, each outfitted with separate ergonomic work spaces and the conveniences of coffee makers, mini-refrigerators and microwaves. The interiors are inspired by West Elm Design® with clean lines and soothing colors. Flat panel T.Vs hang in every room ready for your Hulu, Netflix, or streaming accounts.
Paul Mitchel environmentally safe products can be found in the bathrooms, and complimentary Wi-Fi is provided throughout the hotel. There is no restaurant in the hotel, but there is a full-service bar in the lobby that will feature "light evening fare."
Complimentary breakfast is provided every morning, and guests have access to an onsite 24-hr market for grab-and-go items.
Perhaps most enticing to the weary traveler will be the hotel's fitness center, lap pool, and self serve laundry. If that's not their style, they can help themselves to the complimentary coffee bar, which is offered all day long.
Travelers can sip their cocktail by the hotel's fire pit with a clear conscience knowing that the property's water is heated by 190 solar panels, and all of its bulbs are energy-efficient LED's.
The hotel's "green roof," which is covered in vegetation to encourage local ecology, also includes a rainwater collection system for use in irrigating the property. Additionally, there are two electric car charging stations in the parking lot and the hotel participates in a soap recycling program with the Clean the World Foundation.
The hotel's General Manager is Gary Byrne. Gary grew up in a hotel in Ireland as the son of hotel owners. He has spent the majority of his career in hotel management and hospitality, most of it with Marriott Corporation. He is looking forward to becoming a part of the Tuckahoe, Eastchester and Bronxville community and has already forged friendships with several of his Marbledale Rd. neighbors.
The hotel is expected to open this month and an official Grand Opening is planned for February 2020.
Photo by N. Bower