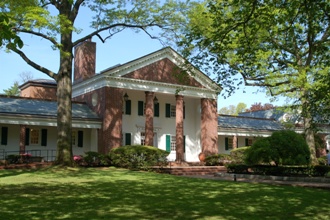 By Carol Bartold, Senior Reporter

Jul. 24, 2019: The Village of Bronxville stands to receive an extra 20 percent in sales tax revenue collected by Westchester County under a bill passed by state legislators in Albany and signed by Governor Andrew Cuomo. Under the terms of the bill, Westchester County sales tax will increase by 1 percent on August 1. The raise from 7.35 percent to 8.35 percent is anticipated to bring $140 million in revenue to the county over the next year.
Westchester County Legislator Gordon Burrows, in his quarterly report to the Bronxville Board of Trustees on July 8, stated that the sales tax increase will be a means to help balance the county's $1.9 billion budget. County Executive George Latimer, per Burrows, issued a promise to state legislators and Westchester County property owners that, with the passage of the bill, he would not act to increase county property tax levy for two years. "We're going to hold him to his word," Burrows said. "There will not be a [county] property tax increase in Bronxville for the next two years."
Burrows pointed out that, typically, when counties and municipalities seek tax increases, they look to property owners for funding. "When you have a sales tax," he said, "it's on products, not property. A sales tax is more evenly funded by all rather than by only property owners."
In other business, Village Administrator Jim Palmer updated improvement plans for the Metro-North Railroad underpass on Pondfield Road. Priority will be given to straightening, sanding, and painting support columns that the New York State Department of Transportation designated in need of repair.
Replacement of some sections of sidewalk as well as railings on both sides of the underpass is also included in the project. Palmer noted that some sections of the sidewalk are uneven and that one sidewalk slab on the north side of the street is capturing water during rains, compromising the condition of the underpass.
Mayor Mary Marvin pointed out that the village's repairs will be "for naught" if Metro-North Railroad does not resolve leakage from the railroad's trackbed. "That water is constant," she said, "and it has caused the railings to rot." She added that the village needs to exert pressure on the railroad to address the constant leakage.
The village also plans to install signage and reflective material to increase visibility of the underpass.
After a hiatus for August, the Bronxville Board of Trustees will meet on Monday, September 8, at 8:00 pm in the Trustees Room at Bronxville Village Hall.
Pictured here:  Bronxville Village Hall.
Photo by N. Bower