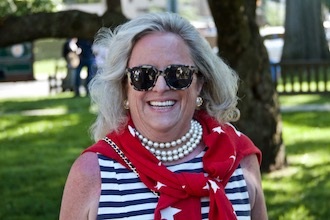 By Mary C. Marvin, Mayor, Village of Bronxville
Jul. 24, 2019:  As the village recovers from what most now believe was a "microburst" during the recent storm on Wednesday night, our recap meeting offered many insights into process and procedures.
But first and foremost, I want to thank the exemplary human effort by our village police and public works departments and the Eastchester Fire Department. Their service, to a person, was professional, efficient, and compassionate. A thank-you also to all our affected residents who demonstrated their usual grace and kindness under pressure.
As an overarching government, we continue to strive to have the best response time for any villager in need of help.
To receive the most expeditious response both in terms of time and manpower, the following are some guidelines to help us out.
Power Outage
Per Con Edison's protocol, the police desks cannot call in individual customer outages and do not receive any information from Con Ed as to the time frame for service restoration.
As a consequence, it is so important not to call the police desk at the onset of a power outage, as the phone lines need to be left open for 911 calls, medical dispatch, and power-related emergencies. Until additional officers can be called in, there is only one officer on dispatch duty to answer the five trunk lines and 911 lines.
As example, during one three-minute period at the onset of the recent storm, 75 calls were received reporting outages and asking if neighbors had power and/or when power would be restored. The desk officer had to be uncustomarily abrupt in order to leave lines open for emergencies where even seconds count.
As example, the dispatch officer had to get aid for a house fire and monitor seven locations where live wires were downed. Three additional officers arrived from their homes within 20 minutes of these incidents with another seven arriving within the hour.
If you do experience a power outage, immediately call 1-800-CONED or log on to their website. Con Ed requires each individual home to report, and knowing your neighbor reported their outage does not cover your home.
The Con Ed website is also the source of estimated power resumption time. What information we receive from Con Ed as a village is conveyed via our Swift Reach emergency alert phone, text, and email system. To sign up, go to www.VillageofBronxville.com website. On the police page, look for Emergency Alerts – Swift 911 and add your contact information.
During an outage, stay at home, as every downed wire should be prudently thought to be live. If you notice a wire down on your property, call 914-337-0500 or 911 immediately, again assuming it could be live. If in a car is under wires, remain in the vehicle and call 911.
As a corollary, our public works crews, though at the ready on duty, cannot begin tree or debris clean-up until Con Edison certifies that any nearby wires are not live.
Also, during a storm or wind event, please don't be tempted to drive around and survey the damage, as added traffic can delay the response time to critical situations.
A call to neighbors, elderly or alone, has also helped in countless ways. Turning off air conditioning units, in particular, can also save subsequent damage if there should be a surge when power is restored.
The Smell of Fire or Gas
If you can smell gas, it is actually the chemical additive, as the gas is odorless. As our police desk responds to emergencies on both 914-337-0500 and 911, call the PD immediately from outside your residence. Do not make an effort to put out the fire; rather, exit immediately and our officer will call Con Ed and/or the Eastchester Fire Department.
Burglary
If you believe someone has been in your home, do not enter and do not touch anything if exiting so as to preserve evidence and fingerprints. Call 911 from a neighbor's phone or at a distance from your home.
Suspicious Persons/Activities/Packages
Never hesitate, if you notice something out of the norm, to call the police and let them decide if the activity is abnormal, as often time is of the essence and even a small delay has hampered apprehension.
Flood Water
If any amount of water has accumulated on a street, turn around and try another route. Flash flooding is aptly named and is truly flash in nature, and even a relatively small depth of water can carry a car away.
Gas Leaf Blowers
There is currently a suspension of the annual summer ban on their use for the next week because of the massive cleanup needed throughout the village.
Post moratorium, kindly call the regular police number, 914-337-0500, to report unauthorized use.
Photo by N. Bower 
Editor's note: As a public service, MyhometownBronxville publishes articles from local institutions, officeholders, and individuals. MyhometownBronxville does not fact-check statements therein, and any opinions expressed do not necessarily reflect the thinking of its staff.