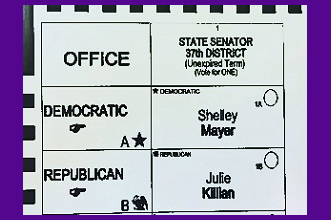 By Staff     
Apr. 25, 2018:  Democrat Shelley Mayer defeated Republican Julie Killian in a hotly contested special election for the open New York State Senate seat in District 37 yesterday. District 37 covers about a third of Westchester and includes, among other areas, the villages of Bronxville and Tuckahoe, the Town of Eastchester, and neighboring parts of Yonkers.
The election was held to fill the seat of New York State senator for District 37 vacated by George Latimer on January 1, 2018, when he became Westchester County executive after winning the race in November of 2017. At the time of the election, Mayer was a New York State assemblywoman, and Killian was a Rye councilwoman.
The unofficial results posted on the Westchester County government site as of 11:44 pm last night showed, with 87% of the districts reporting, 24,238 votes for Mayer (58%) and 17,793 votes for Killian (42%). Click here for the most up-to-date results.
Before this election, the balance of power in Albany was divided between the Democrats and the Republicans. The Assembly is heavily Democratic, and the Senate was controlled by Republicans (enhanced by a block of Democrats who broke away to join the Republicans but rejoined their Democratic colleagues in early April).
There were two elections for state senators yesterday, this one in Westchester and one in the Bronx. The Democrats needed to win both seats to have a numerical majority in the Senate (32 to 31). The Bronx district is overwhelmingly Democratic, so a Democratic win was all but assured. Whether the balance of power was going to shift in Albany was to be decided by yesterday's election in Westchester.
Since the outcome of the election had such potentially significant results, it attracted considerable attention. Millions of dollars were spent, attacks flew back and forth, and ads verged on the uncivil. Governor Andrew Cuomo and Westchester County Executive George Latimer endorsed Mayer, and former Governor George Pataki and former county executive Rob Astorino endorsed Killian.
Although as a result of this election the Democrats now have a numerical majority, an 11th-hour announcement by Democrat Simcha Felder indicates that the Republicans will control the Senate through June of this year. Lohud reported late yesterday that "throughout the heated campaign, the seat was viewed as pivotal to which party would control the state Senate, but Democrat Simcha Felder announced hours before polls closed that he'd caucus with Republicans for the rest of the session regardless of who won the race. That gives the GOP a one-vote majority through June, when the Legislature session ends."
Pictured here:  A section of yesterday's ballot showing the two candidates.
Photo by staff