| | |
| --- | --- |
| Bronxville Students Walk Out to Honor Slain Students and Support Gun Control: Student Perspective | |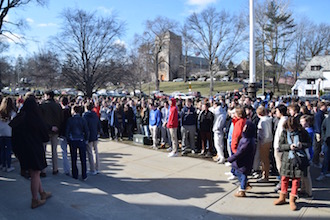 By Hannah Weirens, Senior at Bronxville High School

Mar. 21, 2018:  March 14, 2018, is a date that gave students across the country the opportunity not only to memorialize the victims of the Marjory Stoneman Douglas High School but also to demand change regarding gun control.
At Bronxville High School, Kiki Shinsato and I were able to organize a walkout along with two Bronxville mothers, Ellie Rice and Melissa Shinsato. Weeks of anticipation for the day gave us time to arrange for a local a cappella group to perform "Stand by Me" and have 17 Bronxville seniors line up to read a biography of each of the 17 victims.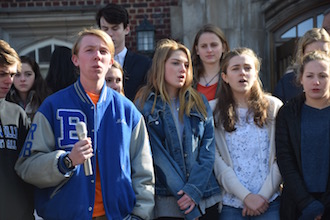 We wanted to emphasize to our community that behind the number "17" are real people with names, hobbies, interests, skills, and mourning friends and family. We also encouraged our community to get involved if they want to see change.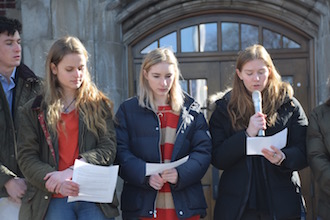 After 10:17 am on that Wednesday, everyone who attended was able to put into perspective how tragic this event was and also how this can be used to motivate policymakers to push for stricter guns laws. Students who may not have cared about the issue because it did not directly affect them were able to realize that, although this horrific event occurred at a school in Florida, it could have been any school.

On March 16, students were able to participate in a roundtable discussion including County Executive George Latimer, U.S. Representative Eliot Engel, and State Assemblywoman Amy Paulin. Christina Reidel, one of the history teachers at Bronxville High School, arranged the discussion in order for students to learn about what has and is being done and also express our concerns and feelings. There could not have been a better way to conclude the week that featured the walkout.