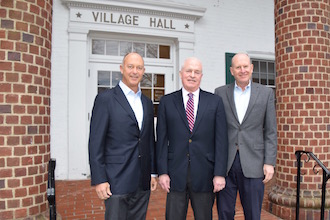 By Carol P. Bartold, Senior Reporter     

Mar. 21, 2018:  William G. Primps defeated Natasha L. Nordahl in a highly contested election to fill the village justice court seat of retiring Justice George McKinnis. Primps won by 42 votes and will serve a four-year term. With nearly 900 votes cast, the election could mark the highest turnout ever recorded in the village. 
According to Betsy Harding, Bronxville Democratic Committee chair, heavy voter turnout for the March 20 election exhausted the polling place's supply of scannable ballots when 750 votes had been cast. After approximately 7:00 pm, voters had to use photocopied ballots. 
Trustee candidates William H. Barton and Mark J. Wood, both of whom ran unopposed, will fill the seats vacated by Anne W. Poorman and Guy Longobardo. The new trustees will each serve a two-year term.
Barton served as a village trustee from 2006 to 2012, during which time he was the liaison to the department of public works. He looks forward to bringing his prior experience in office to the development of a new comprehensive plan. 
Wood, a village planning board alternate, believes that his real estate experience, combined with Barton's over 35-year career in investment management, will bring a strong dynamic to the board of trustees as it faces budgeting challenges, sustaining a vibrant downtown commercial district, and updating infrastructure.
Pictured here (L to R): Mark Wood, William Primps, and William Barton.
Photo by A. Warner