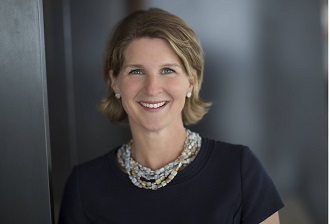 By Joanna Hein, Senior Associate, Media Relations, Weber Shandwick, for Bank of America

Feb. 28, 2018:  Bank of America is pleased to announce that Bronxville resident Anne Walker has been named market president for New York City, with more than 13,000 employees. In this role, Anne will focus on connecting the resources offered through Bank of America's eight lines of business to the thousands of companies, families, and individuals who live and work in the region. Anne will also lead Bank of America's efforts to address social and economic concerns and help build strong communities by deploying the many resources at the company's disposal. New York City is one of Bank of America's leading markets. 
As she takes on this new role, Anne will continue to serve as the chief operating officer for the Chief Financial Officer Group and as corporate financial planning executive for the enterprise. Anne has held a number of senior executive positions within Bank of America. Prior to her current position, she managed the company's strategic planning and investments. She also has led Global Investor Relations for Bank of America. 
Earlier in her career, Walker served as managing director and head of the U.S. Equity Capital Markets Syndicate for Bank of America Merrill Lynch, responsible for the marketing, pricing, and allocation of all initial public offerings, equity add-ons, and convertible bond transactions distributed in the Americas. She joined Merrill Lynch's Equity Capital Markets group in 2001, beginning her career in the firm's investment banking division in 1996. She served on the board of Markit, a global diversified provider of financial information services, from 2013 until the merger with IHS Inc. in 2016. She also supports her local community through ongoing volunteerism focused primarily on veterans' support. 
She is a strong champion of diversity and inclusion efforts and a member of the bank's internal Global Diversity & Inclusion Council. 
Walker received her master's degree in business from Columbia Business School and a bachelor of arts degree from Harvard University. She resides with her family in Bronxville.
Pictured here: Anne Walker.
Photo courtesy Joanna Hein, Senior Associate, Media Relations, Weber Shandwick, for Bank of America

Editor's note:  As a public service, MyhometownBronxville publishes press releases, statements, and articles from local institutions, legislators, and candidates. MyhometownBronxville does not fact-check statements therein, and any opinions expressed therein do not necessarily reflect the thinking of its staff.