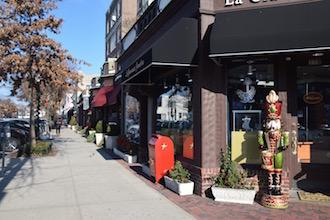 By Susan Miele     
Dec. 12. 2018:  It may not yet be winter, but new growth is occurring in Bronxville, with a spate of business openings.
The newest arrival is Whim, a clothing store with another location in Mount Kisco, which recently opened in the space once occupied by North on Pondfield Road. The shop caters to "the young at heart," according to owner Vivian Hoffman, whose pedigree includes 40 years' retail experience that includes 25 years in a senior role with Century 21 department store. The family-run business emphasizes affordability and chic comfort (think fluffy coats, cozy sweatshirts, and leggings), with the majority of selections priced under $100. Hoffman cites her longstanding contacts in the fashion industry as enabling favorable pricing. While the shop is well stocked with jeans, Haute Shore bags, accessories, costume jewelry, and even framed art prints, additional merchandise is forthcoming. Gift cards are also available.
The Shade Store, soon to take over the former home of Yum Yum Tree, will offer custom window treatments, an exclusive material collection, and design advice. A small chain operation, there are more than 60 locations nationwide; the Bronxville location will represent the store's second outpost in Westchester.
Across the tracks on Palmer Avenue, the former location of Fitness Together will soon be home to Celsius, another fitness facility that will offer high-intensity interval training. This will follow the recent opening of Hot Phiitness, also a provider of high-intensity interval training, located on Pondfield Road.
Earlier this year, Posh Beauty Boutique also opened on Pondfield Road, providing spa treatments like massages and facials.
All these are in addition to the spate of changes to the Bronxville restaurant scene, including the arrival of Root Vine & Juice Bar, Playa Bowls Bronxville, and several forthcoming eateries.
A well-occupied business district correlates with a higher demand on parking spots. The opening of the Kensington Road parking lot earlier this year was intended to help create a better proportion of spots to businesses; the current holiday season will help gauge the outcome of that. Once renovated, the additional parking spots that will result from the Village of Bronxville's recent purchase of the Avalon lot will also further benefit that ratio.
"A vibrant business district is a gift for the holidays," said Mayor Mary Marvin. "I am thrilled our merchant, landlord, Chamber, and government partnership coalesced into such a positive outcome."
While the number of store vacancies is favorably low, cautious optimism is in order, as it's not uncommon for stores to close after optimizing sales from the holiday season.  
Photo by A. Warner