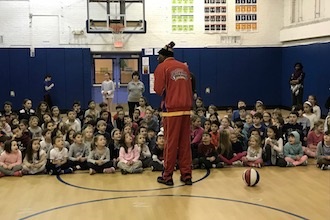 Submitted by Bronxville PTA Athletic Council

Feb. 13, 2019:  The Bronxville PTA Athletic Council will once again sponsor the annual Harlem Wizards Basketball Event on Sunday, March 3, at 1:00 pm in the Bronxville School gym. For more than ten years, the talented Harlem Wizards, a more modest version of the Harlem Globetrotters, has been brought to the Bronxville School to compete in a fun-filled, action-packed basketball "performance." This event is such a special tradition for the Bronxville community at large. 
"The goal of the Athletic Council is to create the best athletic experience for the entire student body, the parents, and for the community," said Anthony Vaglica, teacher liaison to the Athletic Council who has been in attendance at the Harlem Wizards events since 2012. "I love how we can bring the kids to a non-competitive sporting event full of laughs, entertainment, and the exciting uncertainty of what the Wizards will come up with next!" 
The on-court antics, tricks, and ball skills performed by the Wizards provide on-your-feet entertainment, all the while testing the skills of the Bronxville opposing team. A collection of the Bronxville HS basketball players, as well as the elementary school principal, Tricia Murray, and other notable members of the Bronxville School community have been tapped in the past to form the crowd-pleasing competing team against the Wizards. Throughout the show and between quarters, the Wizards bring elementary school students down to the floor, hold contests, and give out prizes.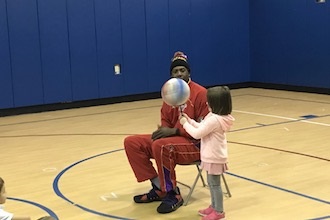 Typically a sold-out event, over 500 tickets are sold each year to Bronxville basketball fans and enthusiasts packing the gym. Young and old will be in attendance, including families from the Bronxville School and St. Joseph School communities and many Bronxville teachers and their children. Tickets for Sunday, March 3, are $20 each and are available here: Harlem Wizard 2019 Tickets.
Doors open at noon for Harlem Wizards merchandise and for the will-call table for ticket pickup. Come early for a pre-game lunch at the concession stand, which will have all of your sweet and savory fan favorites like hot dogs, hot pretzels, and lots of snacks and beverages. The game starts at 1:00 pm sharp and tickets are almost sold out! Don't miss the family fun!
Broncos together!  Go Broncos
Photos courtesy Bronxville PTA Athletic Council
Editor's note: As a public service, MyhometownBronxville publishes articles from local institutions, officeholders, and individuals. MyhometownBronxville does not fact-check statements therein, and any opinions expressed therein do not necessarily reflect the thinking of its staff.