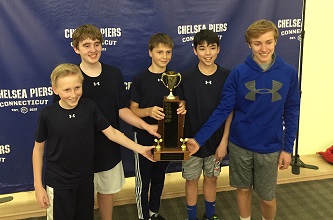 By Staff

Feb. 6, 2019:  The Bronxville Middle School Squash team won both Division I and Division II titles at the Fairwest Middle School Squash Championship held at Chelsea Piers in Connecticut this past Saturday.
This is the eighth year in a row that Bronxville has won Division I. The members of the winning team, which was managed by Barry Kaplan, were Brooks Clifford, Charlie Clifford, Ronin Kaplan, Thomas Sheumack, and Rustin Wiser.
This is the sixth year in a row that Bronxville has won Division II, which is a testament to the depth of talent on the Bronxville team. Vivek Shah served as the team manager, and the members of this winning team were Wilder Burgin, Ellie Clifford, Drew Doyle, Nicolas Park, and Andrew Shah.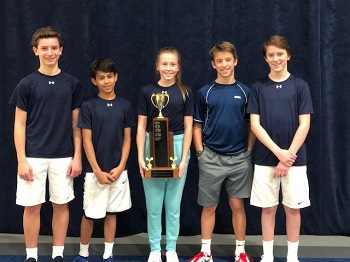 Bronxville also had a second team in Division II this year. This team was managed by Michelle Meyercord, and the team members were Ian Acharjee, Scarlett Hine, Pierce Martin, Jackson Meyercord, and Liam Neild. "The team played so well and fought hard," said Michelle. "I'm very proud of them."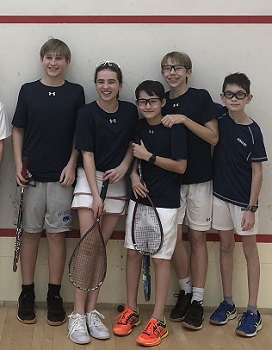 "This was a really nice ending to a very successful middle school squash season," said Amy Wiser, who runs the Fairwest Jamboree program and is the mother of two Bronxville squash players (Rustin and Rooke). "Bronxville should be extremely proud of its middle school squash program."
Bronxville is a member of the Fairwest Public School Squash Association, which was founded in 2008 to enable public school students in Westchester and Fairfield Counties to play squash in a competitive interscholastic environment. Other participants in the championship were teams from Briarcliff, Darien, Greenwich, New Canaan, Rye, and Westport.
Pictured here: In order, teams 1, 2, and 3.
Pictures provided by the teams 
Editor's note:  The children of a staff member of MyhometownBronville participate in the Bronxville School's squash program.