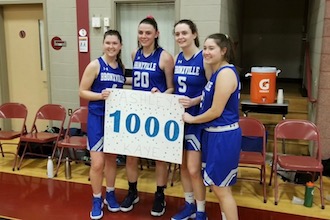 By S. Quinn DeJoy and J. Murrer

Feb. 28, 2018:  While most of The Bronxville School was on vacation last week, the girls' basketball team continued into the second round of playoffs, and three members of the indoor track and field teams had top times at the state qualifiers.
The girls' basketball team, seeded No. 5 in the sectional tournament, had defeated Blind Brook in the first round of playoffs, but lost to No. 4 Valhalla 54-38 in the quarterfinals last Wednesday.  
Senior captain Ashley Kaye scored 12 points in the game, but the biggest point of her high school career came in the fourth quarter on a free throw. Kaye stepped up to the foul line knowing she was closing in on her 1000-point mark but was not quite sure how many more points she needed.
"After I made the first shot," said Kaye, "I was just standing there getting ready for the second one when Allie Berkery jumped on my back. The whole coaching staff started cheering, and Donny [Lucas] and his wife brought out balloons that spelled out 1000."
To see a video of Ashley Kaye shooting her 1000th point, click here or click on the video below.

Ashley Kaye shooting her 1000th point. Video by Michael Schultz.
Kaye, a five-year varsity player, is the second Bronxville girl to have scored 1000 career points. She has earned All-League honors for four consecutive years and scored 345 points this season. Kaye was recently named League MVP. The only other Bronco to score 1000 career points was Dominique de la Torre in 2004.
"Ashley has always worked hard and given 100 percent to the program and the sport," said Coach Lucas. "It was a great feeling to see her reach 1000 points."
The Broncos did not set just one record over school vacation; at the same moment Kaye was scoring her 1000th point, the track and field teams were over at The Armory setting records of their own.  
Sophomore Eve Balseiro won the Section 1 300m championship in 41.38. Her time in the prelims, 40.89, was a season-best and broke her own school record. Balseiro is the first Bronxville girl to win the 300m and qualify for states in that event.
Junior Matt Rizzo won the 1000m in a new school record time of 2:27.81, and Alex Rizzo finished a half a second behind in 2:28.34, a season-best time.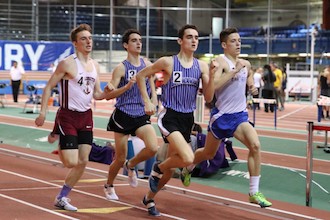 Alex and Matt Rizzo running the 1000m. Photo by Justin Gaymon.
"Fantastic performances from both of them!" exclaimed Coach Ian Clark. "I was very proud. Overall their times put them No. 7 and No. 9 in the nation for the 1000."
The Rizzo twins will be running the 1000m at States this weekend and then at Nationals the weekend after. 
The New York State Indoor Track and Field Championships will be held on March 3 at the Ocean Breeze Track and Field Facility on Staten Island.
Also headed to states this coming weekend are seven members of the New Rochelle-Bronxville swim and dive team: Andrew Babyak, Tim Cushman, Finn Seibold, John Marshall, Chris Babyak, Mark Sears, and New Rochelle swimmer Michael Lawson. The meet will be held March 1 to 3 at the Eisenhower Aquatic Center on Long Island.
Go Broncos.
Pictured at top (L to R): Seniors Allie Berkery, Ashley Kaye, Nan Carpenter, and Sophia Feinberg.