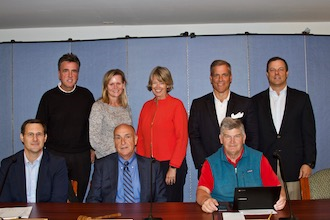 By Staff     
May 19, 2019:  On Tuesday, May 21, there will be a vote in Bronxville on the 2019-2020 Bronxville School budget, the fund transfer proposition, and the re-election of three trustees to the Bronxville Board of Education.
Voting Details
Tuesday, May 21
7:00 am - 9:00 pm
Bronxville School, 177 Pondfield Road
Blue Gym (use Meadow Avenue entrance)
On The Ballot

Budget
The Bronxville School 2019-2020 proposed budget is $49,506,462, a 2.66% increase over the current year budget. 
In the May 9 Bronxville Board of Education meeting and budget hearing, Assistant Superintendent Dan Carlin explained that the two biggest budget items for the Bronxville School are, first, salaries and benefits, which represent approximately 75% of the budget, and, second, contractual costs, which represent approximately 12% of the budget. Contractual costs include, among other things, facility services, cleaning, and security. 
The proposed 2019-2020 budget includes additional positions for elementary school social/emotional learning, which is required by new regulations, middle school science, and high school social studies. It also includes money to improve security, including a full-time director of security and an upgraded public address system.
The proposed 2019-2020 budget will be funded by property taxes of $49.5 million, other revenues of $5.5 million, and $500,000 from the Bronxville School fund balance, which the board of education will allocate to reduce the tax levy. The Bronxville Board of Education has made such allocations for several years.
The other revenues of $5.5 million include, among other things, New York State aid of $2.6 million, special education tuition of $1.3 million, and $450,000 from health services provided to private schools within the Bronxville district, including the Chapel School and St. Joseph School. According to Superintendent Carlin, "Per statute, the Bronxville School is required to provide health and development-related services to private schools within Bronxville." The Bronxville School then bills the "home district of the students at those schools who are not from Bronxville for the services provided." 
The proposed budget represents a 2.64% increase in the tax levy, which is below the calculated New York State tax levy cap for the Bronxville district.  
Click here to read more about the 2019-2020 proposed budget.
Fund Transfer Proposition
In the upcoming vote, Bronxville residents will also be asked to vote on the Fund Transfer Proposition – 2019 Construction Project. This will "enable the board to transfer up to $1,500,000 from the debt service fund to the capital projects fund to provide additional funds for the remaining capital projects approved by the school district's voters on March 13, 2018." 
It was explained that these additional funds are needed because the bids for the capital projects came in higher than expected. These capital improvement projects fall into two categories: basic infrastructure improvements such as roof and window repairs, masonry, ceiling work, and air conditioning, and program-related infrastructure enhancements such as cafeteria expansion, classroom and health suite renovations, and counseling center and basement renovations. Click here for the list of the capital improvement projects approved on March 13, 2018.
Election of Trustees
In the upcoming vote, three current school board trustees are seeking re-election: Jack Bierwirth, Tom Curran, and Arleen Thomas (pictured below).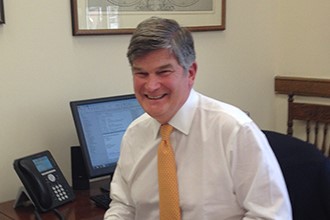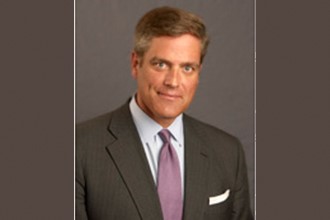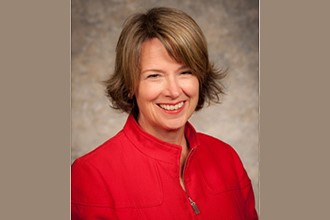 Jack Bierwirth has been a teacher, district administrator, and superintendent. He is now retired and is serving as a "distinguished educator" at the request of the New York State commissioner of education to help the Hempstead School District. He and his wife have three adult children, two of whom attended the Bronxville School. Tom Curran has had a career in law and has been in both the public and private realms. He is currently a partner at Peckar and Abramson, P.C. He and his wife have three children in the Bronxville School. Arleen Thomas has had a career in consulting and accounting and currently is senior vice president of management accounting and global markets at the American Institute of CPAs (AICPA). Arleen and her husband have two children, one at the Bronxville School and one in college.
Click here for more information on these candidates.
Pictured at top:  Bronxville School Board of Trustees (photo by N. Bower).
Photos of the trustees seeking re-election courtesy Bronxville Committee for the Non-Partisan Nomination and Election of School Trustees