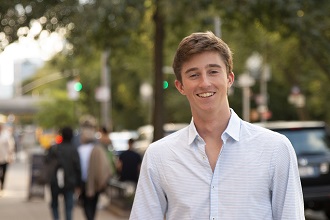 By Staff
May 15, 2019:  The National Merit Scholarship Corporation announced this year's National Merit $2500 Scholarship winners and Connor Morris of Bronxville is among them.
Being selected a National Merit Scholar is a rigorous process. As explained in the May 8, 2019, press release by the National Merit Scholarship Corporation, the initial screen of the program entrants is the Preliminary SAT/National Merit Qualifying Test, which approximately 1.6 million students take each October in their junior year (2017, for the 2019 National Merit Scholarship Competition). The highest-scoring participants on this test in each state are named semifinalists on a state-representational basis in the fall of their senior year (2018, for the 2019 competition). There were 16,000 semifinalists named in the fall of 2018, less than one percent of the nation's high school seniors.
Approximately 15,000 of the semifinalists advanced to the finalist level of the competition this year. The press release explains that the 2,500 winners were then "selected by a committee of college admissions officers and high school counselors, who appraised a substantial amount of information submitted by both the Finalists and their high schools. ... National Merit $2500 Scholarship winners are the Finalists in each state judged to have the strongest combination of accomplishments, skills, and potential for success in rigorous college studies." 
Connor described receiving the scholarship as "a nice reward for the work both I and my teachers, parents, and mentors have done ever since I entered Bronxville School in kindergarten with Mrs. Dianne Grandefeld."
Connor went to the Bronxville School for elementary and middle school and to Horace Mann for high school. In addition to being an outstanding student at Horace Mann, he was captain of two sports teams (tennis and squash) and the leader of a very successful Model UN team and mentoring program. He also wrote for the school newspaper and literary publications and is fluent in Italian. 
Connor is heading to Princeton in the fall and plans to study at the Woodrow Wilson School of Public Policy and International Affairs; he plans to study languages, economics, and finance.
His advice for young people coming into high school is to work hard and especially "pursue the things you love to do." 
Connor's parents, John Morris and Suzi Power-Morris, are understandably very proud of their son. They are especially happy that "he worked hard to achieve his goals while enjoying his high school experience and contributing to his school community." They are also "so grateful to the amazing teachers at Bronxville and at Horace Mann for instilling in Connor a love of learning."
Pictured here: Connor Morris.
Photo courtesy the family