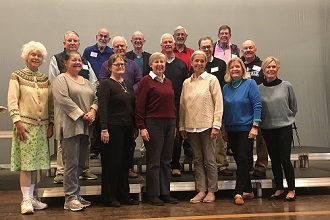 By Charlie Peake

Oct. 24, 2018:  Friday started inauspiciously:  Patsy left her phone on her plane in from DFW. Our Saturday dinner venue said they had no record of our reservation. Our hotel was so busy with special events, they closed their restaurant, where we had planned to gather Friday night. Was this fair for classmates who had travelled from as far as CA, FL, AL, northern NH, and London? Well, we worked it all out and had a wonderful time catching up.
Kater Nicholson Pendergast recently retired as VP of HR at Northeastern University; Cookie Meier Hogue recounted living and teaching in Hawaii, Hong Kong, London, and NYC; Jonathan Miller recalled a 1962 summer barn dance in Upstate NY with Bob McOsker and Harry Tether when, in their enthusiasm, they broke through the barn floor. They were not invited back! Judy McNatt retired from Fordham Law School but now works at Sarah Lawrence. After 55 years, great seeing Randy and Peyton Evans, who had an unexpected overnight at Midway caused by rough weather leaving Birmingham. And very interesting, Leigh Stone retired from Pfizer, getting certified as an RN and now volunteers at the ER of the hospital in Beaufort, SC, where he lives with wife Sallie.
We were impressed by the renovated BHS auditorium, where in addition to getting caught up on Bronxville happenings by junior year Ella and her dad, we were entertained by a school a cappella singing group. And we viewed our memorial cherry tree on the school front lawn and admired its strength and growth in the five years since we dedicated it to Biff and Bobbie.
Our thanks to Patsy Cecil Edwards, Jay Colmer, Gretchen Renner Devlin, and Lene Pedersen Watson for the planning and organizing.
Go Broncos!
Editor's note: As a public service, MyhometownBronxville publishes articles from local institutions, officeholders, and individuals. MyhometownBronxville does not fact-check statements therein, and any opinions expressed therein do not necessarily reflect the thinking of its staff.