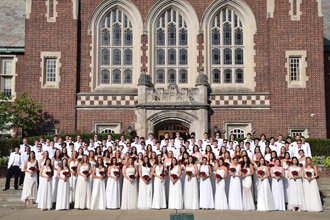 By Carol P. Bartold, Senior Reporter     

Jun. 20, 2018: One hundred twenty-three members of the Bronxville High School Class of 2018 received their diplomas at the school's 96th annual commencement on Saturday evening, June 16. For more than 25 Bronxville families, the ceremony marked a milestone — the graduation of their youngest children from The Bronxville School. Bronxville High School Principal Ann Meyer thanked the families for their contributions to the life of the school throughout the years.
Graduates took their places on the front steps of the school for their final time together as a class as faculty, family members, and friends gathered on the school's front lawn to celebrate their achievements.
Receiving departmental achievement awards for academic excellence were Pilar Layton for English and Spanish, Leo Gretzinger for mathematics and Latin, Isabela Lamadrid for science, Caroline Kirby for social studies, and William Ramundo for French.
Allison Barker was honored with the Overall Academic Excellence award.
The Gwinn Arts Awards, given for excellence in the arts in memory of former board of education trustee Ralph Gwinn, were presented to Eva Cagliostro for instrumental music, orchestra; YiFei Wu for instrumental music, band; Kaitlin Shinsato for fine arts; Margaux Frohlich for vocal music; and Allison Barker for drama.
Sophia Feinberg received the Bronxville Teachers' Association award, given to a student who has expressed interest in teaching.

The David Quattrone Award for Engaged Citizenship, given in recognition of dedication to the four dispositions of The Bronxville Promise, was awarded to Chloe Paris.
In his address, Student Faculty Legislature president Griffin Garbarini focused on the bond of community that members of the Class of 2018 formed during their school years. That bond, he said, will help members of the class build new communities as they enter the world. "One day we will return to this town," he said, "to show our friends and families that we have not only created a place for ourselves out there but that we have impacted others in a meaningful way."
Class co-president Andrew Cargill pointed out, in his remarks, that the Class of 2018 is resilient and has met its fair share of challenges. "If there is anything I have learned in my four-year journey," he said, "it is that we have the potential to leave a serious imprint on this Earth." He encouraged his classmates to "fly through the turbulence" and believe in themselves in their way to great accomplishments.
Caroline Kirby, class co-president, noted that the caring, encouraging, and supportive Bronxville community has given much to the 2018 graduates. "Embrace the fact that we have the chance to move on," she urged her classmates, "but remember the time we spent here. Recall your lows, but dwell on your highs."
Chosen by the members of the Class of 2018, Larry Bettino, father of graduate Daniel Bettino, delivered the commencement's keynote address. "My message today is to accept surprises," Larry Bettino told the class. "Welcome surprises and, indeed, help bring them about." He advised the graduates to start expecting surprises as they move on to the next phase of their lives. Expect to be thrown off guard and to be a bit scared, he said. Through willingness to put  themselves in the path of different people, situations, and ideas, the graduates will position themselves to create future surprises that will change the world.
"Your dream will keep evolving," Bettino said, and added that even in ten or twenty years, graduates might not know what they want to be. "The key isn't to get the answer," he noted, "but to keep asking the question. If you do, the person you will end up surprising will be yourself."
All the best to Bronxville High School's Class of 2018!
Click here to see photos.
Editor's note: The day before graduation, the high school seniors participated in the annual baccalaureate, a ceremony celebrating the artistic talents of the students in which they perform music and dramatic readings and display their artwork. Below is a photo of students who participated.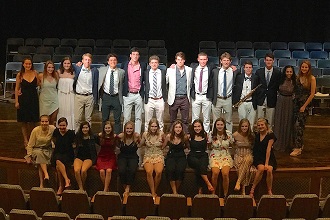 Pictured at top:  The Bronxville High School Class of 2018.  

Photo at top by A. Warner; second photo by Dave Tesoro