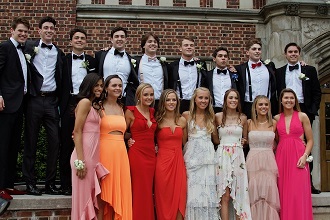 By Staff

May 23, 2018:  Bronxville High School's juniors and seniors (and some students from younger classes) attended the school's annual junior/senior prom on Friday evening, May 18.
The evening was a festive one, and the weather cooperated this year. The evening began with a "promenade" on the front lawn of Bronxville High School, where students, accompanied by family and friends, greeted one another and were able to show off their dresses, tuxes, corsages, and boutonnieres.
Students were required to be checked in by a parent, and thus the promenade was well attended by junior and senior families and friends.
After an hour and a half of promenading, the students departed on buses for dinner and dancing.
Click here to see pictures of the promenade.
Photo above and photos in the link by N. Bower