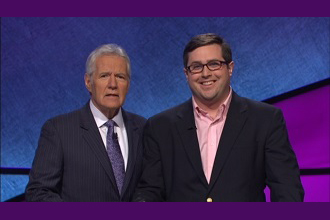 By a Guest Contributor

May 16, 2018:  Luke Devlin, a graduate of Bronxville High School class of 2009 and Georgetown 2013, will appear on the game show Jeopardy, scheduled to air on May 23.
A lifelong fan of the show, Luke had been taking the online test since high school hoping for a call to audition to be on the show. Last summer, the call finally came for an audition in New York City, and then in January of this year, he received the call to fly to California for a February tape date.
He flew out to California and showed up for his 7:00 am call time at the studio. Tune in on the 23rd to see how he fared! All in all, it was a fun experience that he'll never forget.
Pictured here:  Luke Devlin (R) with Alex Trebek, host of Jeopardy.
Photo contributed by the author

Editor's note:  As a public service, MyhometownBronxville publishes press releases, statements, and articles from local institutions, officeholders, candidates, and individuals. MyhometownBronxville does not fact-check statements therein, and any opinions expressed therein do not necessarily reflect the thinking of its staff.