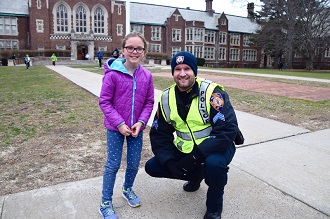 By Carol P. Bartold, Senior Reporter     
Mar. 7, 2018: The Bronxville Police Department held a training session on Thursday, February 22, at The Bronxville School while the school was closed for winter break. Although national focus turned to school safety and increased police presence at schools after the February 14 shooting at Marjory Stoneman Douglas High School in Parkland, Florida, Chief Christopher Satriale stated that the training session was not in response to the Parkland incident. 
Satriale declined to disclose details of the February 22 training but stated that the session was held at the school because winter break made the empty building available. 
"This was a regular training session scheduled weeks in advance, before the incident in Parkland," Satriale said. He added that the session was part of the ongoing training program for Bronxville police officers and that 17 days of training are scheduled for this month and 14 days for May. 
The village police department works with the district safety committee on a regular basis to review and evaluate safety measures that will best serve The Bronxville School students and staff. 
In a March 1 letter, school Superintendent Dr. Roy R. Montesano informed the Bronxville community that, in cooperation with the police department, students will notice an increased police presence in and around the school building. "Park and walkthroughs" of the building, begun last school year, will continue. The district will also provide a small office for police officers to use throughout the school day. 
After a meeting and consultation with the Bronxville Police Department, the school will institute new procedures on March 19 for parent and visitor appointments. All visitors must use the Meadow Avenue, Midland Avenue, or Pondfield Road entrances to the school, where they will be required to check in with a security guard who will confirm that their appointments are included on the approved list of the day's appointments and call rooms or offices to announce visitors. Visitors must leave identification with the guard at the security desk and return there after the appointment, at which time they can retrieve their identification. At that point, visitors must exit the building. 
The school district also engaged a security firm to conduct a thorough safety audit of the school with a goal of identifying particularly vulnerable areas. 
Montesano emphasized that security review procedures at The Bronxville School are "fluid" and not only involve meetings and consultations with the Bronxville Police Department, the district safety committee, and experts in the security and safety field, but also rely on community feedback. 
The safety and security of students and staff, Montesano wrote, remains a top priority at the school.
Pictured here:  Bronxville students and Bronxville police work together to assure school safety. 
Photo by A. Warner