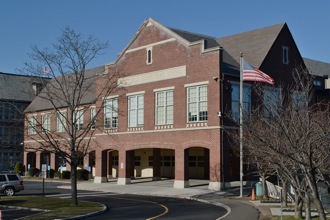 By Michael J. Trabakino and Staff     
Feb. 21, 2018:  The Bronxville Board of Education announced at its regular monthly meeting on Tuesday, February 13, that Bronxville Elementary School had been identified by the New York State Education Department ("NYSED") as a "Reward School."  
The announcement on the NYSED website explains that "Reward Schools are schools with high academic achievement or those with the most progress in the state and do not have significant gaps in student achievement between subgroups."
"High achieving schools," which include Bronxville Elementary School, must meet certain requirements for designation as a 2018 Reward School. Among them are that the school must be in the top twenty percent of schools in the state for English language arts and math for the 2015-16 and 2016-17 school years, the school must have met certain criteria for yearly progress for both school years, and there cannot be large gaps in student performance between members of certain groups (such as low-income students) and the rest of the students. Click here for a link to the methodology that the NYSED used to identify Reward Schools.
The NYSED identified 155 high achieving and high progress schools as Reward Schools, saying in its announcement that 54 are in New York City, 73 are in the rest of the state, and 18 are public charter schools. Click here for the full list of 155 schools. Other schools in Westchester receiving the Reward School designation this year are the high schools in Ardsley, Briarcliff Manor, Cortlandt Manor, Croton, Dobbs Ferry, Eastchester, Harrison, Hastings, Irvington, Pelham, Pleasantville, Rye Neck, Somers, and Yorktown and elementary schools in Briarcliff Manor, Larchmont, and Mount Vernon. New York City schools on the list include Bronx High School of Science, LaGuardia High School, and Stuyvesant High School.
Principal Patricia A. Murray was given special recognition at the meeting for the hard work and dedication she has shown in helping to make Bronxville Elementary School a Reward School. She is quoted on the school website as saying, "We are very honored to be recognized by the state as a Reward School. . . . We have made some significant changes over the past few years that we believe can be attributed to this. We have implemented a consistent and clearly articulated curriculum that is student-centered." Instructors responsible for teaching the curriculum were also congratulated.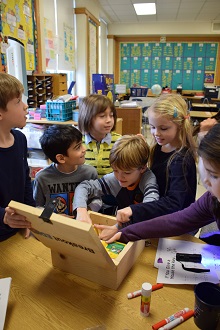 The school website mentions some of the elementary school's new programs, such as the Teachers College Reading and Writing Project, Singapore Math, and project-based learning, "where students engage in authentic learning and are called to action." The elementary school is bringing its environment and curriculum into the 21st century by incorporating a "makerspace," which is a collaborative workspace with materials for experimenting, designing, building, and inventing, and by adding coding to the curriculum.
Ms. Murray said of the elementary school's approach, as quoted on the school website, "We have made great efforts to consistently monitor student progress, not just for those who are struggling, but for all students. . . . We have also put into place specific interventions for students based on this data which has helped each child work toward achieving their goals."
The school will receive a certificate of recognition for designation as a Reward School from the New York State commissioner of education.
The board meeting then turned to a new program called Math Craft, a year-long program for sixth-graders that highlights the mathematical aspects of the arts and technology. The school website explains that "the curriculum, which was designed by math teachers Brittany Braia, Jennifer Oliveri and Rachel Sugarman over the summer, challenges students to apply their knowledge of math to discover innovative ideas and projects. They get to design, analyze, manipulate, calculate, scale and think critically through a variety of hands-on learning experiences."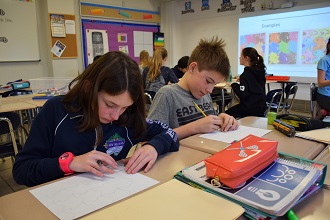 For example, students learn rules of geometry by working on art projects that involve making geometric designs that are founded on these rules. "Many people don't typically think of math when they look at beautiful designs, but math provides many tools that help us create and analyze patterns," said Oliveri, as quoted on the website. The students are also exploring structural engineering and architecture. In the programming curriculum, students are learning mathematically based languages such as Wolfram Language, Haskell, and Python. 
The last item on the agenda was a financial update from Dan Carlin, assistant superintendent for business. He said that the total projected net surplus for the school for June 30, 2018, is $558,665. The surplus is primarily driven by revenues, with a moderate amount generated by savings in expenditures. A special education tuition surplus of $235,448 is the largest single element of the projected surplus. Behind projected property taxes of approximately $41.5 million and projected state aid of $2.45 million, special education tuition, at a projected $1.5 million, is the highest revenue item in the projected budget, as was the case in actual revenues for the 2016-2017 year. Click here to see Carlin's preliminary financial report showing the projected budget.
The next budget workshop will be on Saturday, March 17, at 9:00 am in the school's multipurpose room. The next regular meeting of the Bronxville Board of Education, which will include a budget presentation, will be on Thursday, March 22, at approximately 7:00 pm in the school's multipurpose room.
Pictured here (from top):  Bronxville Elementary School (photo by A. Warner); second-grade students working together to solve problems using a non-traditional immersive-learning system; and sixth-grade students working on a Math Craft project (photos courtesy The Bronxville School).