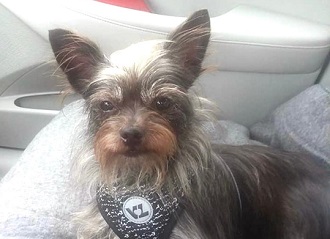 By Allison Roesser
Jun. 3, 2020: If you are looking for a happy little pup who will smother you with kisses, look no further. Sweet Sadie is a 5-year-old Yorkie mix who is gentle, affectionate, and full of all things good. 
At only 8 pounds, Sadie makes a perfect companion to take with you wherever you go. She is happiest when she is sitting in your lap or shadowing you around the house. She greets everyone she meets with twirls and kisses and only wants to be part of your daily adventures. 
This little darling will happily sleep in bed with you, and if it is cold, she might even climb under the covers for a snuggle. Sadie was saved from an animal shelter in Tennessee, where the shelter adoption rates are much lower. She would be best suited for an owner or family that will not leave her alone all day because she thrives when she is around people.  
Sadie is housebroken and good with children and other dogs. She is happy to be your one and only or to join a home where she will have a furry friend as a sibling.  
Healthy, spayed, and fully vaccinated, Sadie is ready for immediate adoption. For more information about her, please email Shih Tzu and Fur Baby Rescue  CLOAKING