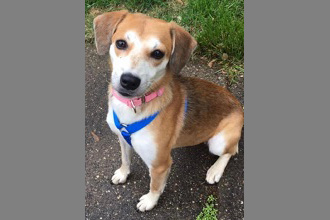 By Allison Roesser 
May 22, 2019: Sally Girl is a petite hound mix and an all-around love bug. You would think that after such a rocky start to life, she would be shy and withdrawn, but after being rescued from a hoarding situation, Miss Sally is nothing but a gentle ray of sunshine.
At 23 pounds, this little lady loves to give kisses and cuddle on the sofa. When she gets excited, she does a joyful dance and wiggles her behind to express her glee.
Sally is housebroken, crate trained, and practicing her basic commands every day in her foster home. She is great with other dogs and cats and would fit nicely into a home full of pets and children.
In good health, fully vaccinated, and spayed, Sally is ready for immediate adoption. If you would like more information about this little angel, please visit bcaaofnj.org and fill out an application or email  CLOAKING .