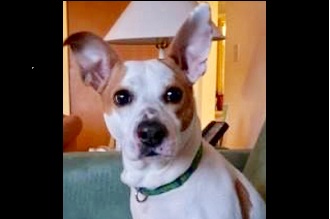 By Allison Roesser
May 8, 2019: Meet Shelly, an adorable 35-pound, three-year-old terrier mix who is everything you could want in a dog--she loves other pups, doesn't mind cats, and adores children. 
Shelly is a sweetheart who enjoys giving kisses and cuddling under the blankets. Besides being the sweetest girl, she is also the cutest. With one ear that always stands straight up and the other, which delicately curls forward, Shelly always seems to display a goofy and quizzical expression that is sure to tug on your heartstrings.
Shelly and her pups were confiscated from a home because of neglect. They were then taken to a local kill shelter and quickly removed and brought to a rescue group. Since she lived inside a home her entire life, she knows how to be a well-mannered and respectful girl. She is house-broken, crate-trained, non-destructive, and calm. She is also a spectacular car rider and leash walker.
Shelly has been living in a foster home with dogs and cats and everyone gets along great.  When children come to visit, she perks up and becomes extra jovial. She would make a perfect family pet and wants so badly to have a family to call her own.
Shelly went through heartworm treatment and is now healthy and heartworm negative. She has been spayed and microchipped and is up to date with her vaccinations.
If you would like more information about Shelly, please email  CLOAKING .